Finance
Drive transparency in your profitability analysis
Gain complete visibility of your profitability at all levels of business activity and allocate costs, profits, and capital with ease
Profitability analysis is highly valuable to strategic and operational decision-making but is typically a time-consuming process requiring significant time and effort to conduct. By unifying information from sources business-wide, Board creates complete transparency over the profitability of every business activity in real time, supporting faster decisions and the easy allocation of costs, profits, and capital.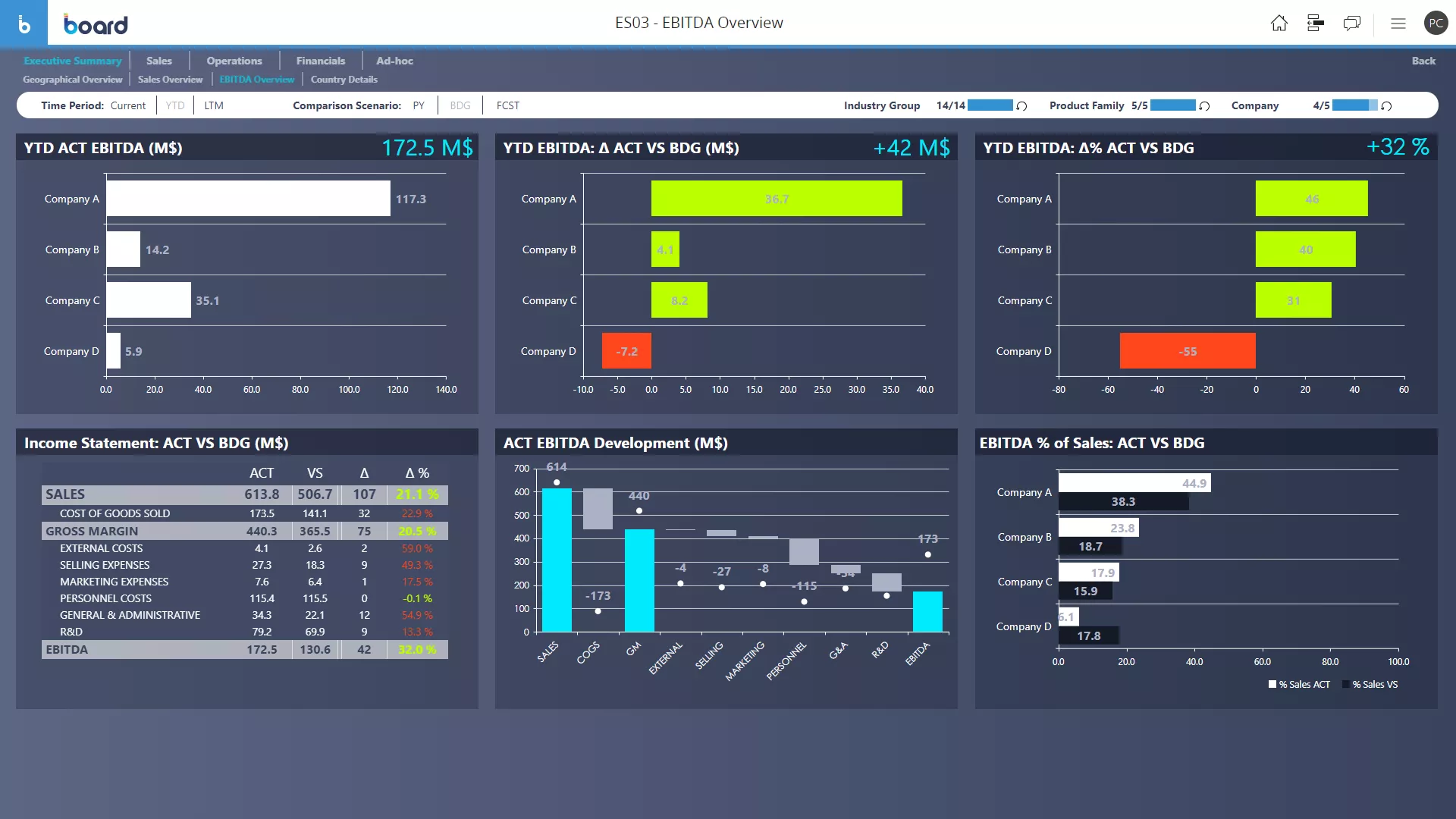 Profitability analysis software for the modern enterprise
Combining business-wide data with Intelligent Planning capabilities, Board enables you to effortlessly conduct profitability analysis without the time-consuming manual workload.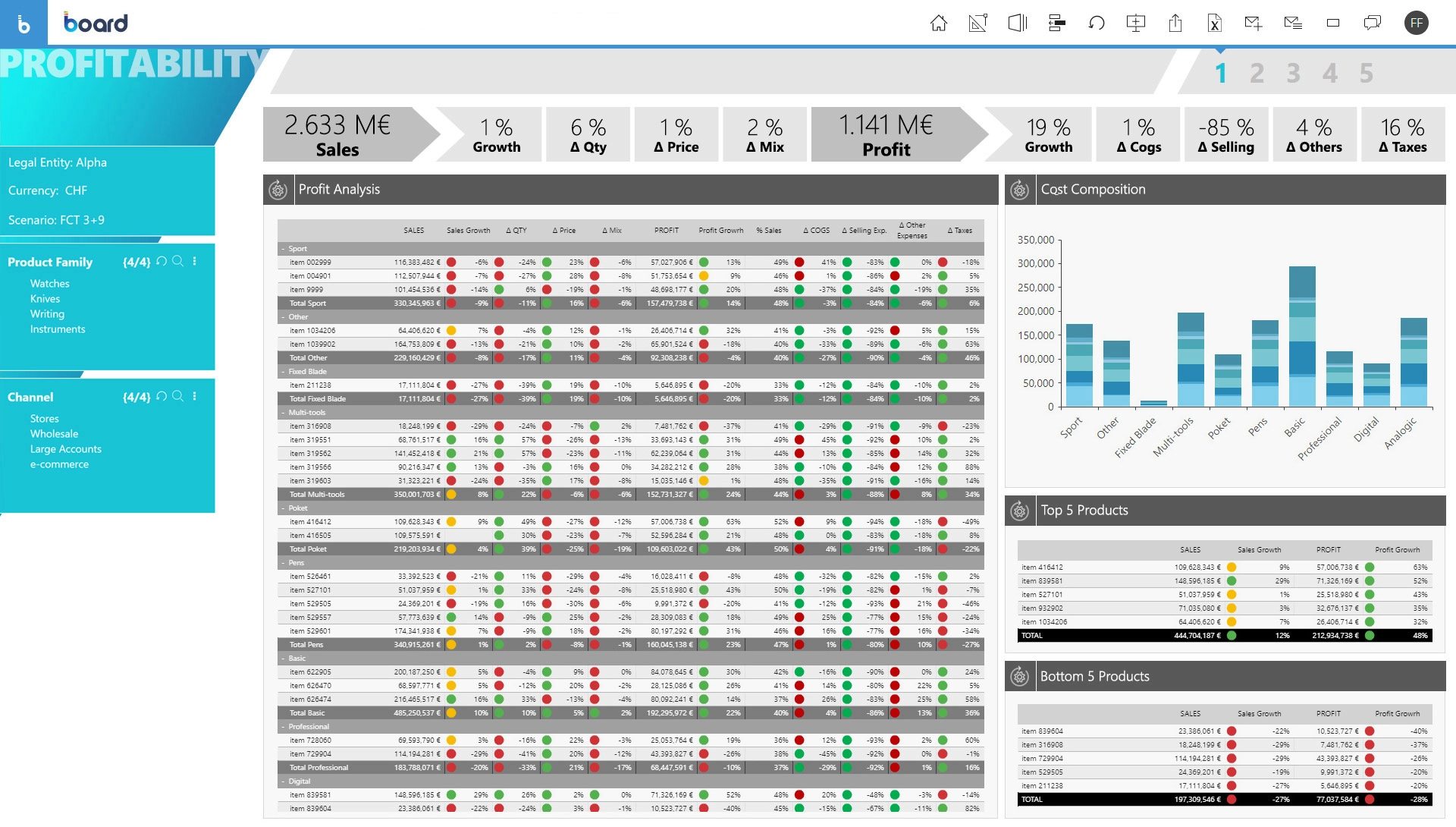 Gain complete transparency of profitability measures

Exhaustive profitability measures with respect to revenues such as:

Gross margin, acknowledging revenues and all operating variable direct costs
Operating income, acknowledging revenues and all operating costs including amortizations, write offs, and provisions
Earnings, acknowledging revenues and all costs

Take advantage of advanced measures and key profitability indicators

Consistent profitability measures with respect to capital such as:

Return on capital employed = ROCE
Spread net tax return on capital employed minus cost of capital = (net tax ROCE – wacc)
Value creation Spread = (net tax ROCE – wacc)*CE
Return on assets = ROA
Return on equity = ROE

Accurate cash generation measures such as:

Operating free cash flow = OpFCF
Equity free cash flow = eqFCF

Achieve a multidimensional perspective of your profitability

All profitability measures can be analyzed by any significant dimension - from legal entities, business units, markets, and geographical areas to product families, customer types, and distribution channels - at various levels of hierarchy, giving a multi-dimensional view of profitability and cash generation
Easily produce gross margin allocation to single item level

Following a landed cost approach, perform allocation of all variable direct costs such as purchase costs, transportation costs, customs expenditure, and insurance costs to a single shipment, transaction, or item. Compound this allocation with revenues allocation in order to come up with gross margin allocation down to a single shipment, transaction, or item

Understand what really drives your operating profitability with support for different costing methodologies

Following different methodologies such as the cost center approach, activity-based costing, and efficiency-based absorption costing, ensure proper multi-stage and multi-dimensional allocation of all operating costs powered by platform flexibility and business modeling capabilities

Effectively perform capital allocation

Following complex and articulated methodologies, perform proper capital allocation in terms of capital employed, net fixed assets, and net working capital, understanding what really drives your return on capital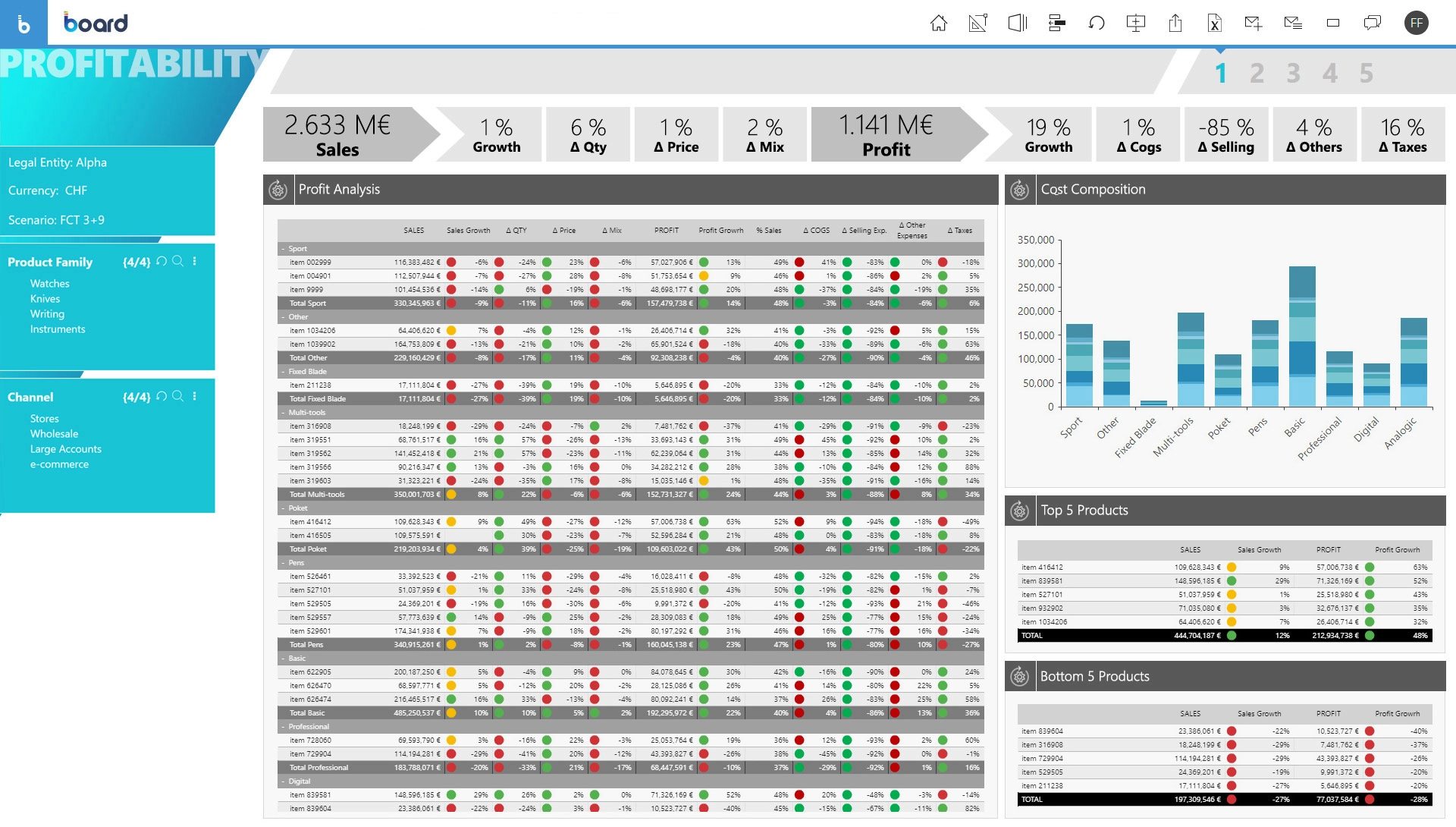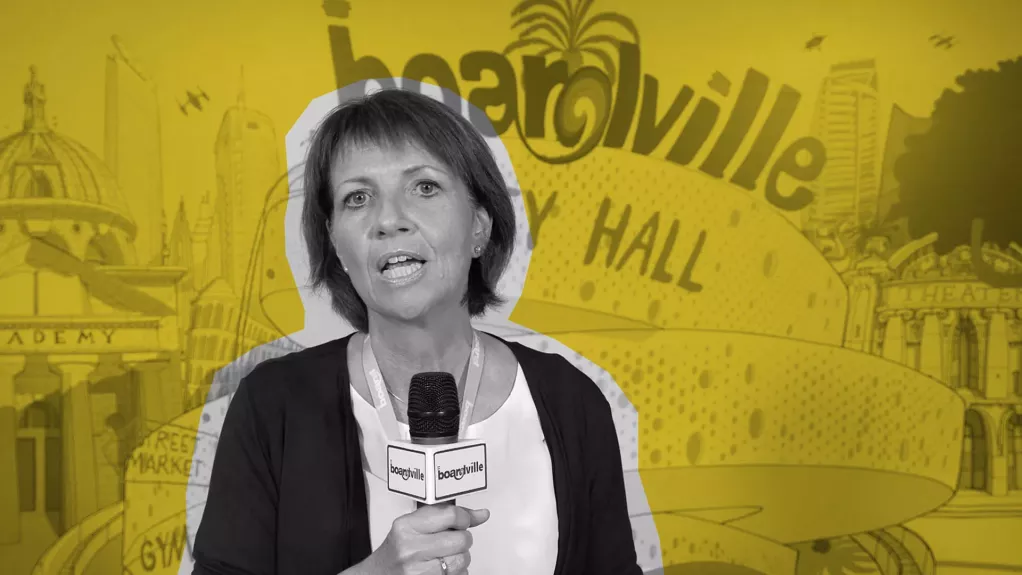 Complete transparency of profitability
Creating a multidimensional view of profitability by customer, service, and business unit, Board has enhanced the level of financial detail available to Avaloq. Costs and revenues can now be reallocated from profit centers to projects or from divisions to departments using a series of predefined drivers.
Profitability analysis resources
Explore more of Board's finance capabilities