Finance
Steer financial results with unified profitability analysis, performance management, and analytics
Easily analyze your budgeted and actual data, gain visibility of your profitability and performance across the sales process, and make your analysis more insightful
In today's fast-paced business environment, finance teams are under pressure to support business decisions by providing insights in increasingly short timeframes, which can be extremely difficult when faced with data silos, outdated solutions, and manual processes.
To combat this, businesses are seeking a more intelligent approach, utilizing profitability analysis software, corporate performance management, and analytics to enable decisions to be made faster using a solid foundation of data to drive accuracy and success. Board's Intelligent Planning Platform provides finance professionals with the solution, offering the complete range of tools needed to drive quick, effective decisions and maximize competitiveness.
Introducing the all-new Board Group Consolidation and Reporting
Simplify monthly cycles. Report confidently. Elevate financial insights.
Learn how
Drive profitability analysis, modeling, and optimization
Gain complete visibility of your profitability at all levels of business activity and allocate costs and earnings with ease.
Profitability measures
Create higher quality insights by implementing accurate, consistent profitability measures along relevant business variables such as market, product family, customer type, and channel, at various levels of hierarchy, removing reliance on assumptions and personal interpretation
Top line allocation
Acknowledge complex and sophisticated criteria, allowing for proper allocation of revenues, gross margin, and variable direct costs to single items or transactions
Cost allocation
Use different methodologies to fully allocate operating costs, such as Cost Centers and an Activity-Based Costing approach, to understand what really drives your operating profitability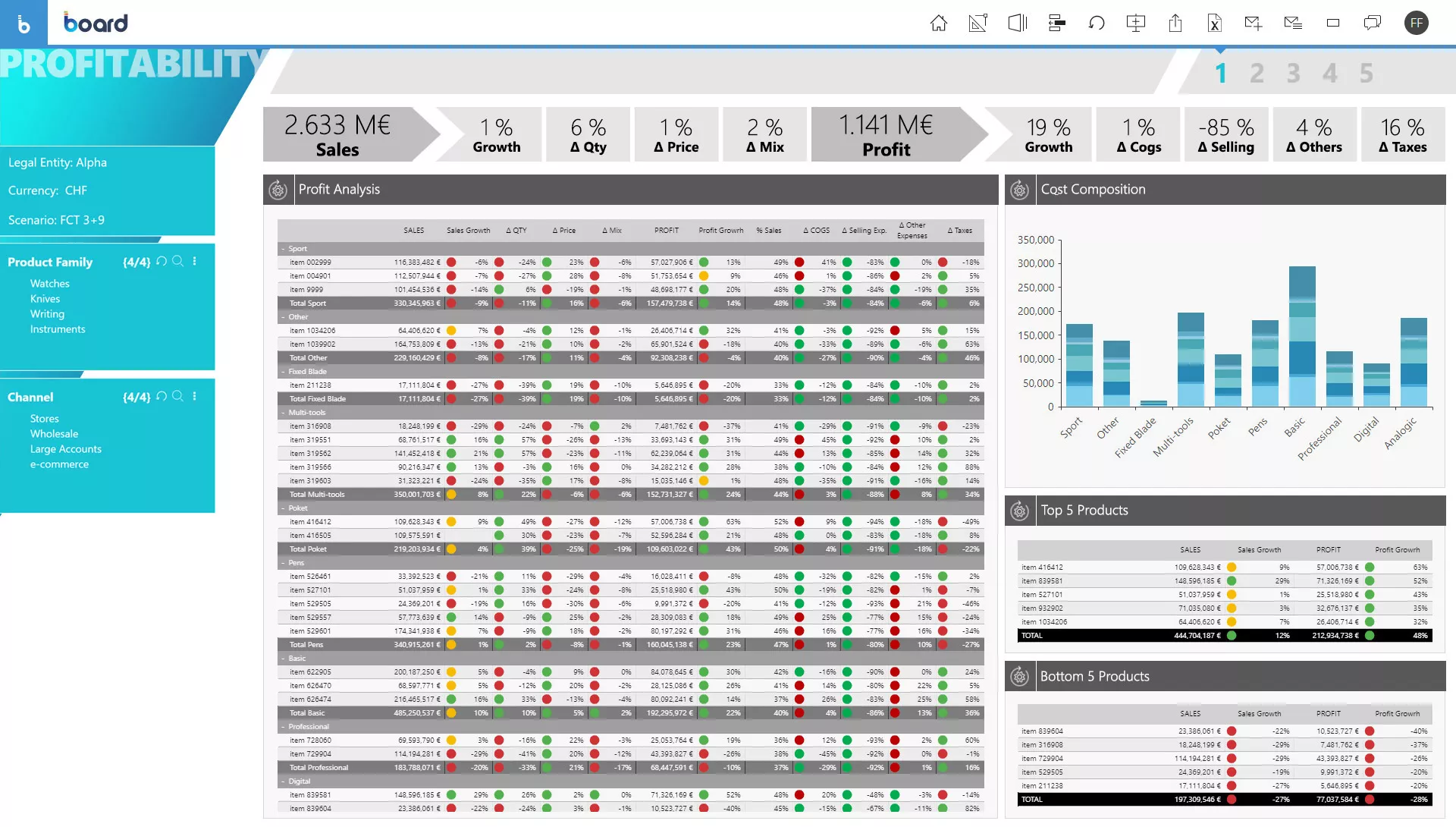 Gain complete control of performance management
Produce comprehensive performance analysis on historical figures and simulate the effect of internal, macro, or microenvironmental changes on your future results.
Gap analysis
Conduct gap analyses between current data and past data or between actual and target data contained in your long-term planning, budget, revised budget, or short-term forecast
Multi-dimensional view
Examine gaps in business variables such as market, product family, customer type, and channel, understanding where performance is achieved
Performance transparency
Dissect your performance in terms of volume, price, and mix effects to understand what drives your results
Like-for-like comparison
Make your storytelling consistent, adjusting performance results through like-for-like modeling
Simulation
Create multiple What-If scenarios to simulate the effect of key value driver changes on your financial results
Benefit from insights at speed
Take advantage of a platform conceived to support data discovery across accounting, planning, and budgeting cycles and effectively support analysis, simulation, consolidation, and allocation activities.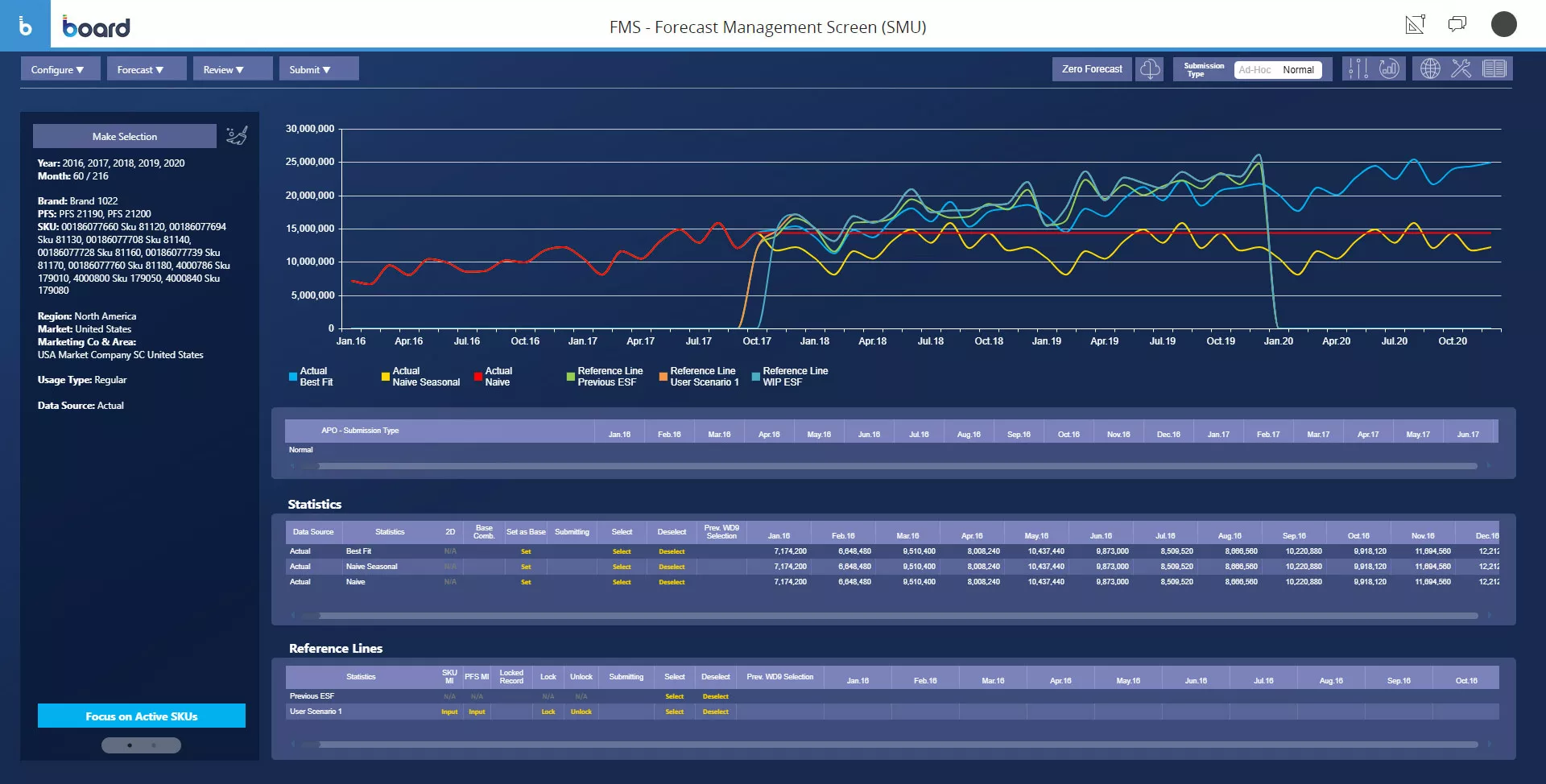 Gain a single, shared version of truth

Board enables the generation of analyses and reports at various corporate levels which point to a unified data set validated by the Office of Finance, guaranteeing a unique version of truth across the organization.

Easily create and share analyses, reports, and dashboards

Board's self-service capabilities enable business users to easily create analyses, interactive dashboards, and reports, and share them effectively through advanced collaboration functionality

Explore your data both by financial and operational dimensions

Exploit native business intelligence features, navigating data through multiple dimensions and hierarchies with the possibility to drill down to the lowest level of detail

Effectively manage allocation, reconciliation, and consolidation

Easily create any kind of business or financial model, exploiting Board's allocation, reconciliation, and consolidation capabilities

Simulate future outcomes to inform decision-making

Take advantage of simulation capabilities to accomplish sensitivity and scenario analysis aimed at better understanding the relationships between key value drivers and helping you identify value creation paths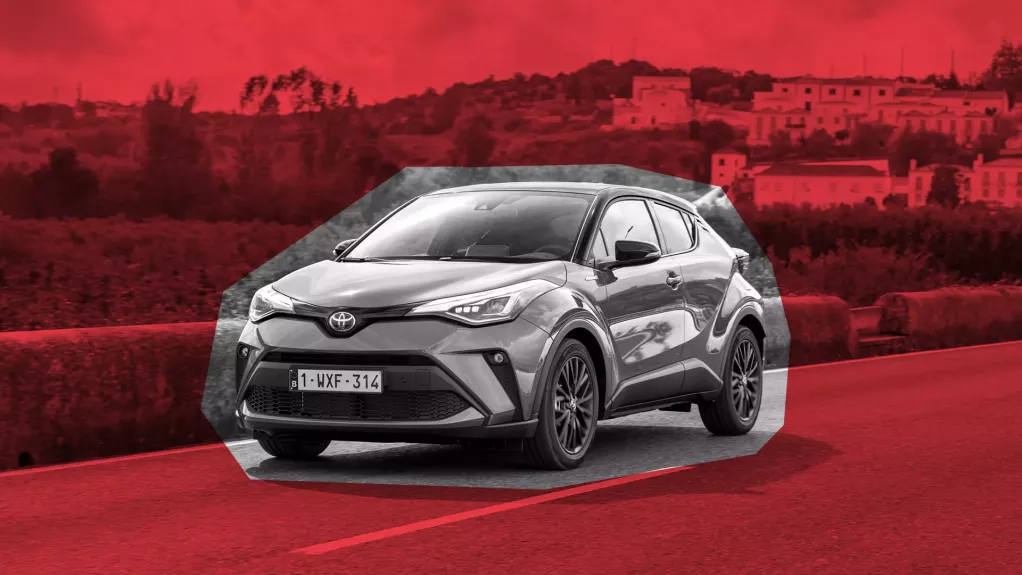 Driving profitability analysis and planning transformation across 40 companies
We now have an automated collection process which means our Controllers can spend the majority of their time analyzing the data and reacting to situations, making better-informed business decisions.
Explore more of Board's finance capabilities