Process
Integrated Business Planning
Unify strategic, financial, and operational planning in an integrated business platform for a more efficient, effective, collaborative approach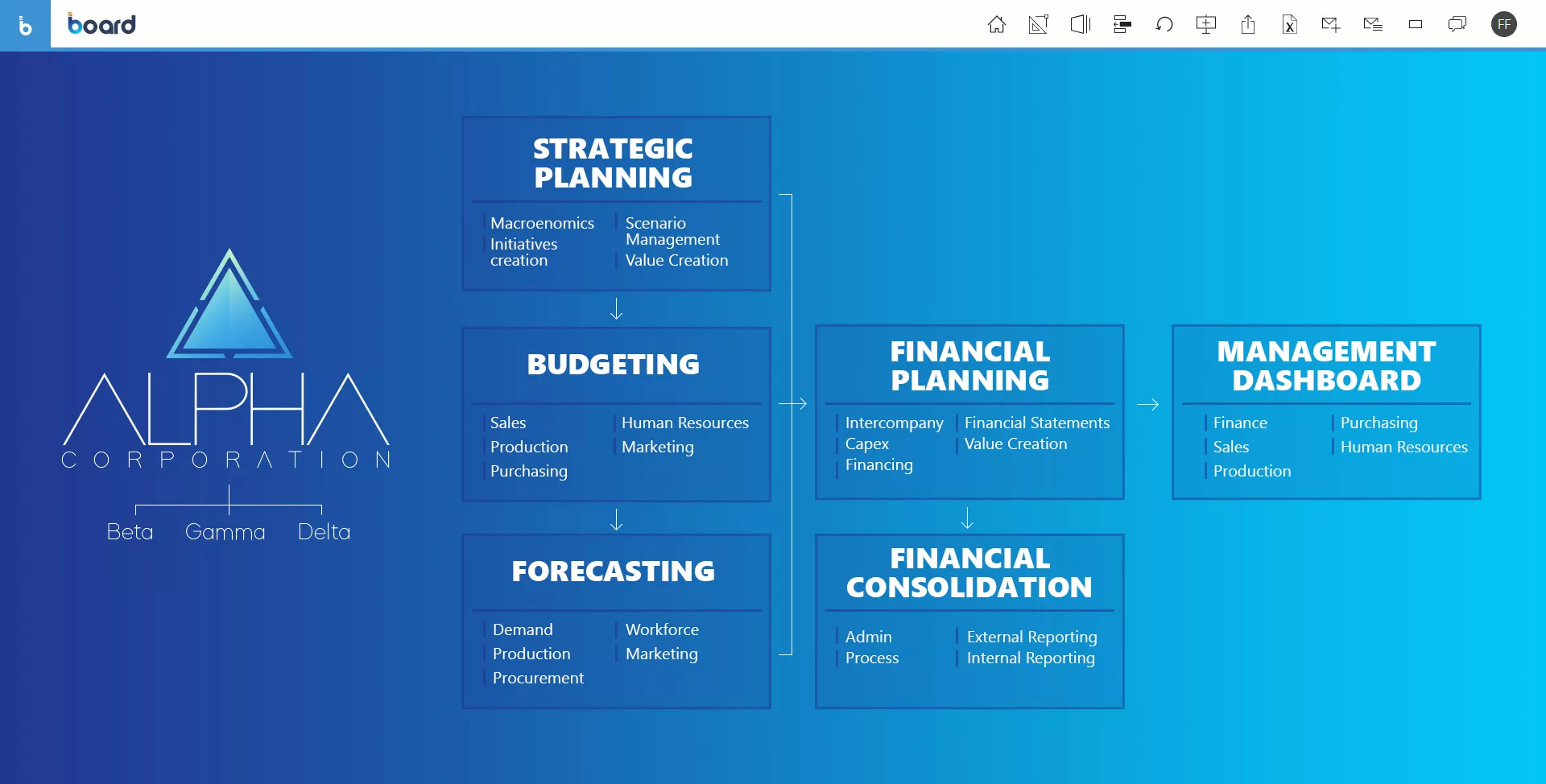 Modern organizations face the task of planning complex, and often global, multi-level business processes which support the business' strategy and meet finance's expectations. They are continuously under pressure to balance supply with demand, optimize inventories, push new products to market, and support their growth with adequate human resources, however this is extremely difficult to achieve when there is a disconnect between Strategy, Finance, and Operations.
Typically there is no end-to-end visibility of the entire planning process, with each department working on their own planning activities and not communicating them to the wider business. But when faced with a planning paradox – an increasing number of questions to answer in shorter timeframes and with less resources – organizations need to bring these plans together if they are to maximize efficiency and drive performance.
This is where Board's integrated business planning software can help.
Why Integrated Business Planning has become best practice
Integrated Business Planning (IBP) enables organizations to bring together three key aspects of planning: strategy, operations, and finance.
In this short video, Robert D. Kugel, SVP and Research Director at Ventana Research,
explains how IBP drives a collaborative, business-first approach across the enterprise.

The benefits of Integrated Business Planning with Board
Creating transparency by unifying all business data, the Board decision-making platform enables planning processes to be integrated across every team and department. Bring everyone onto the same page, ensure plans consider all available resources, skills, and production capabilities, and drive accountability for results by making the impact of performance more visible.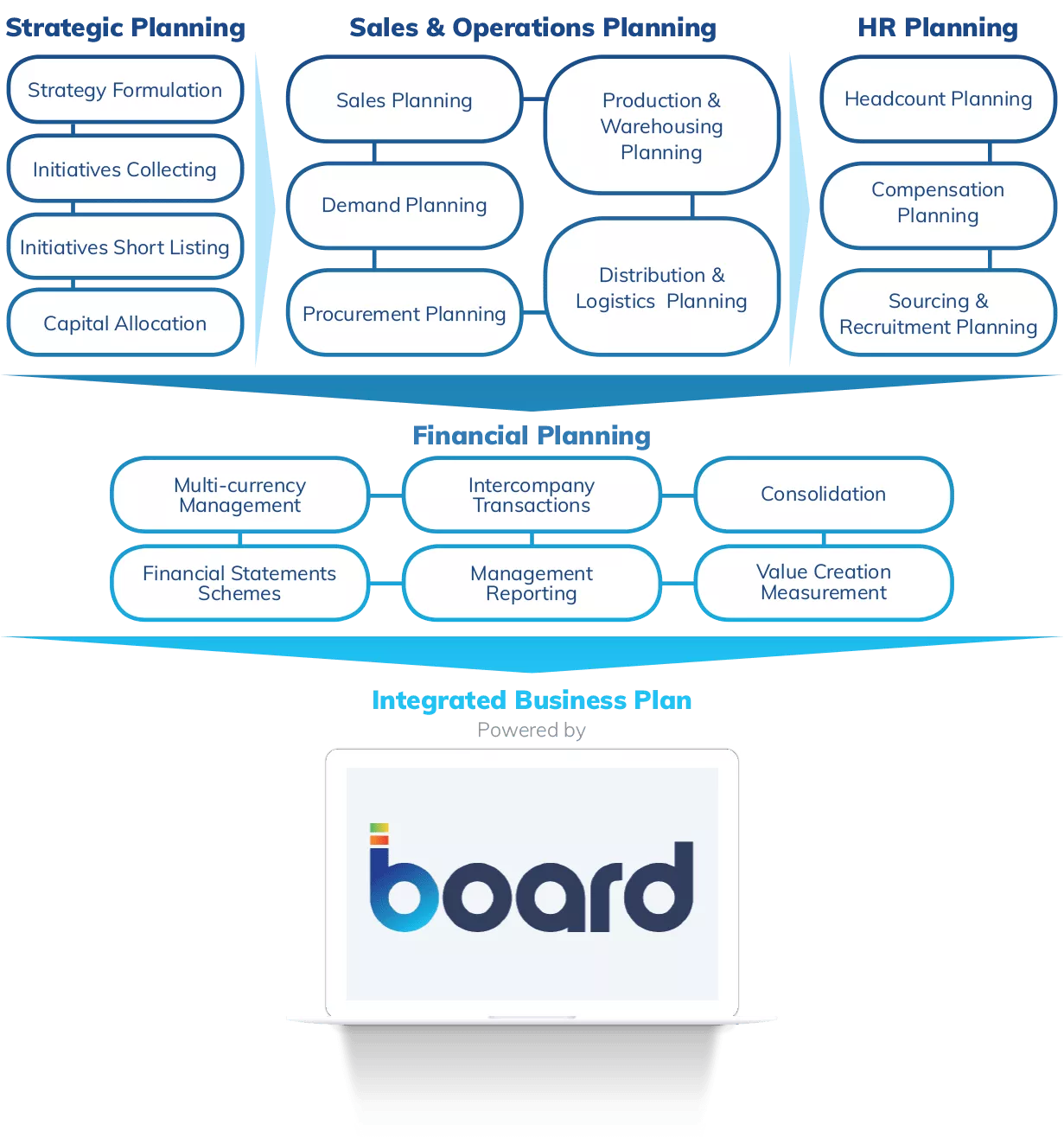 Create business-wide transparency of performance
Achieve alignment between strategic, financial, and operational goals
Empower people to collaborate across departments, business units, and geographic locations
Increase planning, budgeting, and forecasting speed and accuracy
Drive accountability over results
Automate time-consuming manual processes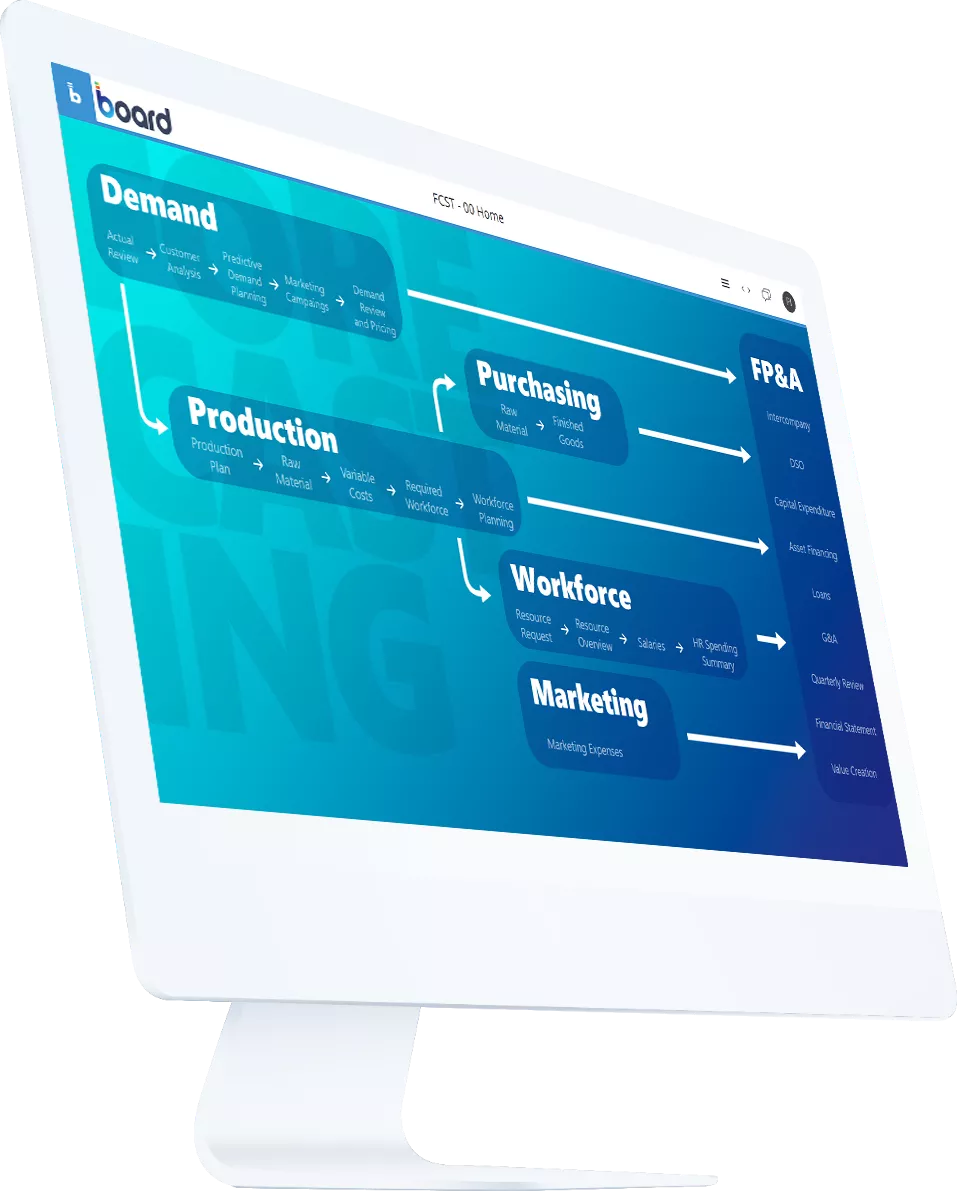 Organize business planning initiatives
Board's IBP software gives you greater control over every planning initiative, ensuring you have all the information you need to come to an informed decision.
One version of the truth: Unify data from across the business to create a single, accurate, up-to-date point of truth on which to base all planning activities, ensuring consistency, relevance, and improved forecast quality
Process standardization: Enable an efficient, collaborative approach with workflow and validation checks to control and standardize activities throughout the entire integrated business planning process flow
What-if simulation: Deliver a historical baseline of performance which can be used to simulate the impact of strategic initiatives in the current plan for the short, medium, and long term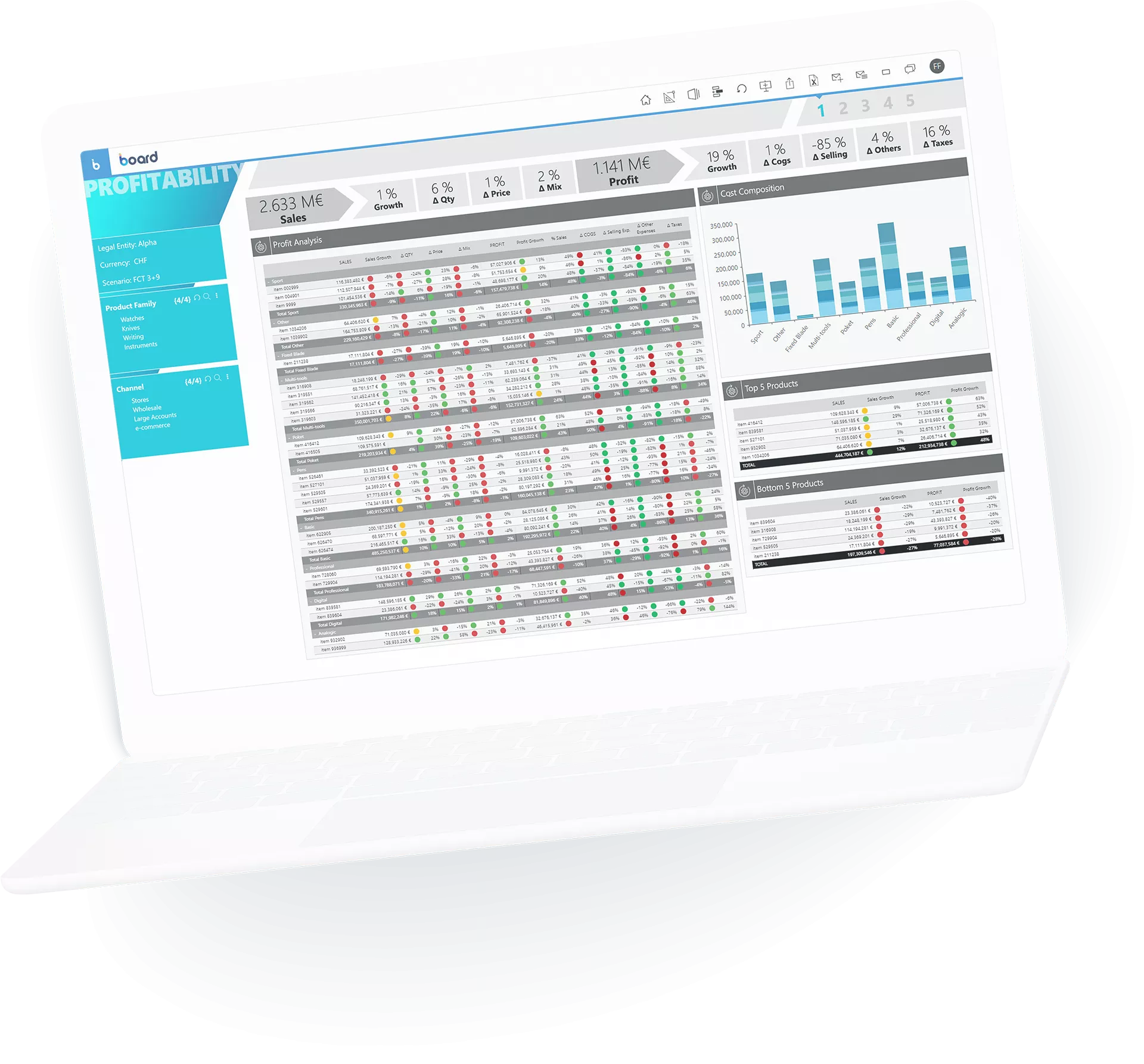 Connect operating plans and financial plans
Bridge the gap between finance and operations, creating plans which meet the needs of all departments in a completely integrated business planning process.
Unified approach: Support the seamless cascading of strategic goals down to operational and financial initiatives, linking budgeting processes such as OPEX and CAPEX with financial and strategic planning
Driver-based planning: Deliver simulation capabilities to enable scenario planning and 'what if' analysis while assessing and comparing complex scenarios and financial outcomes using business drivers
Fully-integrated: Make it possible to integrate the planning process with profitability analysis, strategy management, the financial close cycle, and financial consolidation, using your decision-making platform as a complete Enterprise Performance Management (EPM) system
Consolidation: Automatically consolidate financial and operating data from multiple departments and business entities for a business-wide view
Synchronize management reporting with the planning process
Create complete transparency over performance and the predicted impact of planned activities on the bottom line, with up-to-date reports available at the click of a button.
Real-time view
Monitor performance to-date in real time, with accurate dashboards and reports which can be shared and distributed to keep you informed at every stage
Complete transparency
Achieve complete visibility of what's driving the numbers thanks to an inherent link between financial and operational data
Accurate data
Create a single point of the truth for all data to ensure you can always trust the reported numbers
Trusted by leading organizations

Driver-based planning from production to delivery
Read the full case study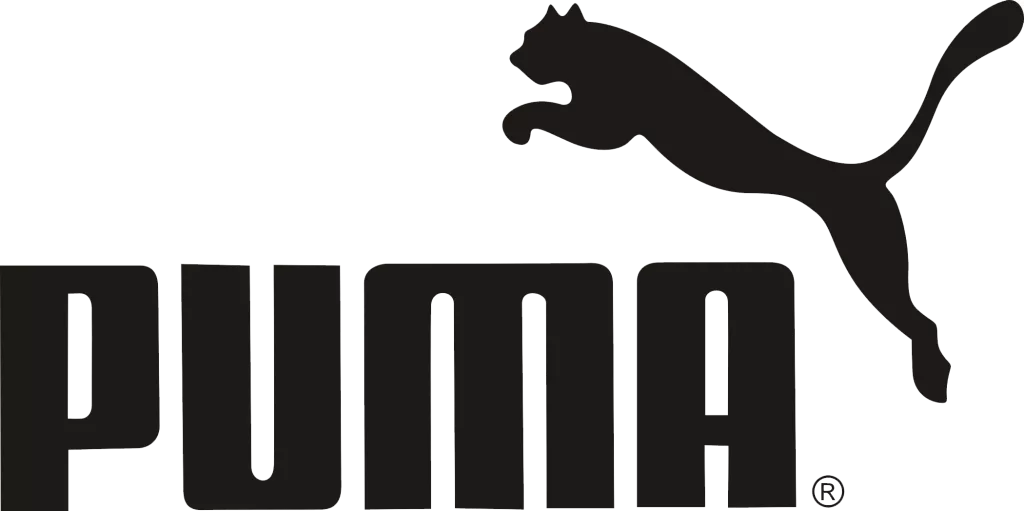 A transformative journey from target setting to execution
Read the full case study
Integrated Business Planning resources