Board Academy: Your eLearning Platform
Develop your Board expertise with on-demand training and resources
Get Started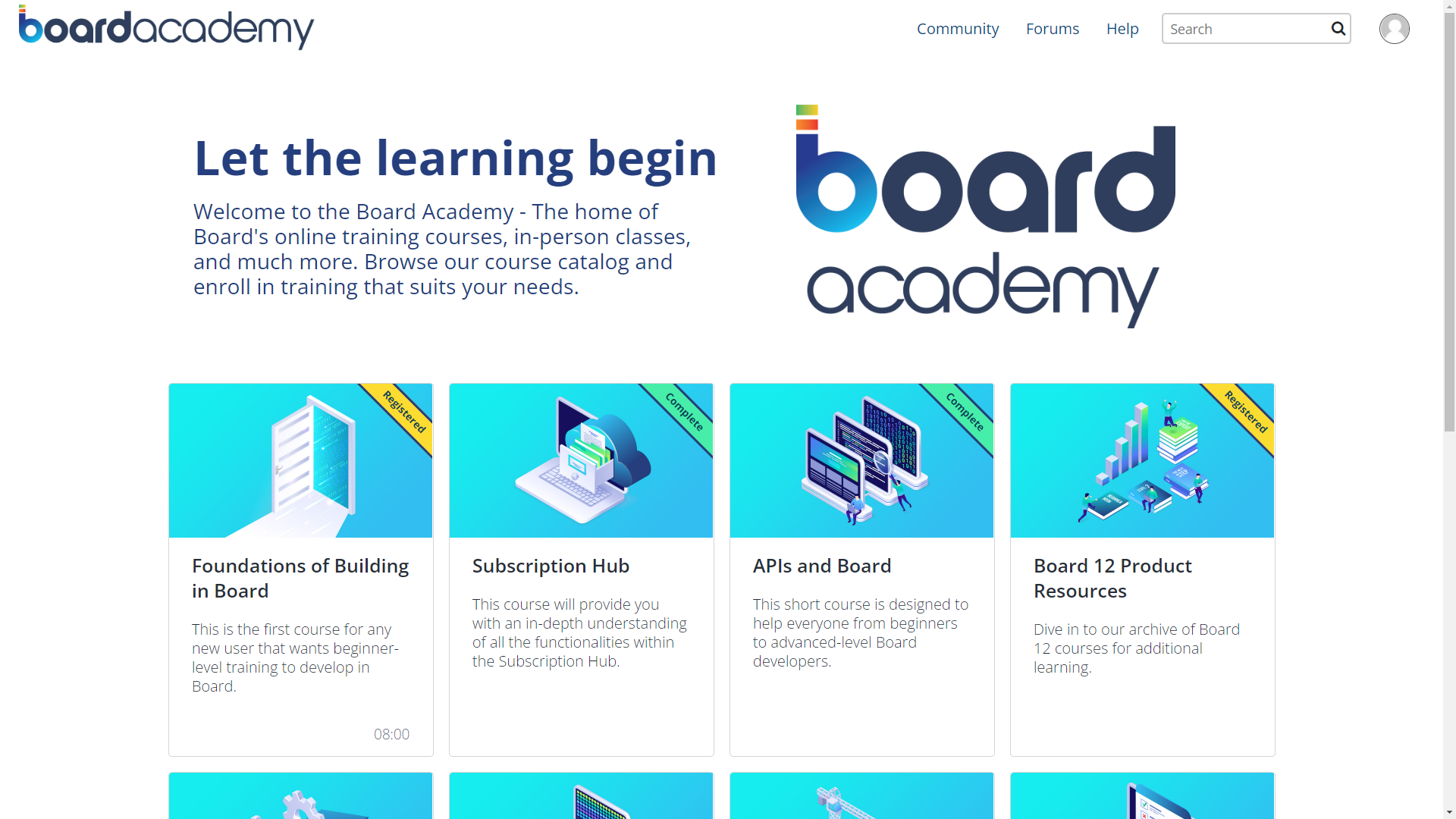 Quickly and intuitively learn how to use Board. The Board Academy eLearning tools teach your employees how to collect, analyze, report, and manage the data you need to guide your decisions. Intelligent Planning needs Intelligent Learning.
Start your eLearning journey through our extensive product tutorials and business cases

Dynamic self-guided eLearning

170+ Product Videos

20+ Business Cases

Equivalent to 5 weeks of on-site training
Key Advantages

Comprehensive platform
Access all our Board eLearning content through one platform. Our product experts developed the content and our team of educators created the training.

Self-directed learning experience
Design your own learning path and track your progress by matching your goals with the contents of the catalog. Board eLearning dramatically boosts Board platform expertise for any level of Board user, including end users, developers, and administrators, reducing the time-to-productivity and increasing profitable returns.

Anytime, Anywhere
Learn at your own pace and in any location, without the expense of training venues or travel costs.

What-Why-How
Take advantage of the "Guided, Try It, Apply It" learning approach throughout our new eLearning courses. Learn to use Board with software simulations and sandbox environments in advanced courses.

Firsthand knowledge
See Board in action in the real world. The Board course library takes you through fundamental basic concepts right into concrete business cases and provides in-depth insight into some common business challenges.

End-to-end learning journey
Gain knowledge across all the fundamental topics of Board. From System Setup to Database Design, Board Application Build and Delivery to Maintenance and Troubleshooting, you will discover the entire Board Solution Lifecycle.
Explore the eLearning Platform.
Begin your eLearning journey