HR
Gain a deeper understanding of your human resources
Get greater employee insight and drive better decision-making with workforce analytics software
Request a demo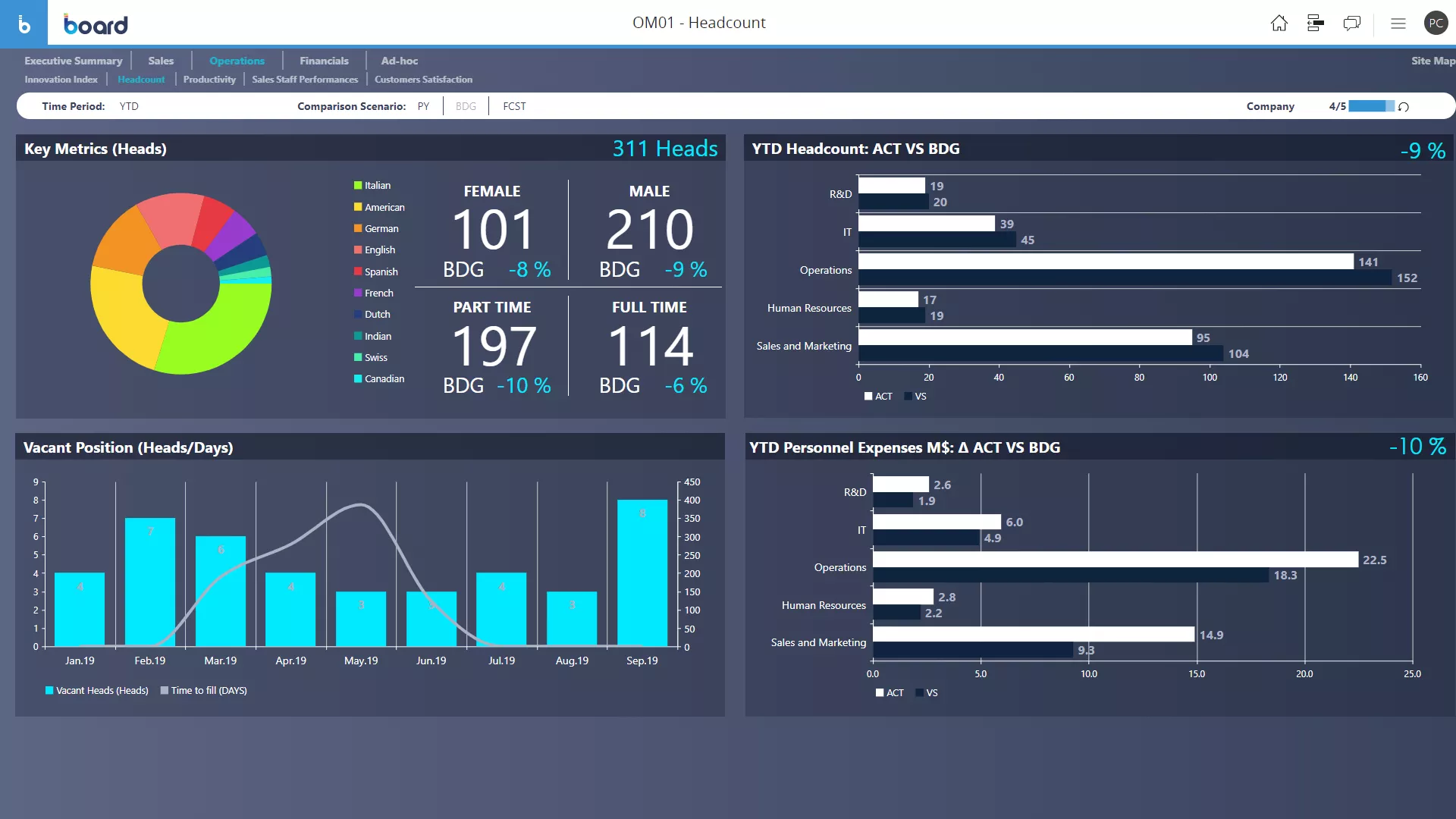 Take your workforce analytics to the next level
Go beyond HR data analysis with an Intelligent Planning Platform that enables employee segmentation, data forecasting, and the deployment of human resource metrics. Board gives human resources teams greater visibility of the key value drivers underpinning the human capital management process and enables them to extract insights from raw data to maximize workforce effectiveness.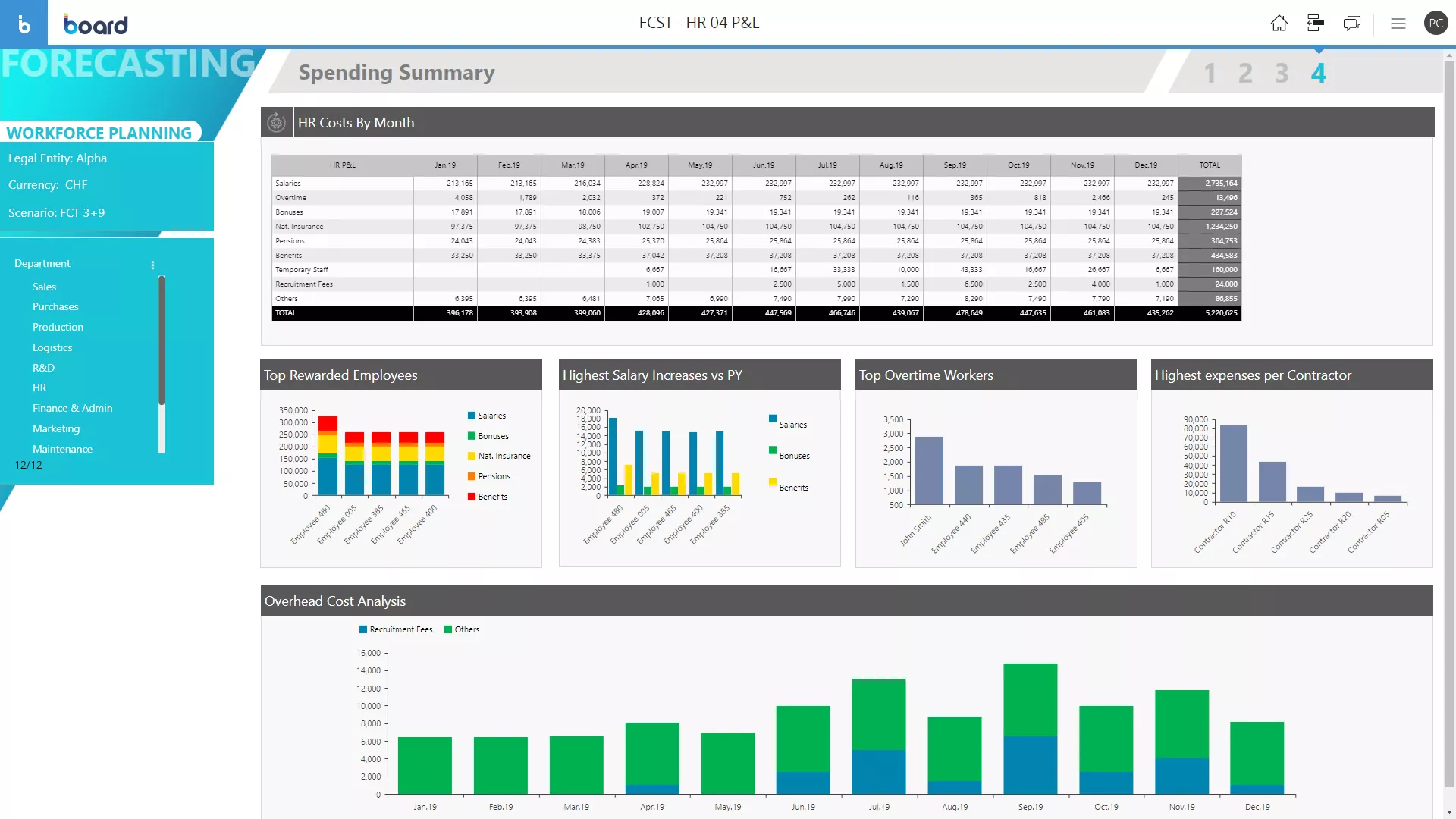 Easily segment your employees

Exploit Board's data modeling capabilities to perform segmentation on any kind of human resources data set, according to the drivers and dimensions of your choice

Gain business insights from data mining

Extract business insights through data mining activities and use them to detect behavioral and productivity patterns within each human resource segment

Analyze and model factors affecting employee retention and turnover

Use quantitative and business modeling capabilities to accomplish skills and competences mapping across the workforce, define detailed profiles of high potential talent, analytically detect compensation components to support internal and external benchmarking on compensation levels, and assess the operating risk of underpaying employees and its impact on turnover

Forecast and predict future changes to your workforce

Take advantage of statistical functions (i.e. linear regression, multiple linear regression, and Holt-Winters) and sophisticated predictive analytics tools within a machine learning environment to produce projections relative to human resources variables such as headcount, retention and churn rates, upward progression rate, and HR expenditure

Easily monitor key human resources indicators

Enhance the end-to-end human capital management process across workforce management, payroll & compensation, talent management, and workforce planning. Automatically calculate a set of mission-critical indicators such as cost per hire, turnover rate, tenure, satisfaction and well-being level, training, absence rate, rate of performance goals met, total cost per employee, and revenue per employee

Workforce Analytics across every business unit
Thanks to Board, we are equipped with a screen that includes various dashboards displaying around a dozen indicators, which are designed to monitor and guide the objectives of the individual directors and the operational units.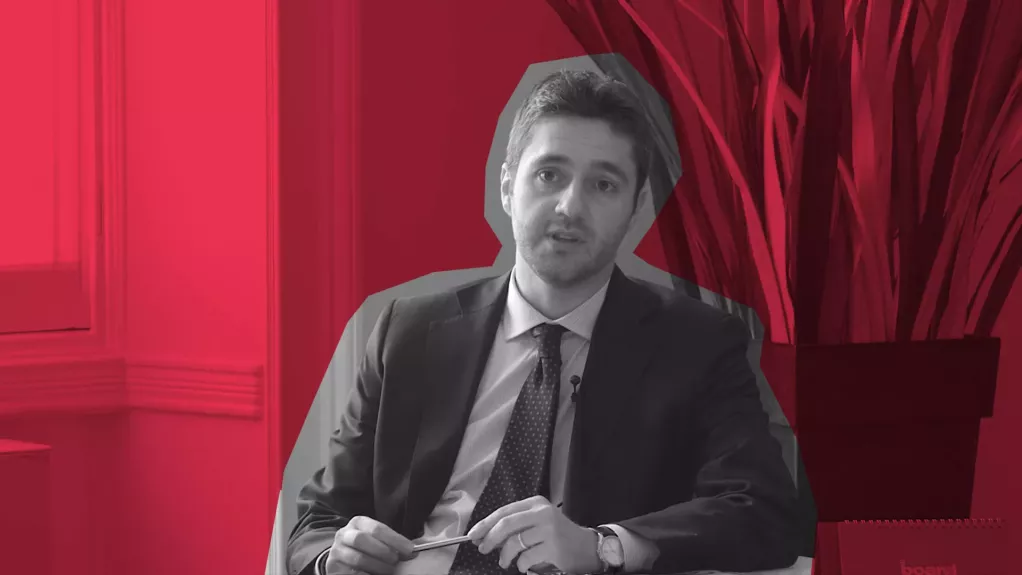 Explore more of Board's Workforce capabilities
Properly align organizational goals with workforce headcount and skills
Learn more
Workforce Analytics
Maximize visibility of workforce behavior and effectiveness
You are here
Effectively plan, monitor, and assess your human resources performance
Learn more