Intelligent Retail Planning at Slowear
Managing the entire pre-season and in-season process, from strategic direction to daily store replenishment, in one solution

Having already used the Board Intelligent Planning Platform to manage parts of the retail planning process, leading Italian menswear brand Slowear had experienced its flexibility and simplicity. The fashion retailer decided to expand the use of Board to manage all retail planning activities, resulting in an accurate, workflow-driven process that has increased efficiency in seasonal orders, reduced end-of-season stock, and increased visibility and control of merchandise in stores.
Read the full case study
Industry: Fashion & Luxury

Department: All

Employees: 450+

Stores: 30+

Founded: 1951
Slowear is a family business concept and an Italian lifestyle project stemming from a long industrial history, combining four historic Italian fashion brands that share a high level of specialization: Incotex (high-level quality trousers since 1951); Zanone (minimalist knitwear); Glanshirt (the vintage shirt); and Montedoro (State-Of-The-Art-Outerwear).
Slowear was built on this heritage of know-how and product-centric passion and promotes a 'durable' fashion concept, featuring inner and outer qualities that make it immune to the passing of time and fleeting trends. This philosophy caters to a need that is becoming increasingly urgent in the fashion industry: spreading a more ethical and sustainable consumption model.
With 29 stores in the world's main shopping capitals including Milan, London, Paris, New York City, Tokyo, and Seoul, and in key international department stores (such as la Rinascente in Milan), Slowear Venezia is recognized by buyers and connoisseurs as one of the leading Italian multi-brand menswear concepts. Slowear has a unique value proposition, presenting a range of brands, accessories, and homeware/lifestyle products. All stores feature a modern and sophisticated layout whose heart is the lounge area, which is devoted to conviviality and total immersion into the Slowear lifestyle.
Project Overview
Implemented solutions: Strategic Planning; Merchandise Planning; Seasonal Budgeting; Assortment Planning and Buying; Retail Planning; In-Season Management
Timing: Yearly and seasonal
User types: Retail and merchandise manager, senior controllers, supply chain managers
Full Retail Planning with the Board Intelligent Planning Platform
Slowear needed to adopt a comprehensive approach to link all of its planning steps, from the Strategic Plan to the daily replenishment in-store. Luca Berga, Merchandise Director at Slowear, explains:
"Board was already present within our company and our people were familiar with the software. We already used Board to manage some parts of the retail planning process and had experienced the great flexibility and simplicity of the platform. That's why we decided to rely on Board – supported by consultancy partner PwC – to implement a full retail planning process. It proved to be the best solution for our needs."
Conceived to support and accelerate the growth of Slowear, the project framework was ambitious but was delivered successfully thanks to Board's technological capabilities combined with PwC's expertise: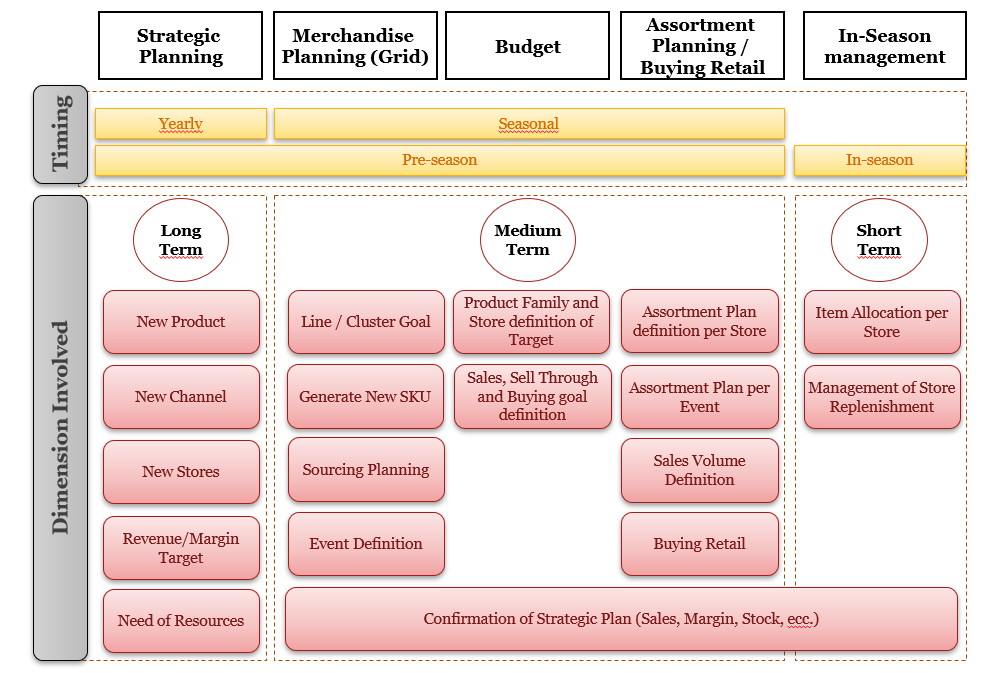 The graphic above was presented by PwC and Slowear at Boardville 2019 – May 19-22
"Data & Analytics help businesses to grow, operate effectively, and unlock data possibilities," says Mirko Carolo, Manager D&A Technology at PwC. "

That means spending time and money more quickly and easily, shortening the distance between insights and value, analyzing the impact of future moves, and empowering people with in-depth data. At Slowear we have leveraged the power of the Board Intelligent Planning Platform to support data-driven Integrated Retail Planning, combined with actionable insights gained through Board, from strategy to operations.

The definition and revision of the strategic plan is conducted in order to share the long-medium term guidelines used to develop new collections and to plan retail sales. These guidelines enable the management of the downstream plan, through the definition of measurable sales and margin targets, and provide additional information about the retail network which is used in the following step. The strategic plan is revised every six months and covers a two-year period."
Slowear's strategic plan is defined by the senior management team, senior controllers, and merchandising & retail managers, and is fed by the following inputs:
Strategic guidelines
New product lines
New store openings
New style guidelines
Sales and delivered value in stores
Based on historical data, the markup and sell-through per channel, event, brand, and product family are defined. The sell-through goal is used for margin calculation and the next season's budget. The end-of-season forecast is then defined based on current season sales, as Luca explains:
"With Board, we define the sales budget for the next season, involving dimensions such as geographic area, sales channel, brand, and gender. Consequently, planned seasonal sales are allocated by product type, product family, and event, based on historical data. Retail managers analyze the data in the strategic plan in order to verify sales and margin goals that have previously been defined."
Based also on historical seasonal sales and the merchandise grid held by retail managers and controllers, the seasonal budget allows Slowear to produce sales forecasts and margins taking into account dimensions such as store, brand, product family, gender, and product type. The budget includes also information on store openings and closures. Budget data is imported from the strategic plan, where market sales are defined, and information about each store is added (e.g. promotions). For each store, the sell-out and sell-through rates are defined in order to obtain open-to-buy values for next season.
The assortment process starts straight after the budgeting phase, which is the responsibility of the merchandise and retail managers and controllers. The goal of this step is to define the store assortment in order to be aligned with the sales and margin targets, taking into consideration store capacity and visual planning. Then, the Assortment Plan gives rise to the buying retail plan and the initial allocation per store and SKU.
"We have implemented, using Board, a Range Plan for each store which sets out the number of target SKUs, from which the average sales price, quantity, and depth (by store) are calculated. At a regional level the Assortment Plan defines with product will be available in the market for future seasons. Each buying session defines the product quantities that will be ordered per store. The order is then aggregated in clusters and sent to production. Initial allocation defines the product quantity that will be send to stores at the beginning of the season and also defines what will be available in the warehouse during the season in order to replenish stores," Luca continues.
Gathering the retail and merchandising inputs on the Board environment relating to production, stock, seasonal sales per store, the Assortment Plan, and the target stock levels, Slowear's supply chain managers drive two linked processes: replenishment and reorder. These are the main phases of In-Season Management, a continuous process related to the seasonal sales period that aims to optimize, with a short-medium term view, store sales while keeping low stock levels, therefore reducing working capital and stock-out. The replenishment phase calculates sales potential per store during the season and plans the distribution of available stock, while the reorder phase deals with the special orders made by the stores.
"In-Season Management is based on the concept of Target Stock Level (TSL). When the quantity in the store is below the TSL, replenishment is suggested. It is also based on aggregated seasonal sales curves of previous seasons and a manual adjustment. Data is calculated daily and at a store SKU level. Board allows us to accurately define the replenishment order from warehouse to store and to get the right balance across different stores," Luca explains.
Leveraging the high standards of Board's technology and architecture, and taking advantage of its unified environment for the entire planning process, the different phases of the full retail planning process at Slowear can be run concurrently by different people in different regions.
"That is very helpful, particularly when you need to switch from business-as-usual to management by exception across several markets and their relevant issues," says Luca.
Meeting the needs of CFOs, Merchandise Managers, Supply Chain Managers, and Senior Controllers with a single product: the benefits of Board
According to Luca, Board has enabled Slowear to change and improve employees' approach to planning and analysis without 'frictional' effects:
"Board users have been involved in the creation of the applications they consequently use. Board has allowed us to realize an Integrated Retail Planning approach for the entire organization, including different job functions – such as retail and merchandise managers, supply chain managers, and controllers – across our stores around the world. The intuitiveness of the Board Intelligent Planning Platform helps to deliver a view of complex processes, simplifying them with an accurate workflow that covers every step from the strategic plan down to the single stores. Amongst the other benefits that Board has brought to Slowear, I would like to mention the increased efficiency in seasonal orders, the reduction of end of season stock, and the increased visibility and control of merchandise in our stores."
The majority of the content and views discussed in this case study represent the information shared by Slowear and PwC during the Boardville event (2019 – May 19-22)