Mass Market Retail(K.MMR) Integrated Business Platform
The model collects K.Group best practices for the effective and efficient management of the main Mass Market Retail (MMR) company processes and promotes an incremental and flexible path to become an Orange company. An Orange company is a people-centered organization that promotes breakthrough knowledge innovation and the collective sharing of data.
In a liquid market, corporate decisions mature over time in a process of continuous fine tuning between the definition of objectives, actions taken, and measurement of results.
A single platform is therefore necessary, which can be integrated with internal management systems and is easy-to-use; a platform that enables the performance analysis of POS and Headquarters in the perspectives of the market, operations, eco-fin, and people. At the same time, the platform can operate on forecasts and budgets in a collaborative way by simulating the effect of actions and initiatives on the economic and financial results.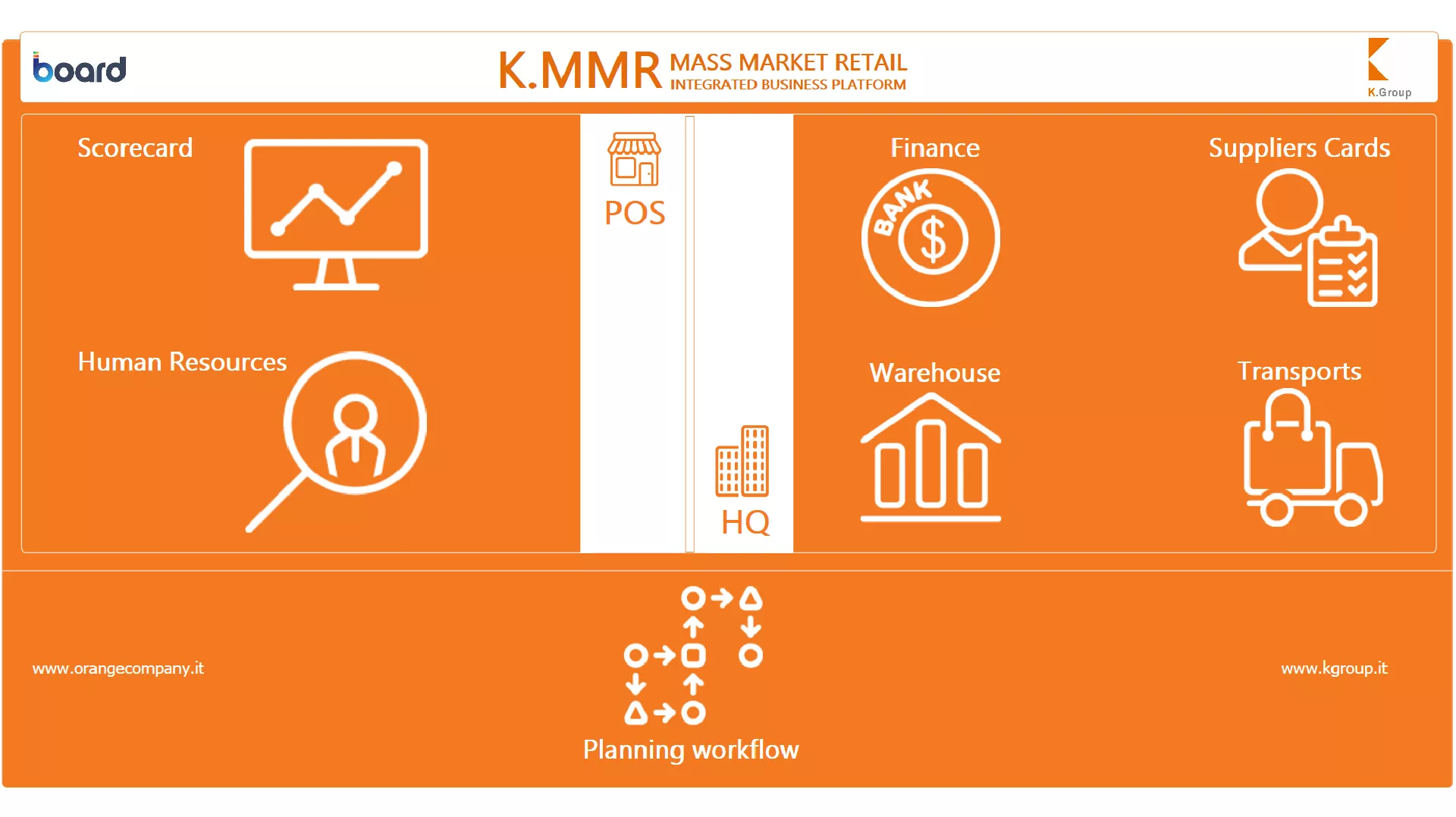 The K.MMR Integrated Business Platform application provides a complete view of Headquarter and POS processes.
It features Performance Measurement and Corporate Performance Management tools as well as best practices for decision-making, eliminating dangerous Excel sheets in every task.
Key Capabilities of the K.MMR Integrated Business Platform
Data Integration
The K.MMR Integrated Business Platform acquires data from multiple sources. The Board platform envisages a standardization stage for inhomogeneous data. In this way it is possible to support M&A, maintaining historical data without resorting to a data warehouse.
Complete Process and User Control
Information flows are tracked and include certification steps. Each user who accesses the model is appropriately directed to their tasks.
Easy Access
You can access the application and work from your PC using the Board client or an internet browser, as well as on the move via Smartphone or tablet devices without losing any functionality.
Flexible Modeling
Board's customizable nature enables models to easily be adapted to the specific needs of end users, both at the data model and reporting levels.
Deep Analysis
Board's multidimensional architecture allows data to be navigated from high level dimensions to low level detail and vice versa.
Planning and Simulation
The planning process consists of several steps: definition of the annual Sales & COGS budget for POS, monthly and weekly reallocation, P&L generation through planning of operating and structural costs, BS definition, and financialization of costs and revenues for cash planning purposes.
Key Features of the K.MMR Integrated Business Platform
POS Scorecard per perspective
            Customer
            HR
            Finance
Human Resources
            Organic HR KPIs
            Cost
            Personal data and career
Supplier Cards
            Purchases
            Transfers to POS
            Stock
            Awards and contributions
Transportation
            KPIs
            Delivery costs
Warehouse
            Cross analysis
            Stock transactions
Finance
            Group
            Credit and debit monitors
            Medium Long term / Short term money cost
            Uses and conditions
Planning workflow
           P&L, BS, Cash Flow
          Collaborative workflow for POS and Headquarters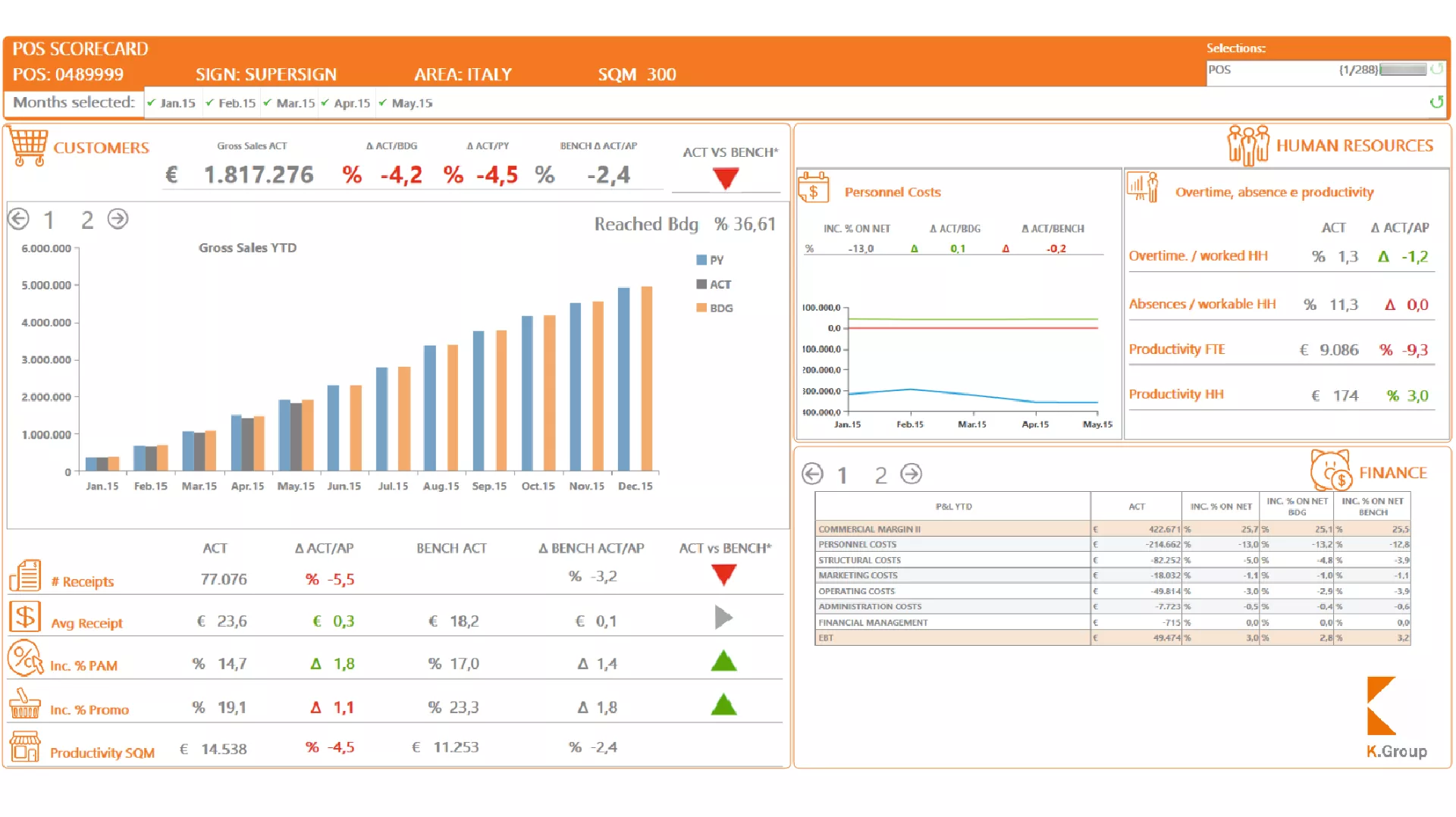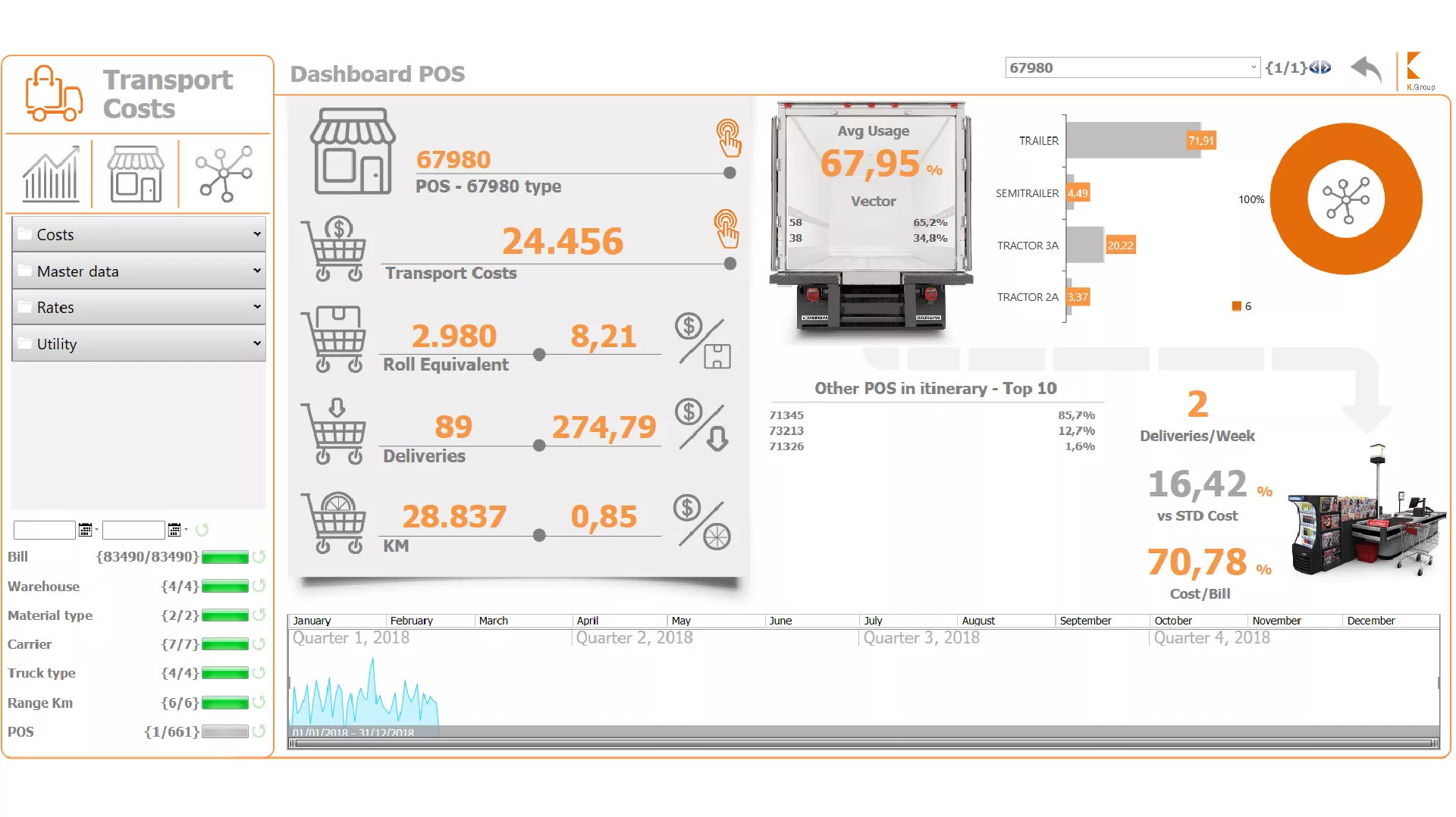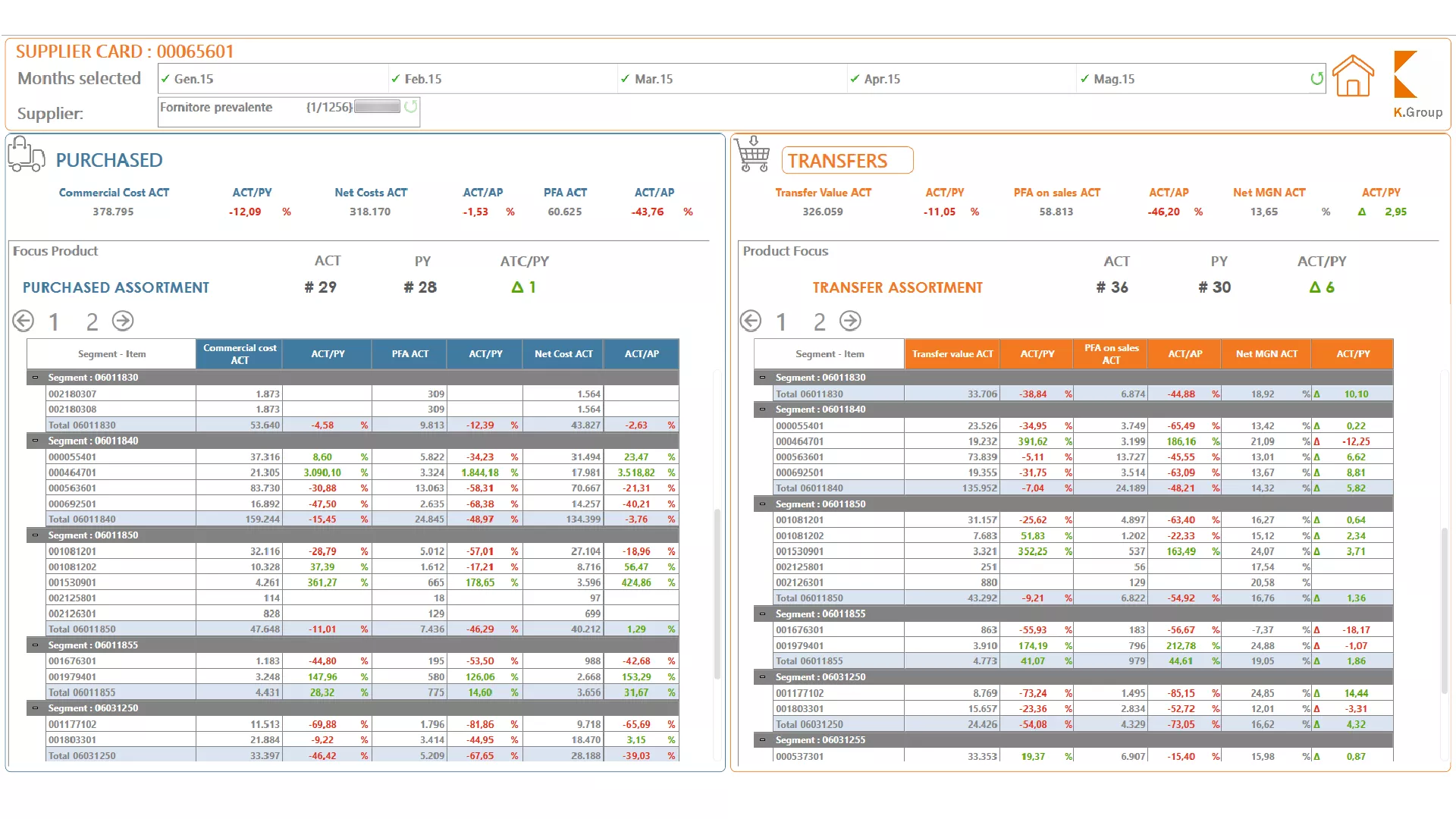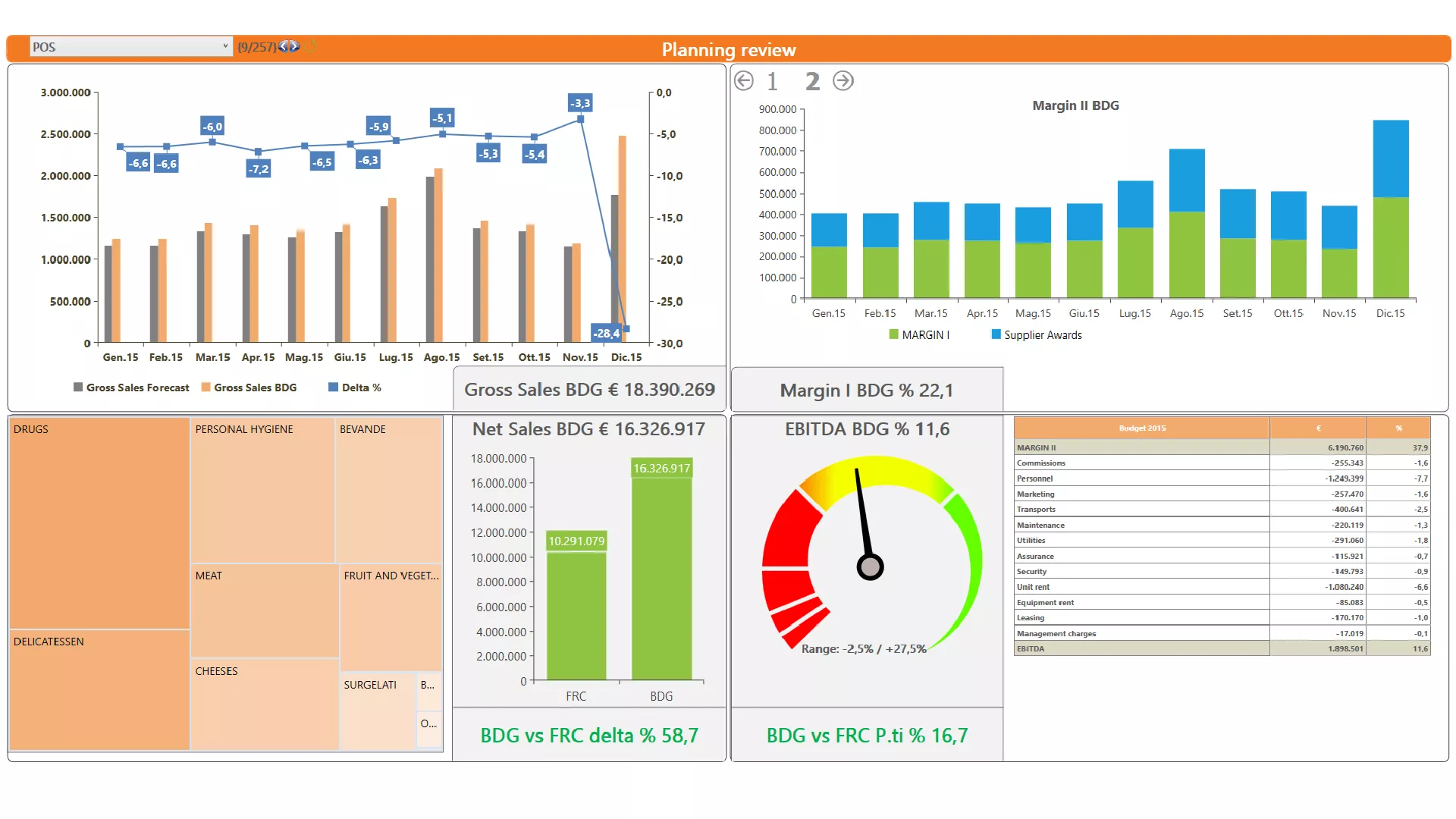 Other solutions from K.Group
K.Group
This model collects, in a single platform, K.Group's best practices for the effective and …