Flughafen Berlin Brandenburg
Efficient Reporting, Analysis, and Planning at Flughafen Berlin Brandenburg
Driving reporting efficiency and creating the foundations for a fully integrated, self-service management information system

With Board, Flughafen Berlin Brandenburg seamlessly implemented reporting and analysis on a single, easy-to-use platform, driving reporting efficiency. Departments can quickly and easily explain deviating numbers with the help of point-of-view comments. The new platform also provides future compatibility for a self-service Management Information System (MIS) based on defined and quality-assured key figures, as the company looks to move towards an Integrated Business Planning approach.
Read the full case study
Industry: Transportation & Logistics

Department: Finance, HR

In Germany: 3rd largest airport

Passengers: 35 million in 2019

Main data source: SAP BW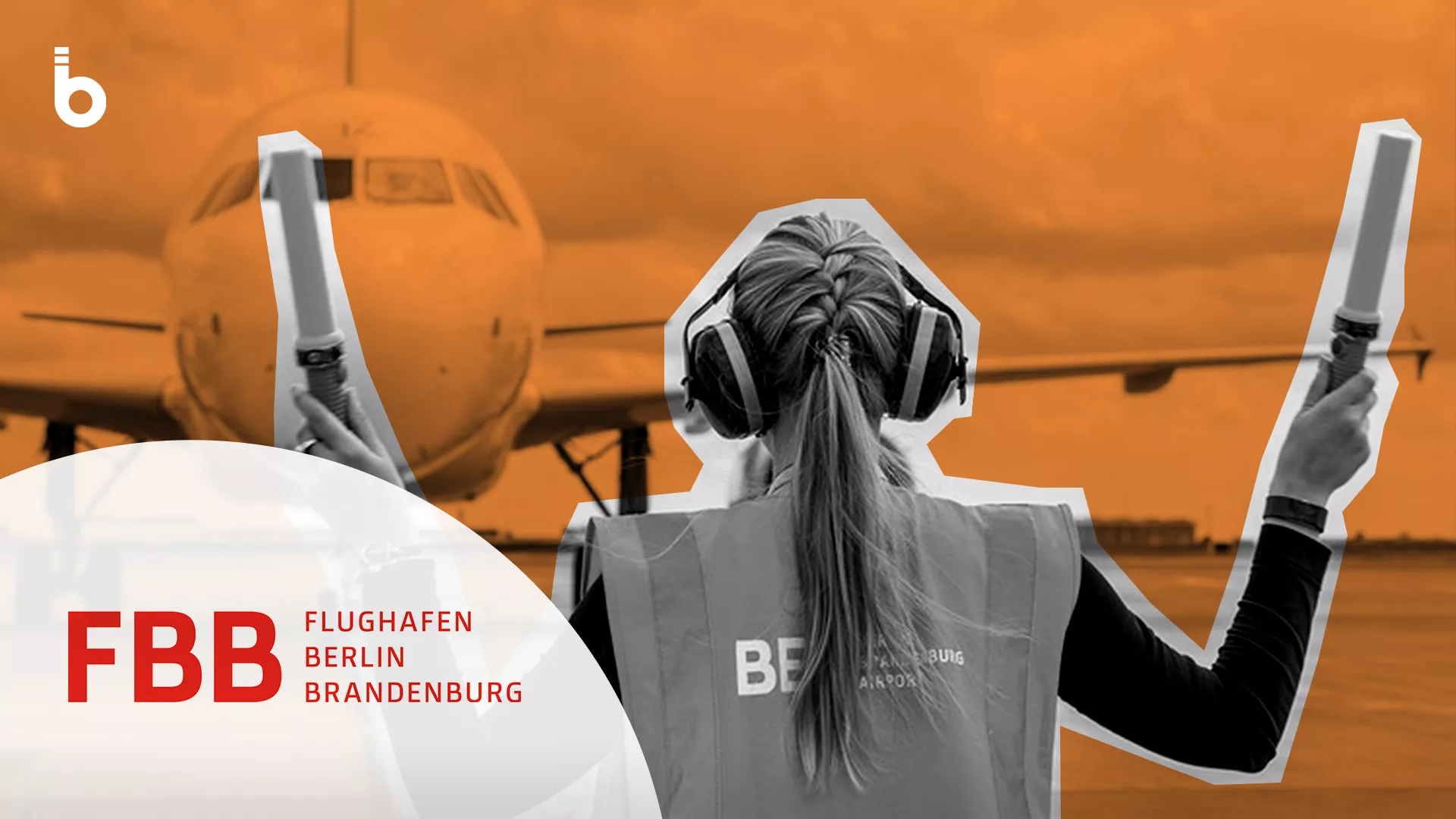 The new Berlin Brandenburg Willy Brandt (BER) airport at Schönefeld is operated by Flughafen Berlin Brandenburg GmbH (FBB). Until October 2020, it was under the same operation as Berlin-Schönefeld (SXF) and Berlin-Tegel (TXL). With more than 35 million passengers in 2019, this is the third-largest airport in Germany. FBB shareholders are the Länder of Berlin and Brandenburg, each with a share of 26%, and the Federal Republic of Germany with a share of 37%. FBB has a headcount of around 2,200.
The Challenge – Optimize the group's reporting system
Previously, FBB used a variety of disparate reporting and Business Intelligence (BI) systems, which tended to form standalone insular solutions. For many years, the primary system for reporting, analysis and planning was SAP BW, which is fed by various upstream systems. However, this can only be used by trained users and is not an easy system to operate. SAP BW was often used in combination with Excel workbooks created and maintained by the specialist departments but the SAP / Excel combination fell short of the departments' requirements. In the past, this led to different, sometimes competing, solutions being implemented, resulting in system disruptions and workarounds.
"This goes against the principle of consistent data storage in the Enterprise Data Warehouse. Some of the new Excel solutions only had manual interfaces which made them open to errors," explains Andreas Kacerek, Head of Planning & Reporting at FBB.
Reliable management reporting is very important for FBB to create transparency and trust among their stakeholders. Incorporating the latest figures, reports are sent to not only internal management, to support operational management, but also to supervisory bodies made up by representatives of the various shareholders of the company. A 60 to 70-page report is created each month and sent as PDF or printout.
In 2018, FBB set up a Business Intelligence Competence Center (BICC) with employees from IT and Controlling. The BICC's mission is to ensure governance and a lasting design of a future-integrated BI architecture.
"We are aspiring to the vision of a self-service MIS based on defined and quality-assured key figures. As an all-in-one solution, the new BI solution should enable integrated reporting and planning," says Kacerek.
High performance and ease-of-use were also required for the sake of end-users. "Power Users" from the departments should be able to create new reports without prior programming knowledge.
"We attach great importance to experts in the specialist departments being able to do as much as possible themselves," adds Carlo Sapp, Head of Controlling & Accounting. "With point-of-view commenting, for example, Controlling should be able to quickly and easily explain any deviations from the forecast or previous period, and specialist departments like HR can explain their FTE figures. We also want to create individual dashboards for different areas on our own."
One important requirement for the reporting system was to replicate the existing layout as far as possible, minimizing the changeover impact for stakeholders. The fixed reporting layout is contrasted with high flexibility, in terms of self-service analyses using drill-down options. This means reports are highly compacted at KPI level, giving Controlling the ability to drill down even deeper to analyze numbers in detail.
The final requirement for the entire reporting process was for it to be workflow-driven, so each department knows when and what information they should provide.
The Board Solution – Strong overall package
The BICC defined the performance requirement for the new system, taking responsibility for selecting the new BI system. To find the right solution, they carried out multiple proofs-of-concept (POCs) with subsequent, detailed preference analysis.
Board exemplified, during the POCs, that it is highly capable of meeting all requirements. The Board team also demonstrated its professional working methods exceptionally well. After a Europe-wide call for tenders for a BI and planning tool, the decision was finally made to implement Board.
Board's overall package met the brief, showcasing its ability to:
combine planning, analysis, and reporting in an all-in-one platform, while avoiding system disruptions
create reports with zero-programming requirements perform at a high rate, meeting specific requirements laid out by FBB
feasibly challenge reporting requirements, including pixel-precision printed reporting
direct point-of-view comments option from specialist departments
seamlessly jump from report to analysis; providing enhanced ability to view detailed information, including drill-through options at SAP document-level
As the company wanted to keep SAP BW as the leading system, the availability of the Theobald connector was another important factor for Board. The data can be imported directly from SAP into Board via BW queries and hierarchies. With clear data sources and data hierarchies, it is very easy to link to SAP data via the Theobald connector. Further data, e.g. from Project Planning and Finance, will also be integrated via CSV import on the Board platform in addition to the data from SAP.
The Board implementation project team consisted of employees of Board and AIOS – who, as a Board implementation partner, brought in its expertise from multiple projects – as well as a technical and a specialist employee from the FBB side. Additional professional staff were brought in where necessary, e.g. for HR. The team started work in August 2019, With the concept phase running until the end of October 2019, followed by the implementation phase right up to February 2020. After testing and fine-tuning, the project went into operation on-time and in-budget and is updated on a roll-out basis.
As a first step, the Group's reporting system was migrated from FBB to the Board platform. This includes PDF reports and their printouts, as well as presentation mode. The commentary (point of view) and data analysis options were also implemented.
The MIS – with dashboards, reports, and analyses – is now being set up by FBB under continuous development. Finance analyzes and presents the financial key figures and financing data for projects. Operations add the aviation figures, including the number of flight movements, passenger, and cargo figures. HR adds reports around staffing numbers. The system also shows the project controlling stats for infrastructure upgrades.
Customer Benefits – Integrated platform increases efficiency
In the new reporting system, several years' financial, personnel, and traffic key figures are presented as actual, forecast, plan, and previous-year figures. Various key figures are commented on at the same time (point-of-view). Shortly after Go Live, it became apparent that the installed workflows and the avoided system disruptions ensure higher data quality and efficiency improvements when setting up a group reporting system. This eliminates the need to send "Excel note files" with consolidated values to the division controllers and then merge them into the group report, because explanations are made in Board itself without any merging required.
Initial experience also shows that the user-friendliness of the new Board platform has led to rapid acceptance by controllers.
"Once they get to grips with Board-specific terms like "capsules" and "entities," and the specific functionalities such as switching between capsules and presentations, colleagues are very happy to adopt the software," says Sapp.
After a brief induction and coaching, the IT staff at FBB are able to independently define new data models to create operational key figures, and so on. The intuitive use of Board, and the way standardized management reporting interlocks with comprehensive self-service functions, should also lead to the Management using these reports comprehensively and self-sufficiently on the platform. This also eliminates the need to send PowerPoint reports.
The FBB team highlights its positive experiences from rolling out Board:
"The duplication approach of reports and dashboards made it surprisingly easy to create more templates. Building KPI rules and investigative approaches is child's play, especially compared to SAP BW. We were also impressed with how very flexible Board is," says Sapp.
The next steps will focus on expanding reporting and dashboarding, including setting up the MIS with control-specific dashboards. HR reporting and department-specific aviation reporting and dashboarding are also on the agenda.
The planning functionalities for forecasting, operational budgeting, and medium-term planning will then be addressed to further establish an Integrated Business Planning (IBP) system. Reporting is a good starting point, because it sets out the structure, and if you know which metrics need to be reported, you also know which figures to plan.
"Board has so far met all our expectations and we every day we can see more benefits and possibilities brought to us by Board. It is important that further development includes improving our BI architecture and an online-optimized reporting structure," says Andreas Kacerek, Head of Planning & Reporting.