City Harvest
New York City based nonprofit chooses Board for accurate budgeting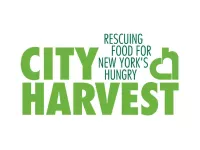 Industry: Charities & Non-profits

Department: Finance
Board had the functionality and flexibility we were looking for. It was customizable, intuitive, streamlined, and refined financial information. Javier Garcia Senior Financial Analyst City Harvest
The Company
City Harvest is New York City's largest food rescue organization, helping to feed the nearly 1.2 million New Yorkers who are struggling to put meals on their tables. In 2019 alone they will rescue 64 million pounds of food and deliver it, free of charge, to hundreds of food pantries, soup kitchens, and other community partners across the city's five boroughs. City Harvest's programs empower individuals through nutrition education, increase their partners' capacity, and strengthen the local food system, helping New Yorkers who are experiencing food insecurity to access, afford, and consume nutritious food.
The Challenge
City Harvest maintains an ambitious growth plan, thus recognized a need to ensure that administrative processes work as efficiently as possible to address the organization's multi-faceted business model, including food rescue and distribution, community engagement, and fundraising. They identified the following areas of improvement in financial administration:
Streamline the budgeting process for the entire organization
Meet budget timelines and create actionable reports
Reduce staff costs and time spent on budgeting
Ensure a uniform standard of finance staff's technology proficiency and provide extra training as needed
Establish uniform sources for financial and operational data
Streamline decision-making and data entry processes

The Solution
The evaluation journey included thorough research and review of several budgeting and business intelligence solutions, including Adaptive, Vena, Infor, BI360, Budget Masetro, Power Plan and Board. City Harvest selected Board for its power to connect systems and information into one single source, and to replace the use of nearly 200 spreadsheets for one budget season. Excel proved to be too manual and time-consuming for the City Harvest team, which contributed to budget timeline delays.
Additionally, City Harvest manages many projects happening daily across the organization. Prior to implementing Board (which was completed with Board partner, Corporate Renaissance Group), there was no single platform to generate the different accounting segments, so each project had to be managed on individual Excel sheets. "Board had the functionality and flexibility we were looking for. It was customizable, intuitive, streamlined, and refined financial information." – Javier Garcia, Senior Financial Analyst, City Harvest
The Results
Using Board, City Harvest removed many tasks and increased efficiency around the administration of budgets, report creation, and manual checking of work. These benefits, in conjunction with having fewer spreadsheets, have made managers more capable of accessing information and reports quickly. Managers reduced the need to go through the finance team and different sources to access information; it's right at their fingertips in Board and the connected General Ledger (GL) system.
Board has made it easier for managers to work with and understand their budget. This has improved the participation-in and accuracy of City Harvest's budgets. Now the team spends more valuable time reviewing budgets to ensure continued sound fiscal management of City Harvest.
The City Harvest team is proud to have achieved a budget process that is 20 days shorter. In the future, City Harvest plans to integrate other financial data from different sources (such as employee salary and benefits information) into Board so that all financial information is housed in one place.