BOARD named a Market Leader for Planning & BI by BARC
Monday, 18 February 2019 - Chiasso, Switzerland and Boston, US
The 2019 BARC Score features vendors that offer integrated planning and BI solutions.
Unified decision-making platform provider BOARD International has been named a Market Leader in BARC's 2019 Score Integrated Planning and Business Intelligence DACH report.
Written by authors Christian Fuchs, Larissa Baier and Julia Förth, the report highlights that the seamless integration of planning and BI functionality in "one common platform" is "essential to optimally support the management cycle." To determine the positioning of vendors, BARC evaluates their portfolio capabilities and market execution against criteria including the range of functionality offered by the solution, ease of use, its sales, marketing, and development strategy, financial performance, and customer satisfaction.
BOARD is an all-in-one platform which offers analysis, simulation, and planning capabilities through a drag-and-drop interface. Strengths of the solution highlighted by BARC include its flexibility in developing tightly integrated BI and CPM applications, its user-orientated development environment, and the positive customer feedback for ease of use and flexibility received in the most recent BARC BI survey.
"Since our inception we have championed the benefits of unifying BI and planning functionality, and BOARD has always been developed with this ethos in mind. I am delighted with this recognition from BARC and also to see that the market is increasingly seeing the benefits of a unified approach," said Giovanni Grossi, CEO and Founder of BOARD International.
A full copy of the 2019 BARC Score Integrated Planning and Business Intelligence DACH report can be downloaded here.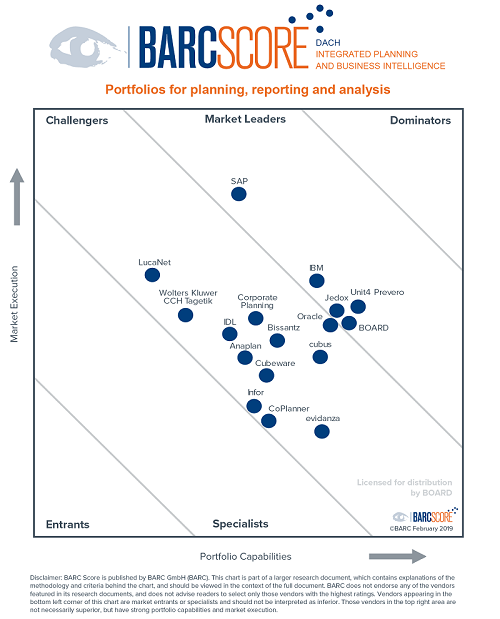 About BARC:
BARC is a leading enterprise software industry analyst and consulting firm delivering information to more than 1,000 customers each year. For over twenty years, BARC analysts have combined market, product and implementation expertise to advise companies and evaluate BI, Data Management, ECM, CRM and ERP products. A long-running program of market analysis and product comparison studies forms the basis of BARC's comprehensive knowledge of all the leading software vendors and products, as well as the latest market developments and trends. BARC events provide a focused overview of leading software solutions, trendsetting developments and current requirements, as well as market developments in particular enterprise application categories. Along with Ardour Consulting, le CXP and Pierre Audoin Consultants (PAC), BARC forms part of teknowlogy Group – the leading European IT research and consulting firm with 150 experts in eight countries including the UK, France, Germany, Austria and Switzerland. For further information, visit www.barc-research.com, www.bi-survey.com and www.barc.de (in German).
About BOARD:
BOARD is the #1 decision-making platform. Founded in 1994 and Headquartered in Chiasso, Switzerland, and Boston, MA, BOARD International has enabled more than 3000 companies worldwide to effectively deploy Business Intelligence, Corporate Performance Management and Predictive Analytics applications on a single platform. The BOARD platform allows companies to achieve a single, accurate and complete view of business information and full control of performance across the entire organization. Thanks to BOARD, global enterprises such as Coca-Cola, DHL, KPMG, Puma, Siemens, KFC and ZF Group have deployed end-to-end decision-making applications at a fraction of the time and cost associated with traditional solutions. www.board.com