Board Financial Consolidation
Accurate group reporting, fast closing and complete financial control
Board FC (financial consolidation and reporting software) enables companies to perform both legal and management consolidation within a single, integrated Business Intelligence and Corporate Performance Management environment, providing a deep insight into financial and operational results.
Incorporating a range of financial consolidation tools, Board FC addresses the challenges that multi-entity organizations face today with intercompany eliminations, consolidation adjustments, and group reporting, making it easy to manage the entire financial consolidation process and undertake the consolidation of financial statements quickly and efficiently.
Turnkey functionality merges data from different locations and across multiple general ledgers, performing multi-currency conversions and eliminating time consuming and non-compliant spreadsheet-based processes. The result is fast, accurate, consolidated financial data without the headache of manually performing the consolidation process, meaning your Finance department can spend more time analyzing the results.
Inbuilt modelling functionality also allows you to create and compare different scenarios to see their impact on the bottom line, helping you to make more-informed decisions.
A Workflow Control Panel makes it easy to monitor and manage all of the steps in the consolidation of financial statements across the whole enterprise, highlighting the operations status and certifying internal controls. The Workflow functionality also allows you to produce an audit report on consolidated financial statements thanks to full data and process auditability, meaning you can be assured that activities are fully traceable.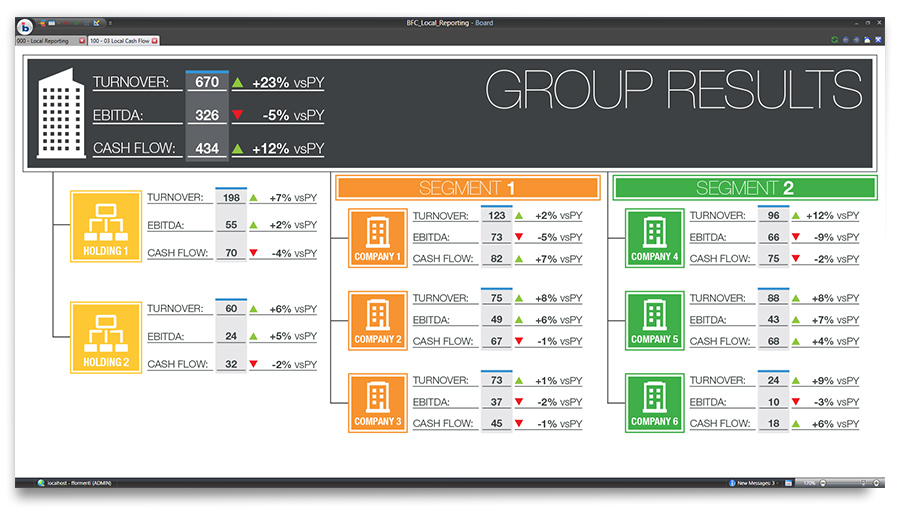 Key Features of Board Financial Consolidation Software
Legal and management multi-level consolidation of complex group structures, with automation of:
Currency conversion with calculation of Conversion Reserve
Intercompany eliminations of Credits/Debits and Expenses/Revenues
Elimination of Investments in subsidiaries and subsidiaries Net Equity, with calculation of Consolidation Reserve
Elimination of dividends and subsidiaries Gain/Loss, with calculation of group Gain/Loss
Calculation of changes in consolidation scope
Cash-flow calculation and reporting
I/C reconciliation at transaction document or currency level
Flat and Sub-consolidation model
Creation and comparison of unlimited scenarios (Actual, Budget, Forecast, etc.)
Multiple and customizable closing periods (Year, Quarter, Month, etc.)
Management of multiple Charts of Accounts: Local, Group and Reporting
Journal entries at Company and Group Level
Full data and process auditability
Statutory, Management and Segment Reporting
Board Financial Consolidation 4.0: Accurate group reporting, fast closing and complete financial control