Retail
Increase efficiency from supplier to shelf
With grocery data analytics software that helps you take a more intelligent planning approach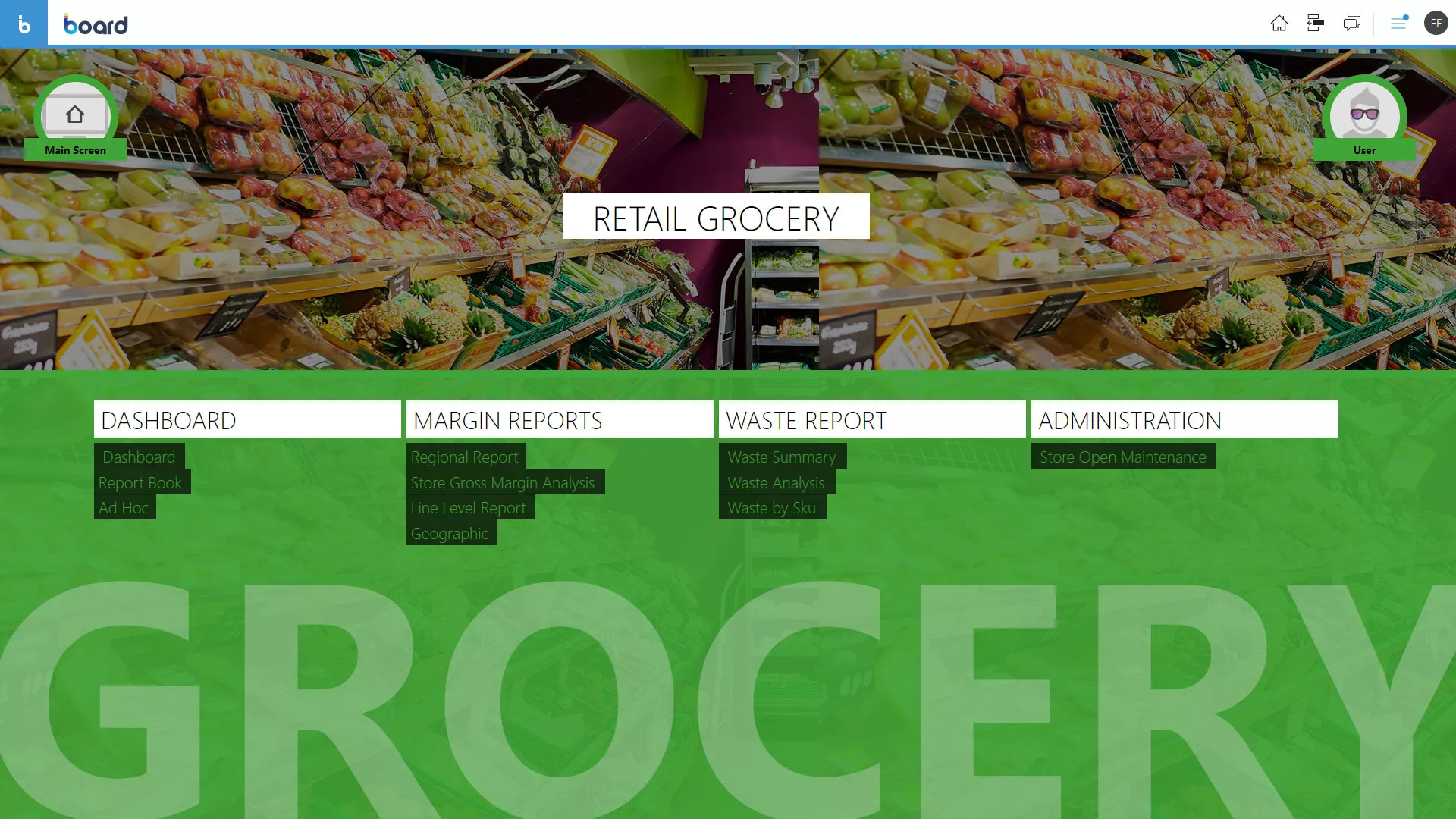 The battle for consumers' grocery spend is more intense than ever, with new store concepts, pricing strategies, delivery formats, and market volatility putting retailers under pressure to deliver increased value with decreased costs. As an Intelligent Planning Platform, Board empowers grocers to turn consumer spending patterns into profitable plans, aligning product strategy to customers' needs.
Quickly understand performance with powerful Retail Analytics
Achieve full transparency across the supply chain with a centralized hub for data analysis.
Gain full visibility across the business

Unifying financial and operational retail data, Board creates a single point of truth and provides complete visibility of performance through interactive dashboards and reports

Analyze data at all levels of detail

Perform detailed analysis on data at every level of the organization, from aggregated product categories to individual SKUs

Empower users with self-service analysis

A user-friendly interface enables users to analyze data in their own way to quickly find the answers they need

Combine Business Intelligence with Planning

Planning and analysis capabilities in a single solution enables you to use historical data for future planning activities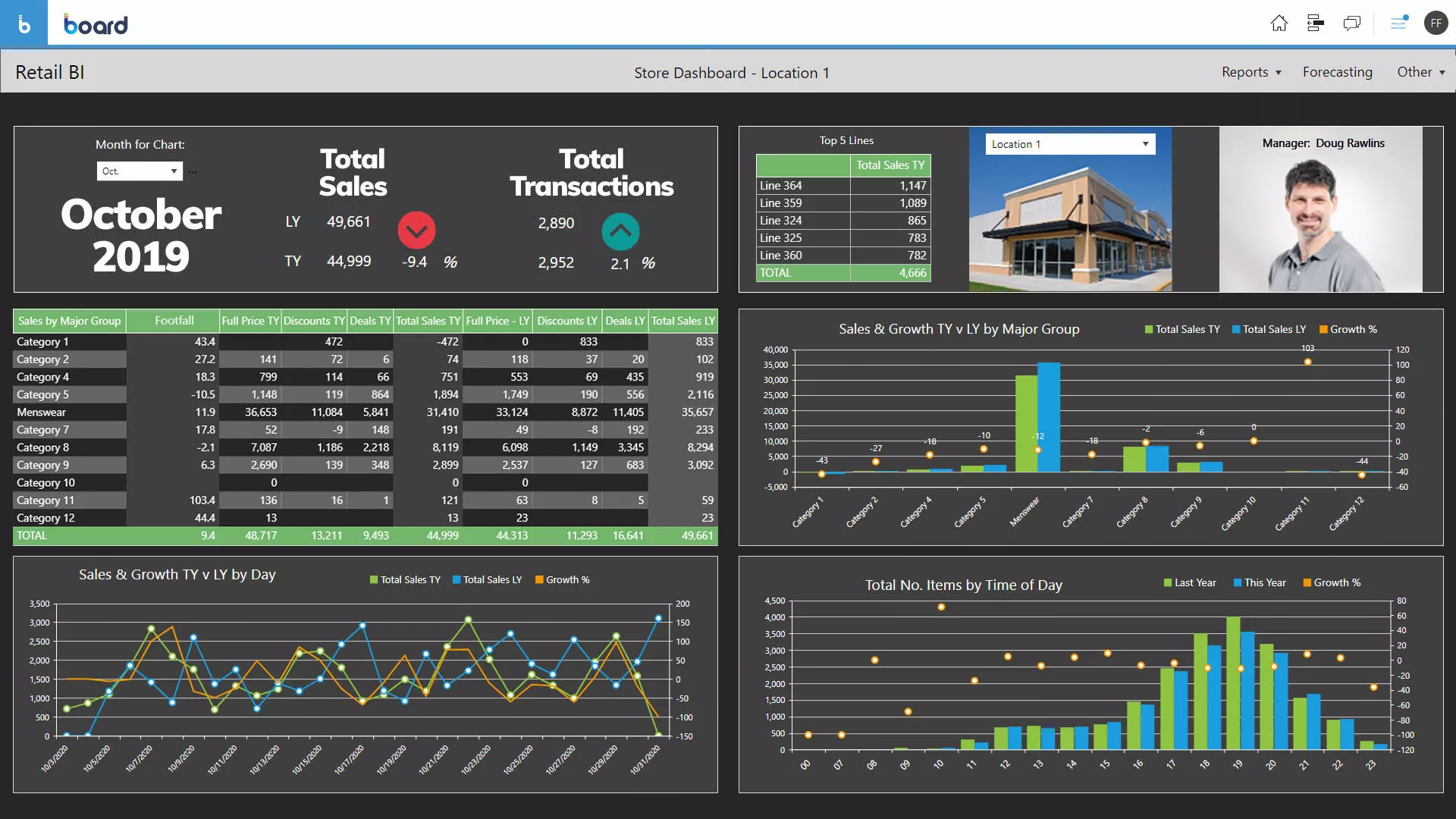 Transform your Strategic Grocery Planning
Link high-level strategies to financial and operational goals for individual stores.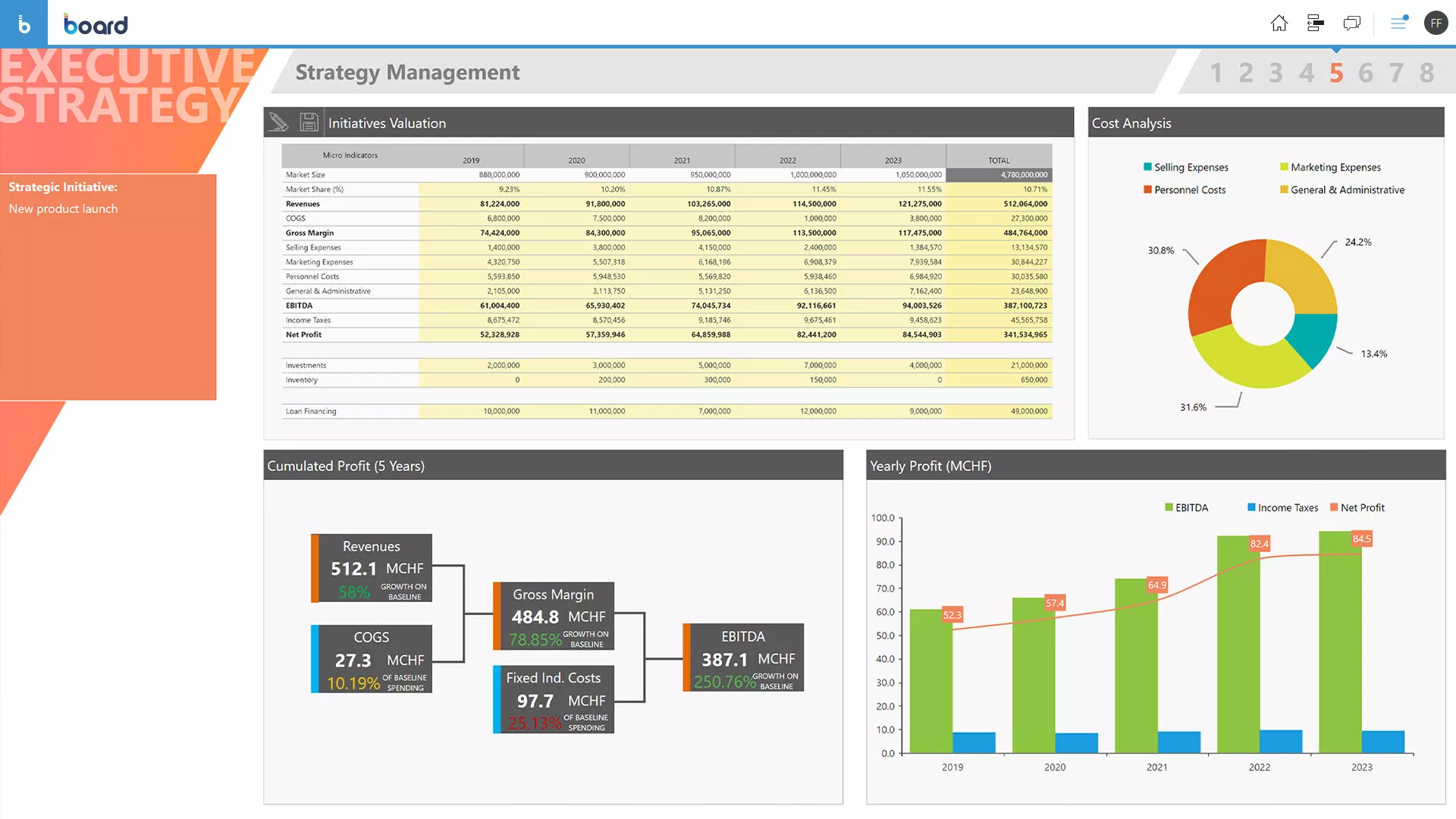 Gain complete performance transparency

Unify business-wide data, from supplier to shelf, to create a single point of truth for analysis, planning, and reporting

Easily create strategic initiatives

Create and review business initiatives such as the launch of new brands or product lines

Test the impact of decisions before you take them

Model scenarios to assess their impact on the business' bottom line before choosing the option which is likely to deliver the best outcome

Set goals for the short, medium and longer term

Set and monitor budgets for the time period of your choice, in line with projected performance
Increase the efficiency of your Grocery Financial Planning
Produce well-informed financial plans which take into account the impact of every area of the business.
Cascade strategic targets down into financial objectives

Distribute targets and financial goals at brand/region/channel level to produce a plan which works for all departments

See the true cost of strategic and operational activities

The unification of data from across the business creates full visibility of the relationship between activities and related costs

Remove manual processes

Automate time-consuming processes by automatically collating and consolidating financial data for analysis and reporting purposes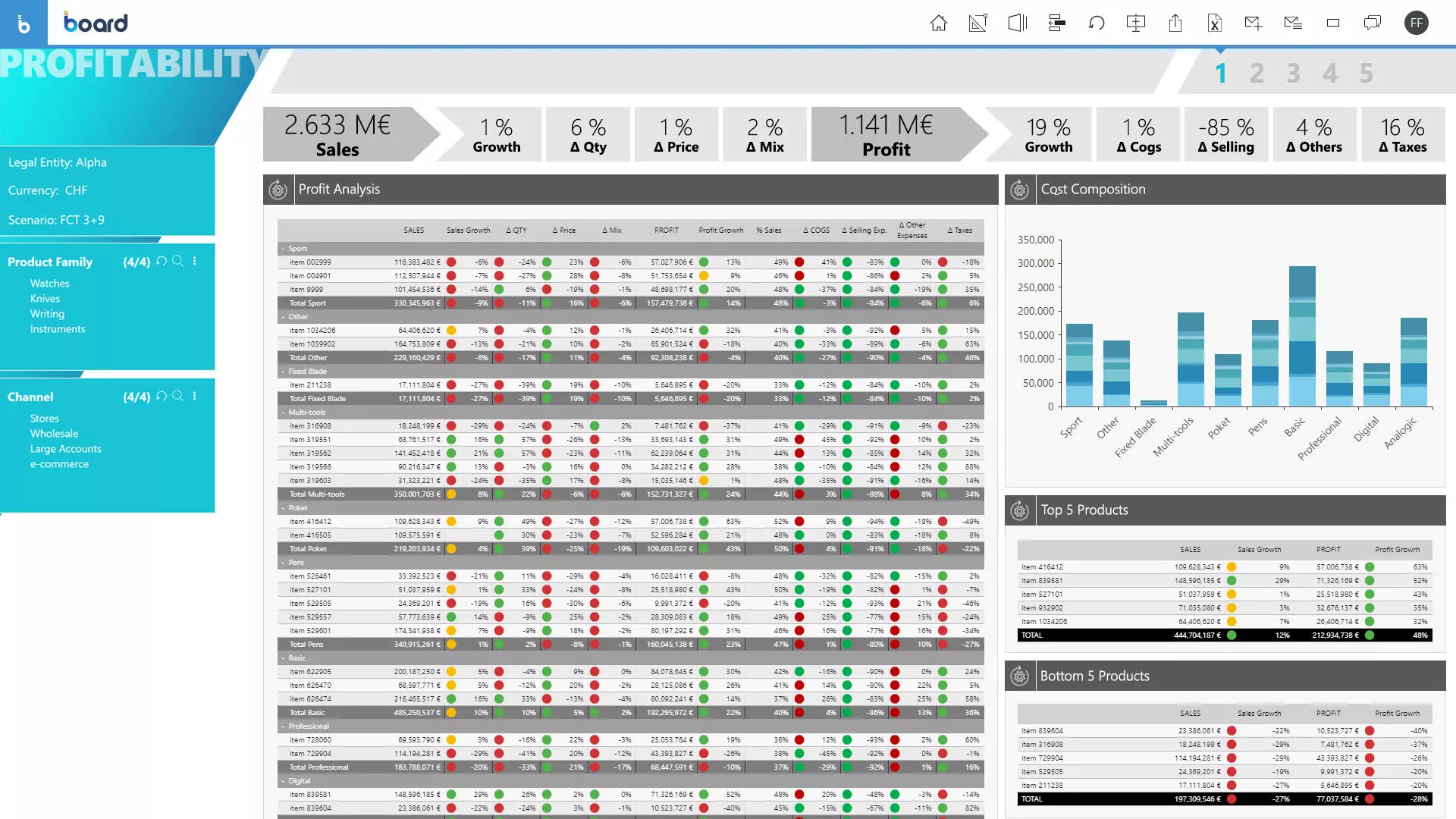 Find the best Category Management approach
Effectively manage a mix of multiple product categories to capitalize on high performers and change the strategy for less successful ranges.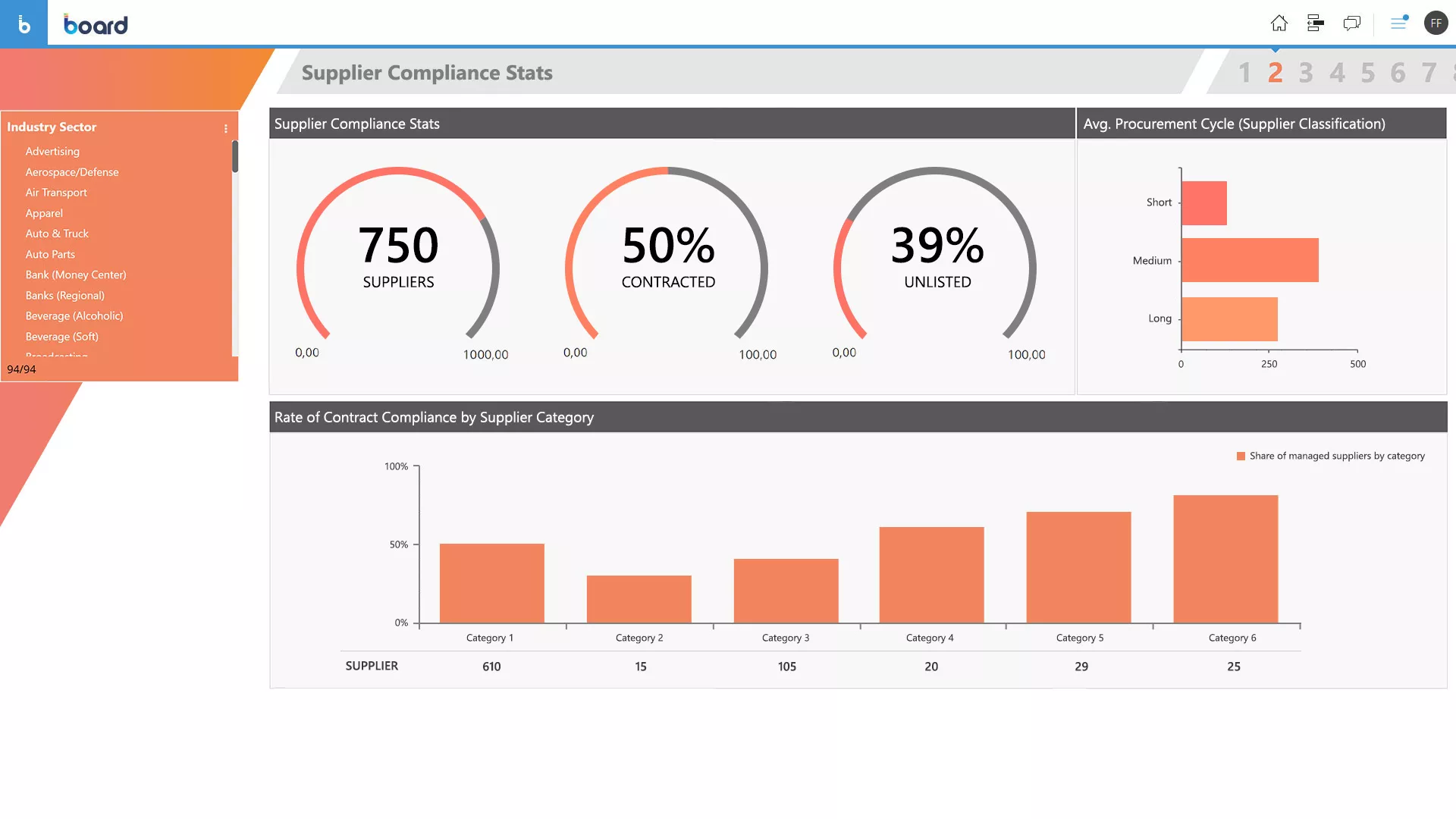 Define categories and assign them targets with ease

Define product categories as mini Business Units, assigning them goals to help drive overall performance (revenue/traffic/margin generator, etc.)

Quickly assess each category's performance

Create category scorecards to easily monitor and analyze strategic, operational, and financial success

Compare multiple strategies to determine the best mix of products

Perform simulations and comparisons between different versions of the strategy plans, while enabling the internal sharing of information and collaboration with the top suppliers of each category
Maximize the effectiveness of Price & Promotion Planning
Find the optimal pricing and promotional strategies to help the achievement of strategic and financial goals.
Quickly understand your competitors' pricing strategies

Automatically analyze competitors' prices and define "Price Indexes" for every category

Easily define pricing by product and store type

Set the rules of pricing consistency for different packing sizes and formats of goods, considering the goals of every store format (e.g. Cash&Carry, superstores, convenience stores, etc.)

Set achievable sales promotion targets

Analyze historical promotions and define future budgets and targets for promotions at category or supplier level

Increase the effectiveness of promotion planning

Effectively define promotional periods for each product in a collaborative approach with suppliers

Forecast the success of future promotions

Analyze the historical impact of past promotions and automatically uplift the statistical forecast baseline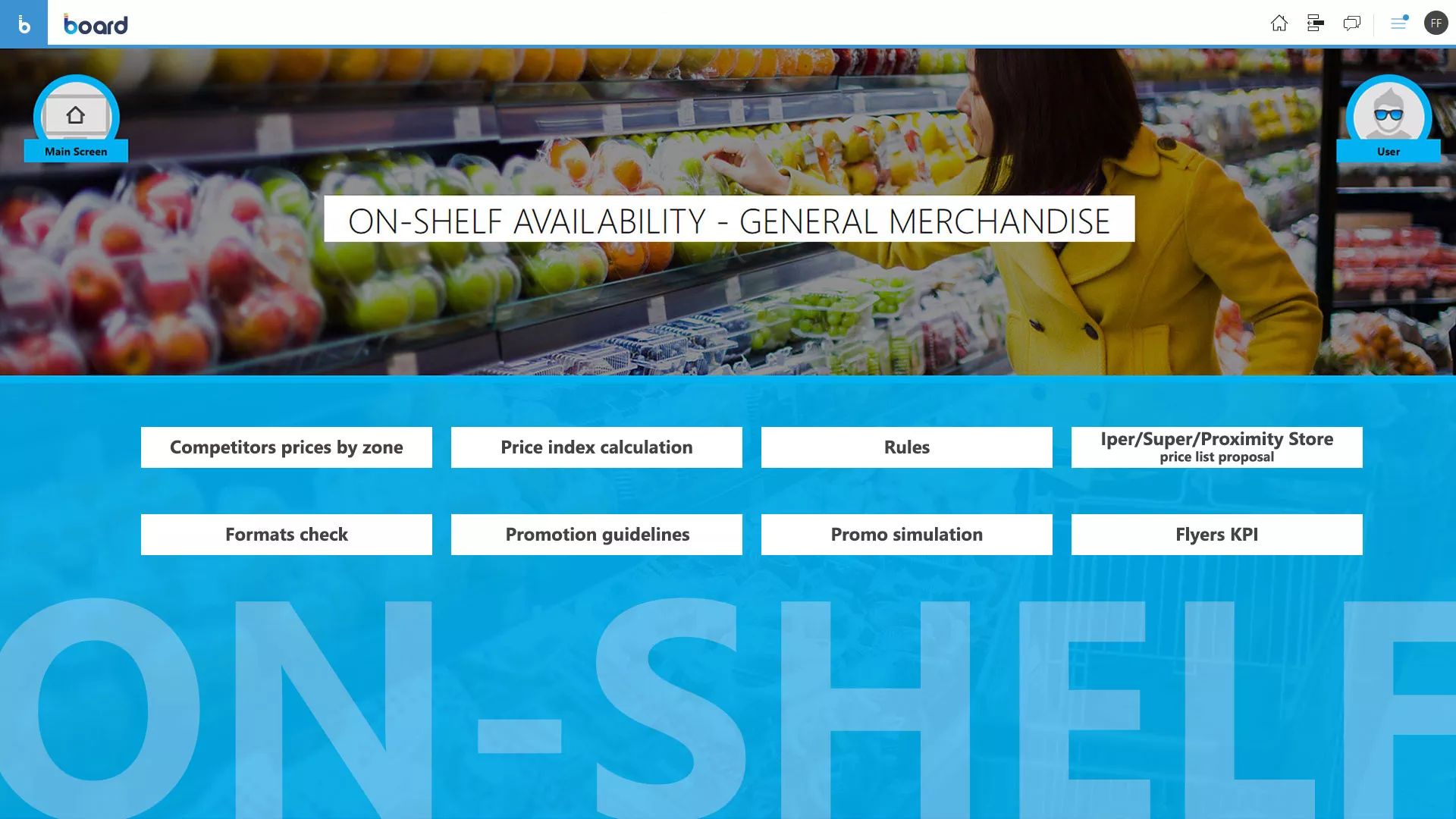 Gain full control of Replenishment
Effectively manage shelf availability and service level for non-food categories.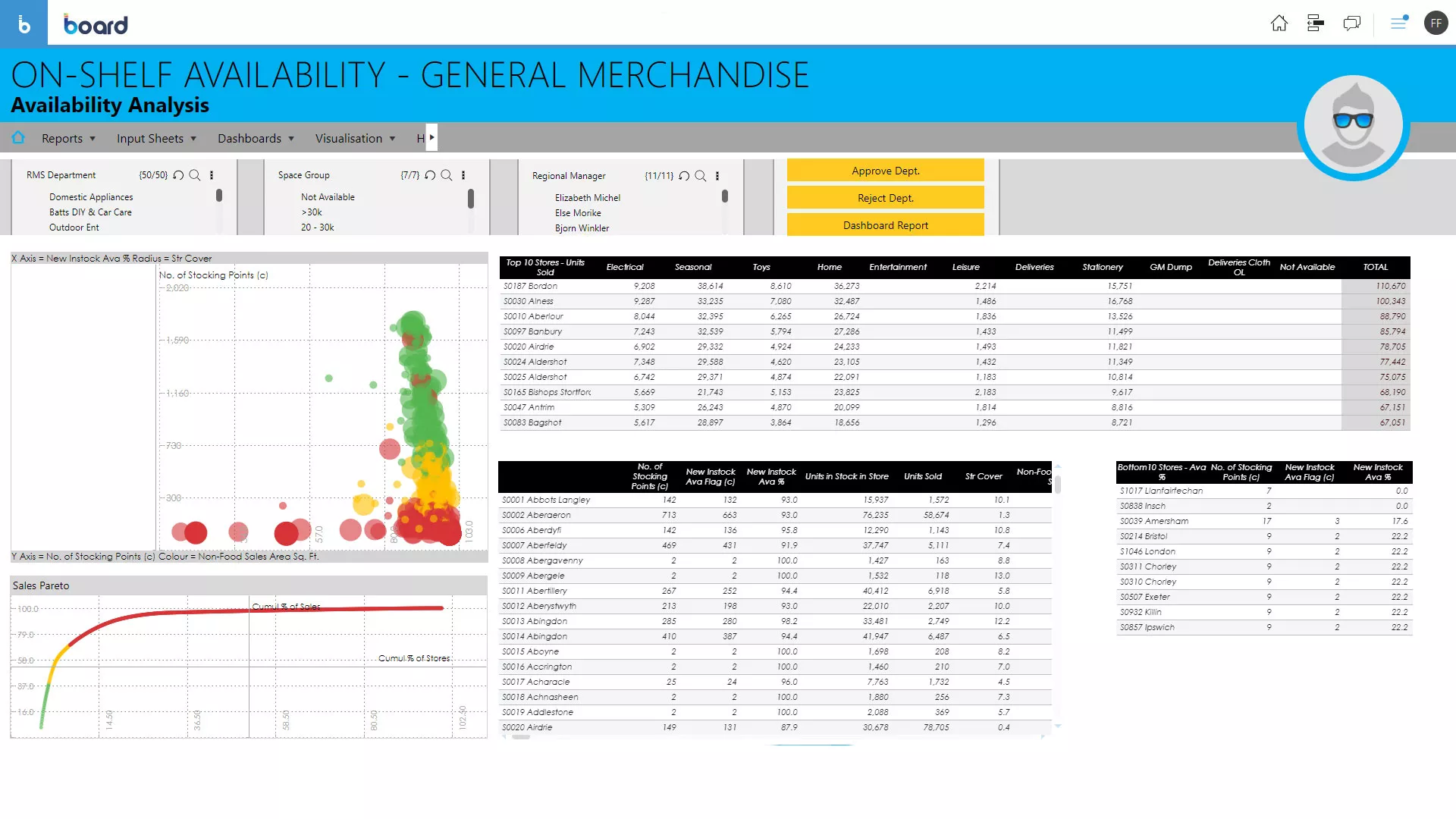 Increase the accuracy of stock analysis & shelf availability reporting

Create effective reports on shelf availability and develop service level indexes, enabling the clustering of different product groups to calibrate replenishment policies

Effectively forecast product demand

Assess future demand levels based on statistical forecasting capabilities

Easily manage replenishment activities

Determining replenishment quantities and slots based on the target level of shelf availability and supply chain lead times

Unification of management control, budgeting, and sales analysis in a single, user-friendly environment
Board has enabled us to integrate all the information from different sources within a single environment, providing immediate access to multidimensional analyses and simplifying our reporting procedures.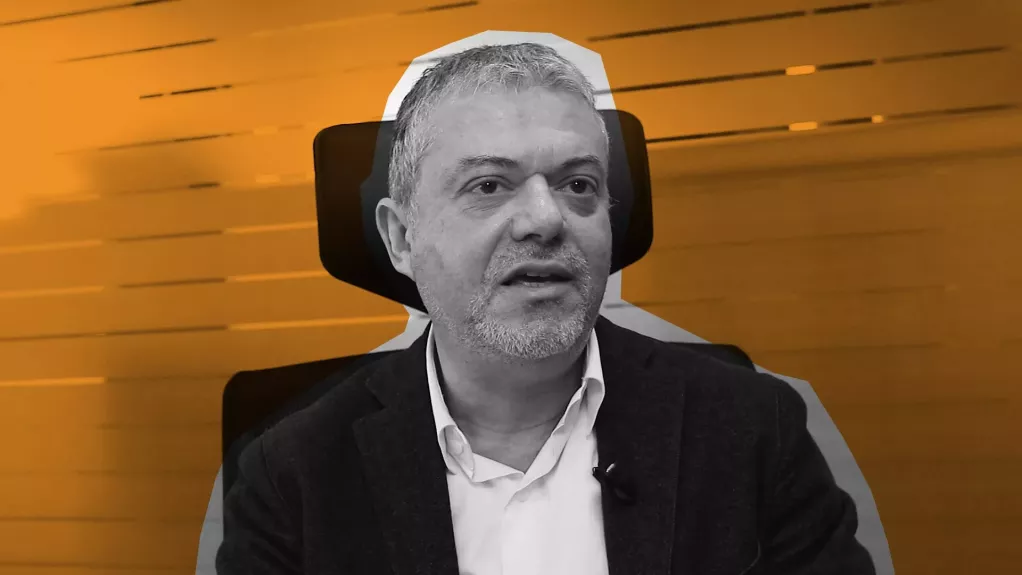 Digital transformation in the office of finance