Press Release
Board launches virtual roadshow to help accelerate digital transformation
Wednesday, 22 April 2020 - Chiasso, Switzerland and Boston, US
The Board Day event series will help organizations speed up the change process, improve decision-making, and become more responsive to disruption.
Industry-leading software vendor Board International has launched a virtual roadshow of events on digital transformation, designed to help organizations accelerate the change process and drive faster, more effective decision-making.
The free, digital Board Day events will run between May 28 and September 3 and be hosted online by Board's teams in Germany, the UK, Italy, France, the USA, Benelux, Australia, Spain, and Switzerland. Each one will feature expert keynotes, real life case studies, and interactive workshops alongside guests from over 20 companies such as GSK Consumer Healthcare, KPMG, Toyota, Olympus, Euronics, Sella Group and Capitec.
The running theme of the roadshow is the changing world of organizational decision-making and how turbulent market environments highlight the need for companies to plan, adapt, and react faster and more effectively. The importance of breaking down data silos to drive transparency and connecting planning, analysis, simulation, and forecasting business-wide are two of the key discussion areas covered.
In addition to an introductory keynote and case studies from organizations that have already embarked on a digital transformation effort, events feature an interactive panel discussion, virtual networking opportunities, and several breakout sessions. The afternoon learning tracks focus on strategic business challenges such as transforming C-Level reporting and driving sales and marketing performance. The events will also offer educational sessions enabling users to learn more about the capabilities of the Board decision-making platform, which unifies analysis, planning, and forecasting in a single interface.
Giovanni Grossi, CEO and Co-Founder of Board International commented:
Now, more than ever, organizations are realizing the need to drive digital transformation to quickly and effectively respond to disruption and keep pace with market developments. Replacing manual legacy planning and reporting processes with a more future-proof approach is key to achieving this, and I am delighted that we are able to support companies on this journey with our virtual Board Day event series.
Online registration for all Board Day events is open now. For more information and to book your free place, visit www.board-day.com.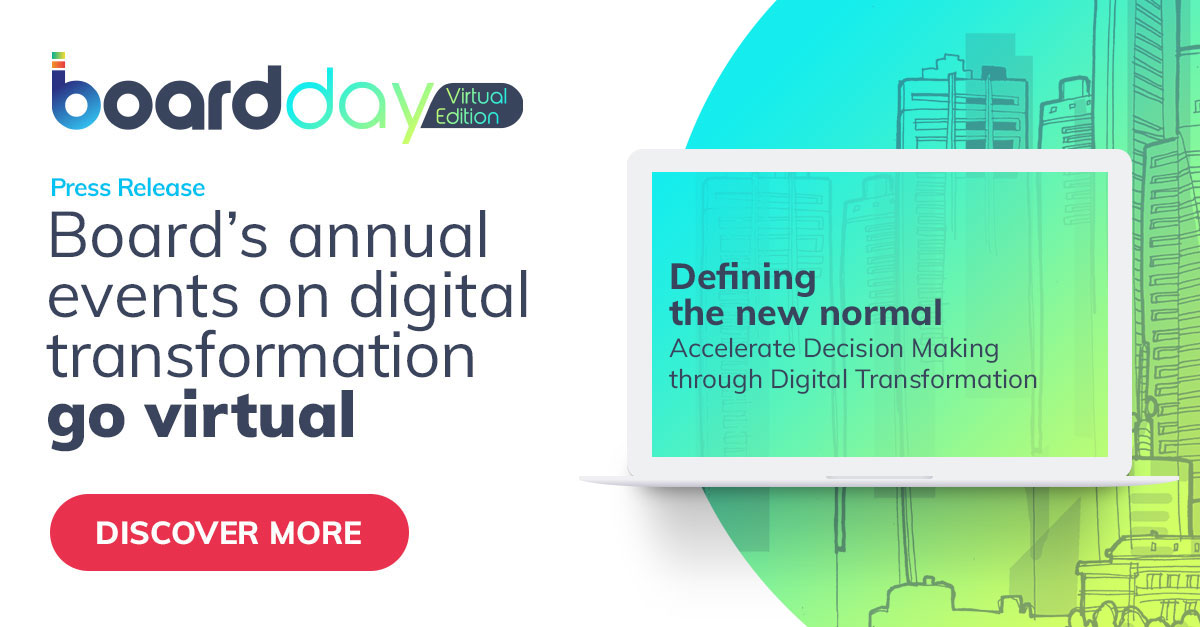 About Board:
Board is the #1 decision-making platform. Founded in 1994, Board enables people to have a transformative impact on their business, helping them to intuitively play and create with data in a flexible, all-in-one decision-making platform. By unifying Business Intelligence, Corporate Performance Management, and Predictive Analytics, the Board platform allows companies to produce a single, accurate, and complete view of business information, gain actionable insights, and achieve full control of performance across the entire organization. Thanks to Board, global enterprises such as Coca-Cola, Ricoh, KPMG, Puma, Siemens, and ZF Group have deployed end-to end decision-making applications at a fraction of the time and cost associated with traditional solutions.