News
Board announces winners of annual customer awards for outstanding Benelux projects
Thursday, 24 November 2022
Board awards flagship customer projects to Toyota Motor Europe, JBC and Beter Bed
Board, the leading global provider of Intelligent Planning Solutions which help organizations plan smarter – enabling actionable insights and better outcomes, announced today the winners of its annual Benelux customer awards to recognize and celebrate organizations who have transformed their business and operations with the use of Board Intelligent Planning solutions.
"Intelligent Planning is a winning ingredient for the digital transformation of every organization", said Ansgar Eickeler, General Manager Central & Eastern Europe at Board. "The three flagship customer projects honored with awards today have successfully realized the power of Intelligent Planning with Board to plan, transform, grow, and compete in today's evolving business landscape, and we are incredibly proud to be able to support and celebrate their success."
Nominations categories are based on three key areas of achievement:
World Class Transformation
Rising Star
Long Term Achievement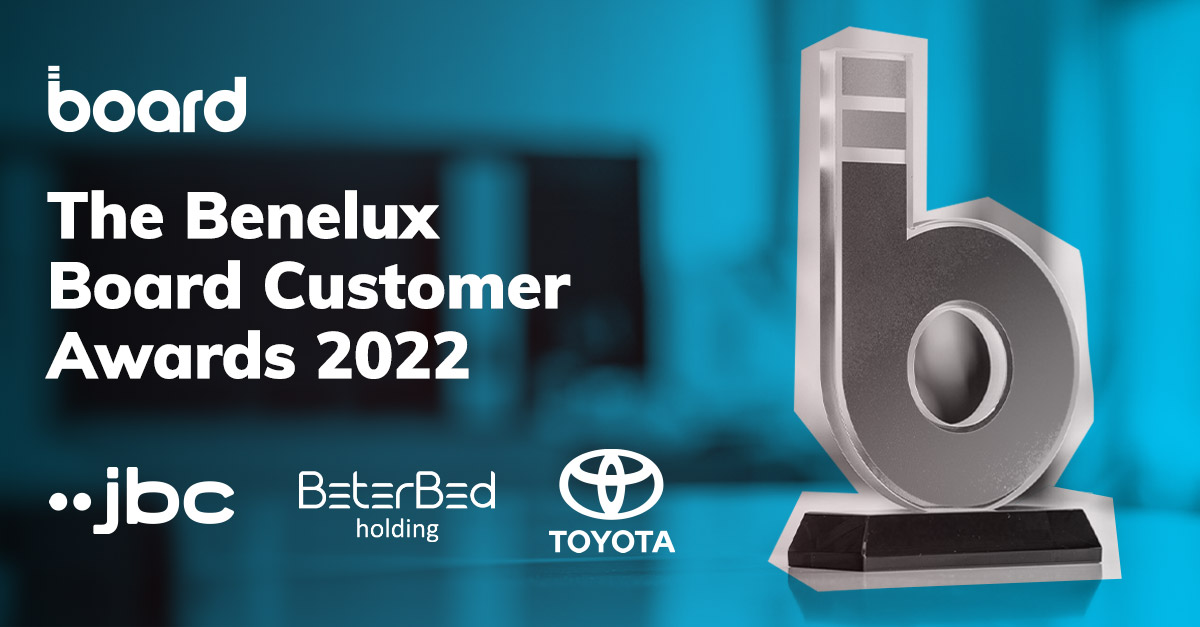 The Winners of the Board Benelux customer awards 2022 are the following:
World Class Transformation: Toyota Motor Europe
The award in the World Class Transformation category went to Toyota Motor Europe (TME) for PAN-European Planning and Reporting.
Toyota Motor Europe, Headquartered in Brussels, is a division of the Japanese multinational automotive manufacturer Toyota Motor Corporation. In 2017, TME began a finance transformation project to create a unified budgeting, planning, forecasting, and reporting approach across its entire group of companies. Today, the Intelligent Planning system provided by Board has over 750 users, including group and local controllers as well as those outside the finance team. The introduction of automated processes enabled controllers to spend the majority of their time analyzing the data and reacting to situations, making better-informed business decisions.
Rising Star: Beter Bed
The award in the Rising star category went to Beter Bed for Driver-Based Forecasting and Financial Consolidation.
Beter Bed is the leading sleep specialist in retail, wholesale and B2B for Benelux. Their Board project started in 2021 with the objective of optimizing their consolidation, forecasting and reporting processes for revenue, logistics, store costs and overheads and project management modelling. The goals are not only to reduce the manual tasks but also to achieve a much better integration between operational planning processes and finance. Beter Bed has made impressive progress in just a short period of time with Intelligent Planning from Board, and there's huge potential for this on-going project.
Long Term Achievement: JBC
The Long Term Achievement award went to JBC for Budgeting, Planning and Reporting as well as Financial Consolidation and Corporate Planning.
JBC has been an established name in the fashion retail landscape for over 40 years. Headquartered in Belgium, JBC started their Board project in 2015 with Budgeting and Planning. Since then, have been constantly expanding their use of Board over the years to create an integrated and single Intelligent Planning platform for the whole retail group including also newly acquired subsidiaries. With the help of Board, JBC has been able to adapt faster and more efficiently to rapidly changing conditions in the market – especially during the pandemic.
About Board
Board's Intelligent Planning Platform delivers solutions that help over 2,000 organizations worldwide plan smarter — enabling actionable insights and better outcomes. Board helps leading enterprises discover crucial insights which drive business decisions and unify strategy, finance and operations through more integrated and intelligent planning to achieve full control of performance. Partnering with Board, global enterprises such as H&M, BASF, Burberry, Toyota, Coca-Cola, KPMG have digitally transformed their planning processes.
Founded in 1994, and now with 25 offices worldwide, Board International is recognized by leading analysts including BARC, Gartner, and IDC.
www.board.com