Analyst Report
Nucleus Research CPM Value Matrix 2019
Board is a Leader in 2019 Corporate Performance Management market
---
To capitalize on the essential nature of planning, vendors have committed heavily to "democratizing" the functionality of CPM solutions. In other words, vendors are making their systems' features accessible to users outside of the finance and IT departments.
By expanding the role of CPM solutions to other operational areas, vendors can deliver the benefits of cloud computing and embedded analytics to a company's entire workforce and erode the institutionalized apathy toward upgrading from legacy solutions.
For this Value Matrix, Nucleus evaluated CPM vendors based on their usability and functionality, as well as the value that customers realized from each product's capabilities.
The research is intended to serve as a snapshot of the CPM technology market, help inform customers about how vendors are delivering value, and take stock of what can be expected in the future based on present investments.
The Value Matrix placed vendors into four categories:
Leaders
Experts
Facilitators
Core Providers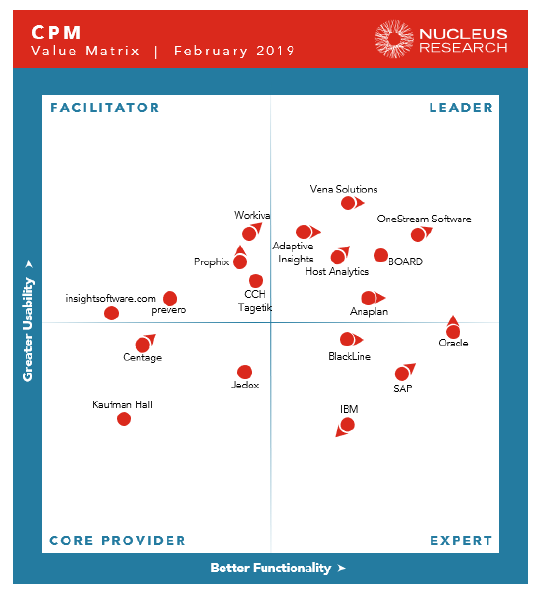 Indeed, companies are looking for ways to unleash also the power of non-financial data to assess the best possible decision alternative, based on a 360-degree view of the organization. Board can connect and integrate financial and non-financial data from disparate sources within a single unified interactive environment, whilst infusing the power of business intelligence and predictive analytics across the whole decision-making platform, based on the same set of data.
Download the full Nucleus Research report to understand the state of the CPM marketplace and learn why Board is amongst its Leaders.
Complete the form to access the analyst report "Nucleus Research CPM Value Matrix 2019"