Board e-Learning Platform
Expand your skills, acquire confidence, and consolidate your knowledge of Board
Get Started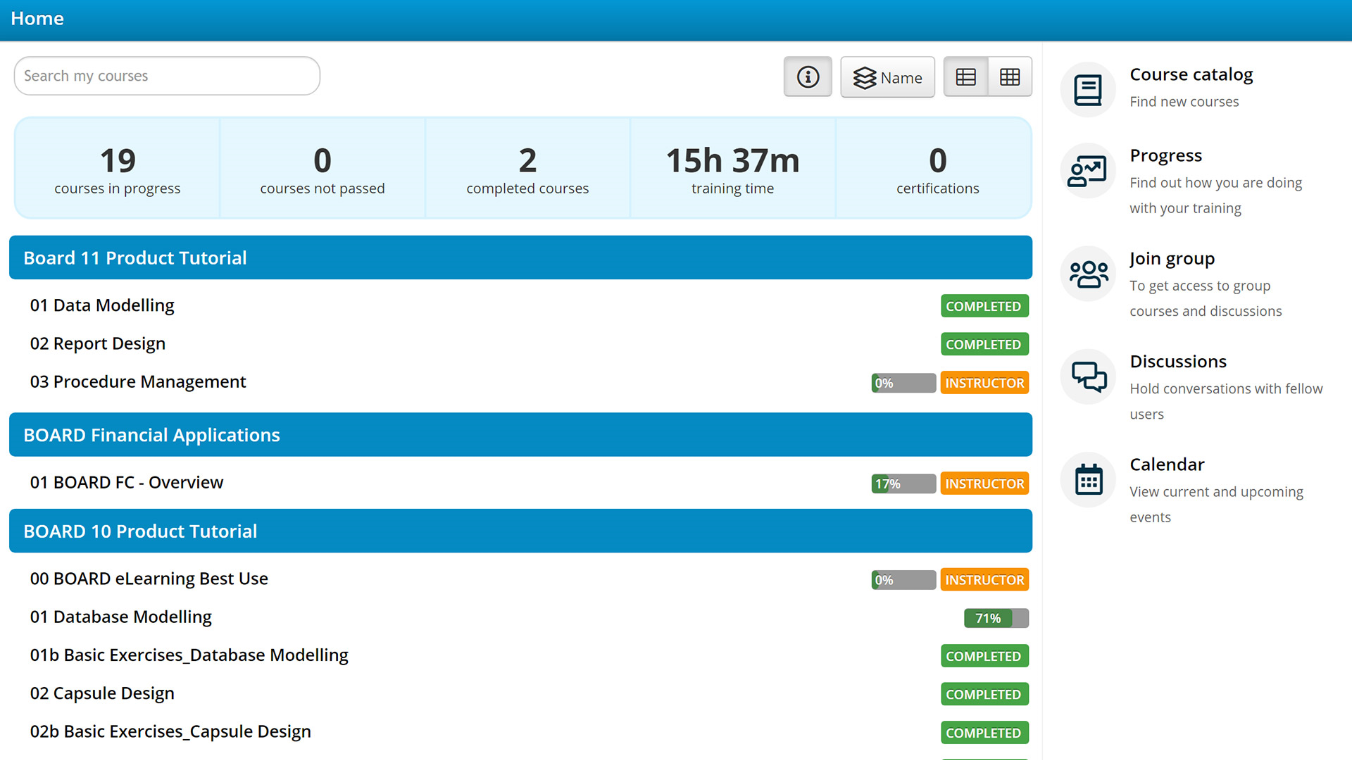 Continuous improvement is a key factor in leveraging and developing the workforce in any organization, but especially in the technology industry which is marked by a rapid rate of change and innovation. Whether you're an inexperienced user or a seasoned pro, the Board e-Learning platform effectively addresses all of your training needs, no matter where you or your organization is located.
Start your e-Learning journey through our extensive product tutorials and business cases

10 Tracks

170+ Product Videos

20+ Business Cases

Equivalent to 5 weeks of on-site training
Key Advantages

Comprehensive platform
Access all the Board e-Learning content through one centrally managed repository. All material is reliable and validated according to our quality standards.

Self-directed learning experience
Design your own learning curve and track your progress by effectively matching your goals with the contents of the catalogue. Board e-Learning dramatically boosts the training experience for any type of Board user, such as Business Users, End Users, Developers or Administrators, reducing the time-to-productivity lapse with obvious profitable returns.

Anytime, Anywhere
Get unlimited and permanent access to e-Learning materials. Learn in your own time, at your own pace, and in any location that is convenient, without the expense of training venues or travel costs.

What-Why-How
Take advantage of the "3 Pillars" learning approach throughout the video courses. Discover WHAT you are going to learn; understand WHY that topic is critical and the benefits it can bring to an organization or a department; and find out HOW to implement the relevant solution within Board.

Firsthand knowledge
See Board in action in the real world. The Board course library takes you through fundamental basic concepts right into concrete business cases and provides in-depth insight into some common business challenges.

End-to-end learning journey
Gain knowledge across all the fundamental topics of Board. From System Setup to Database Design, Board Application Build and Delivery to Maintenance and Troubleshooting, understand the entire Board Solution Lifecycle.
Meet your virtual trainer
Boardino, your helpful training assistant, will be with you on every step of your e-Learning journey. Designed by illustrator Carlo Stanga, Boardino guides you through each training module, providing clear, concise instructions to help speed up the learning process.
Explore the e-Learning Platform. Enjoy a 2 minute preview!