Enterprise Performance Management at Groupe SEB
Transforming end-to-end budgeting, planning, and reporting processes and enabling the consolidation of Weekly Sales Estimates from 150 subsidiaries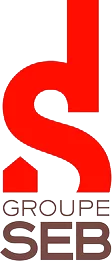 With several complex, legacy planning and reporting systems leaving the finance department reliant on IT for changes, Groupe SEB chose the Board Intelligent Planning Platform to simplify its processes and increase flexibility. The appliance manufacturer now has numerous interlinked applications built within the Board platform, delivering a seamless approach to Enterprise Performance Management.
Read the full case study
Industry: Manufacturing, Specialty & Hardlines

Department: Finance

Employees: 33,000+

Product Patents: 540+

Countries: 150
Groupe SEB operates in nearly 150 countries with a unique portfolio of 34 leading brands, including Tefal, Rowenta, Moulinex, Imusa, Lagostina, and Rochedo. Each is marketed and sold through a multi-format retail approach. Since its creation, the Group has been a key player in everyday revolutions thanks to its innovative products which change the daily lives of consumers all over the world.
The story of Groupe SEB began in 1857 with the creation of the Antoine Lescure company in the Burgundy region of France. Starting life as a tinware business specializing in buckets, watering cans, and kitchen utensils, the company took a major stride forward in 1953 when it launched the pressure cooker, giving it a new national dimension and changing a fundamental habit of the French people: the way they cooked.
Groupe SEB deploys a long-term strategy focused on innovation, international development, competitiveness, and service to clients.
Philippe Martelo, Director of Finance Information Technology at Groupe SEB, shares more:
Today we are the world reference in Small Domestic Equipment, being the number one in various different product categories and in numerous geographic areas, and we aim to be the global benchmark in our Industry. Our purpose is to make daily life simpler and more wonderful for consumers throughout the world, by creating new products and services that meet people's current needs and anticipate their individual aspirations and desires. I think these aspects of our purpose, as well as our mission to create lasting value by making strong profitability a priority, are something we share with Board International!
The Challenge: Legacy planning and reporting systems creating unnecessary complexity
As with most businesses, Groupe SEB faced challenges in its performance management activities, including raw material price volatility, market and distribution consolidation, the emergence of disruptive business models, and the acceleration of changes within the industry. SEB had dedicated substantial resources to budgeting and forecasting, but its processes were manually intensive, lacked agility, and were not always strategically aligned.
The Group's management reporting system was based on SAP BW. It focused on historical data, lacked simulation capabilities, and did not support users in their budgeting and forecasting processes. The system also suffered from slow response times, poor ergonomics, and did not provide quarterly views of data. In addition, SEB's performance reporting processes were quite rigid, did not feature workflow management, and would often produce irrelevant results. There was a clear need to simplify these processes and introduce more flexibility and relevance, as Philippe highlights:
Our pre-existing reporting system, based on SAP BW, was complex and included a lot of analytical dimensions and axes that were difficult to feed, resulting in a time-consuming process. The tools were designed for experts; therefore our Finance users could not gain autonomy from the IT Department. As we must cope with increasing volumes of data, the previous system hampered flexibility, as well as lacking the planning and forecasting capabilities to control, handle, and properly make the most of our big sets of data. We were suffering from the 'heaviness' of the system and its complexity, which became functional limits and technical shortcomings. The executive committee was starting to complain about the rigidity of our processes: it was time-consuming to calculate our standard costs, make updates related to a change in the volume of our factories, and so on.
Overcoming all these obstacles using the company's legacy systems would require heavy investment and long-running projects which would utilize too many resources. As a result, SEB decided to embark on a new project with the objective of overcoming these challenges in an Enterprise Performance Management (EPM) solution on top of its SAP BW reporting system. The EPM solution would bring agility to the process and encompass the Group's strategic plans, allowing it to apply the Agile approach, as Philippe explains:
For us, the Agile approach was important because we needed to implement a flexible solution. In the traditional approach the quality is so-so; you never meet your budget and you never meet your deadlines. Instead, with the Agile approach, your variables are no longer the calendar or your means but the scope… and you always meet your objectives!
The Selection Process: Searching for one platform to build many applications
The robustness of Groupe SEB's management schemes, master data, reporting processes, and tools provided the opportunity to confidently introduce a lighter and more flexible Enterprise Performance Management solution; one which was straightforward, user-friendly, intuitive, visual, and would provide more agility, increased speed, and state of the art reporting.
The main business priorities of SEB's project were:
Smart Reporting: Existing reports were fragmented due to the evolution of business needs and the poor performance of the existing SAP BW system, so the new reporting solution had to provide fast access and user-friendly navigation to full reporting data.
Weekly Sales Report: The objective here was to enable Groupe SEB to have a consolidated vision of its total revenues for the next six months, updated on a weekly basis.
Strategic Orientation: The new solution needed to support the production of the group's five-year plan, providing an application which would generate P&Ls by Product Lines and Geographies at different hierarchical levels, in line with historical data. It was also required to support data entry, workflows, versioning, data consolidation, and cost allocations on different axes with different keys.
Operating performance: The EPM solution had to provide a multidimensional waterfall, isolating scope, currency effects, and price/volume/product mix, etc. in relation to the operating results.
The Enterprise Performance Management solution had to replace the current BW reports and support decision-making processes by creating plans, budgets, forecasts, and re-forecasts based on monthly, quarterly, yearly, and multi-year visions. On the same EPM platform, Groupe SEB needed to perform simulation and business modeling, related to purchase price, absorption of fixed costs in the plants, and what-if scenarios.
After a review of the market, the decision was made to choose the Board Intelligent Planning Platform. Philippe explains the decision:
Starting from a set of eleven vendors, we compared the Board platform to six EPM solutions on the market and concluded that it is the most complete, powerful, and easy to use product. We wanted to bring value to very specific aspects, enhancing the capabilities of multiple solutions and seamlessly combining them within the same platform.
Finance Agile Smart Tools (FAST): The Board project
The transformational project was given the acronym FAST to represent its purpose. Philippe highlights the desired outcomes:
Using the power and ergonomics of Board through an Agile approach, the key objectives were to increase flexibility, allow simulation capabilities, and progressively build up a finance toolbox made of smart, dedicated, user-friendly solutions.
The core of the Board project at SEB is represented by the above-mentioned Strategic Orientation solution and is based on the company's matrix structure, as Philippe explains: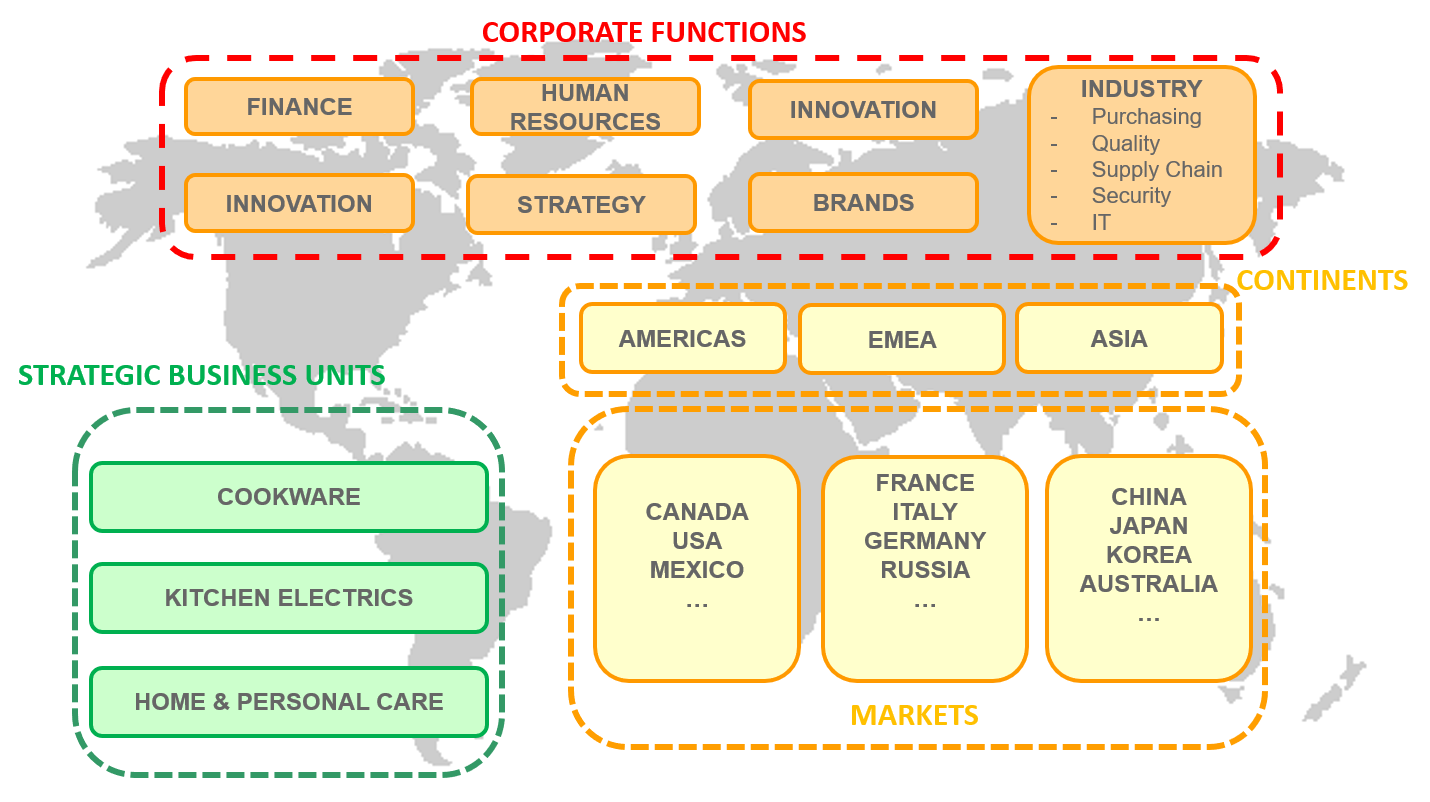 Group SEB simplified org. chart presented at Boardville, May 15, 2018.
We have three main Strategic Business Units (SBUs) – Cookware, Kitchen Electrics, and Home & Personal Care - that are mainly dedicated to Strategic Marketing and Product Development. Their role is to imagine the products of tomorrow and develop them, manufacture them, or buy them from outside the group. These SBUs are regarded as Cost Centers - instead of profit centers - because they sell their products internally to Sales Geographies (Continents, Areas, and Markets) where there is a SEB sales presence organized by product lines or families. These products, in turn, are the responsibility of local teams, who develop them under the supervision of the relevant SBU.
The first level of SEB's business model is structured across two main axes - Product and Sales Geography - with secondary axes for brands, production sites, marketing, and development.
Strategic Business Planning is built up throughout the entire organization. The process starts with the proposal of a baseline Actual and Budget P&L by the Corporate Function (including aspects such as OpEx and Sales Growth) to help build a five-year plan. The SBUs then draft their own plans to fit with the proposal (such as R&D and product launches).
In the past this strategic plan was managed using spreadsheets, creating an error-prone process. Due to the rigidity of Excel files, the teams across different markets struggled with control and management of OpEx and other measures they received from the previous phases of the planning processes. With Board, we have the possibility to effectively define strong ownership. Now, everybody is responsible for their own expenses, and if you sum up all the numbers and measures, you get the right operating result of the group. It also means Corporate, SBUs, and Continents cannot change the expenses of the different markets.
In particular, if we focus closely on the initial phase of the strategic planning process, we find out that the simulation capabilities of the Board platform are used by Groupe SEB to feed three cubes, by re-processing the data baseline relating to the previous 10 years of historical data. Based on the above-mentioned axes or dimensions of the company (such as Product family, Market, Product Line, or Area), SEB builds up one simulation cube at Corporate level, one at SBU level, and one at Continent level to release a five-year business plan. Philippe continues:
We apply Board's simulation capabilities to the data baseline because – of course – our product categories have changed over the years, and also due to the inclusion of new brands in our portfolio. Therefore, it is important to have a consistent view of the past to plan for the next five years. The corporate function initializes the business modeling process, with specific assumptions regarding the growth of the expenses of the group and the sales goals. Then the SBUs present their R&D pipeline and the products they are about to launch. They also provide their own view of sales and of their business across the different geographies. Finally, the continents take the lead, completing the process by providing the final version of the strategic orientation.
Alongside the Strategic Orientation solution, Groupe SEB has implemented an activity it refers to as Smart Reporting. The business has overcome the previous reporting process' fragmentation by delivering more than 800 SAP BW reports in Board. Now, every report which has been created, or is going to be created, in SAP (including new ones such as cash-flow forecasting or re-forecasting) is instantly transferred to Board too, and in some cases these reports are created directly in Board.
Within the reporting process of Groupe SEB, a solution the company refers to as the 'Weekly Sales Report' stands out on the Board platform, as Philippe explains:
Thanks to this solution created within the Board environment, we achieve the consolidation of the Weekly Sales Estimates of all our 150 subsidiaries around the world. Every week, each subsidiary provides the management team with sales forecasts for the current and the coming months (up to 6-12 months). These reports show either one figure, or they are broken down into two figures (e.g., by brand and distribution channel, depending on the specific topic we want to follow up). We also aim to progressively extend this consolidation to Supply Chain S&OP, therefore integrating sales forecasting with operations and leveraging the unified nature of the Board platform.
The Intelligent Planning Platform model of Board is suitable for an end-to-end approach that, together with strategic and financial planning and analysis, can also incorporate the operational performance of a complex organization like Groupe SEB. With these capabilities, SEB has implemented a solution it refers to as Result Operating Performance Analysis (ROPA).
Philippe continues:
We can assess how we go from one year's operating result to the next year's operating result, isolating several effects. Also, we have a specific view of the OpEx, making the distinction between marketing expenses, advertising, and the rest of the structure's expenses.
How Board exceeded SEB's expectations and produced a "snowball effect"
Thanks to Board, SEB's strategic planning activities are now extremely flexible. Geographies can create their plans on the proposed P&Ls and – by default – P&L OpEx follows the evolution of sales according to trend percentages. Users are able to go back and forth along the process to adjust sales, advertising means, and OpEx amounts.
Our planning processes in the Board platform have become collaborative, iterative, and flexible. The three versions we get from the simulation process at the strategic orientation level – Corporate, SBUs, and Continents – are separate, but each team can see the versions created by the others and input their own data according to the others' data.
The Strategic Orientation solution is the heart of the Board project in SEB and is highly appreciated by the management team. Among the features of the product they praise most is Board's 'split & splat' function, which makes it possible to distribute and spread every variation immediately, up to its maximum level of detail, providing business users with significant support for interactive simulations.
We are particularly happy about Board's solution for strategic planning and simulation, and it is giving us a lot of ideas for the next stages of the implementation and for new applications we aim to create. For example, within that solution, we have added a new feature: versioning logic for local scenario management.
Supported by the Board connector for SAP, the reporting and analysis processes have also been meaningfully enhanced, producing what Philippe refers to as a snowball effect:
Board is our full suite of state-of-the-art analytics services and at the same time a scalable and flexible planning solution that responds effectively to all of our technical and functional requirements. Among the business benefits we have gained through the use of Board, I would highlight what is a kind of 'snowball effect'. Now the implementation of new reports is much faster and both our office of finance and senior management teams have the capability to create new application prototypes or mockups, generating the future tools and solutions that feed our Finance toolbox. Besides, Board has empowered us with the capability to reprocess legacy reporting data using our current hierarchies, bringing further value by helping us to anticipate future trends.
The snowball effect has ensured a fast time-to-solution, increasing Groupe SEB's self-sufficiency in the management, maintenance, and implementation of additional planning applications. This has also been possible thanks to the unique programming-free approach of Board, as Philippe concludes:
The implementation of the solutions is fast and efficient and our teams are highly motivated to participate. We have many projects in mind with Board, which meets our expectations in every way.
---
The content and views discussed in this case study (above) represent the information shared by Groupe SEB during the Boardville event on May 15, 2018. Recent updates to the Board platform use cases are:
---
Evolving Board at Groupe SEB
With Board's agile Intelligent Planning Platform fully integrated into key planning activities, the organization is looking into other areas of planning and operation to enhance. Existing or plotted initiatives include:
Supply chain management with Sales & Operations Planning (S&OP): Groupe SEB integrated Board's platform into Supply Chain Management, optimizing operations and enhancing demand forecasting through Sales & Operations Planning (S&OP).
Reducing carbon footprints with Board's Environmental, Social, and Governance (ESG) solution: Groupe SEB incorporates ESG considerations into strategic planning, focusing on measuring and reducing their carbon footprint using Board's analytics and reporting capabilities.
Adapting to shifting transport costs with Board's agile approach: Facing transport price increases, Groupe SEB quickly models scenarios, analyzes impacts, and adapts strategies using Board's Agile approach and simulation capabilities for optimized cost management and operational efficiency.