Board for Automotive Suppliers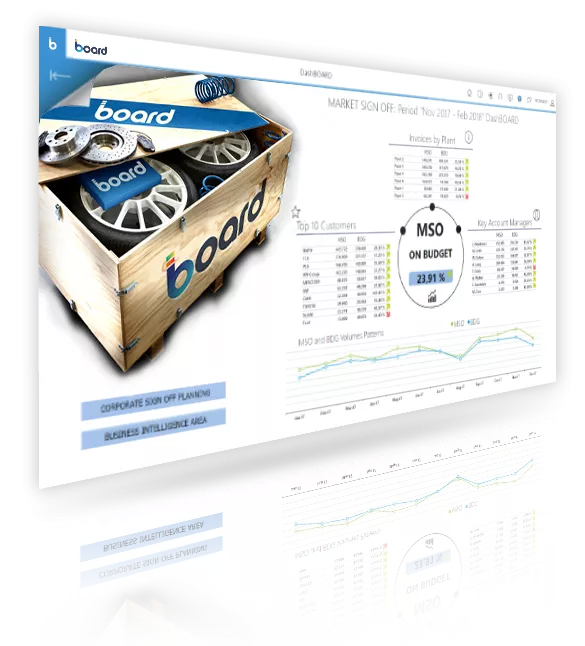 Drive efficiency and cost-savings throughout the manufacturing and supply process with unified analytics, simulation, and planning
With the need to work to strict deadlines in a fast-paced market, efficiency is the name of the game for automotive components suppliers. For many, the process of accurately reporting, analyzing, and planning across component design and manufacturing is made difficult by the plethora of processes and systems in place across different divisions. Utilized by some of the top automotive suppliers in the industry, Board overcomes these challenges, providing a unified, central platform for all decision-making needs.
Business-wide intelligence
Consolidate data into a single point of truth, providing transparency over everything from sales to quality control in user-friendly dashboards.
Monitor key KPIs with ease
Remove the reliance on spreadsheets and disparate analytics solutions with a centralized reporting solution for all divisions, providing accurate reporting of sales, margins, and more in real time.
Quality Control
Monitor the quality of your output and identify areas for improvement by pulling together data on scrap rates in production and component failure details from all brands.
Sales & Operational Planning
Produce accurate, integrated business plans based on a strong foundation of data, encouraging collaboration across the group and reducing wastage.
Demand and Production Management
Keep track of agreed production volumes with ease and transfer data to operations teams ready for manufacture, aligning departments across the business.
Spare Parts Demand Forecasting
Perform detailed analyses of on-the-road vehicles, age, and component performance data to forecast demand for spare parts over their lifetime.
---
Bid Management
Easily compile data on the costs of component manufacture and simulate the bill of materials, helping you provide a fast, accurate bid in order to win the supplier confirmation.
Capacity Planning
Use factors such as labor utilization and machine availability to match the capacity and resources required for the production of new components in order to produce a Rough-Cut Capacity Plan and Purchase Plan.
Innovation and R&D Management
Gain full clarity over the cost of component research, design, and production, from staff to materials.
Project Staffing and Skills Management
Understand your human resource availability, capabilities, and costs, helping you form teams, within budget, for each new component design project.
Production Investment Cost Calculation
Calculate the cost of component innovation or adaptation, from design to tooling production to manufacturing. Allocate this cost over the lifetime of the part, helping to balance out your investment and inform pricing strategies on a fixed and unit cost basis.
Customer Spotlight | ZF

ZF began its Board journey by transforming reporting and analytics processes across all departments and geographies, creating a worldwide Management Information System for access to, and analysis of, data. The project was then extended to strategic and operational processes, resulting in a single solution for global planning and analysis across business divisions in 230 offices and 40 countries.