Purchase rolling plan & Spend Analytics
Rolling distributed process for collecting purchase needs for value and quantity for all companies or business units. Subsequent consolidation of the data, analysis in a Gantt by product category, possible revision of the needs and drafting of the purchase plan with graphic evidence of the possible planned tender procedures and their processing time (for example public or private, average times per type of custody, tender with or without announcement, etc.).
The main final KPIs (consumption, price, purchase requests, purchase orders, stock levels) are frequently acquired to constantly monitor the progress of the expenditure with respect to the previously prepared plan.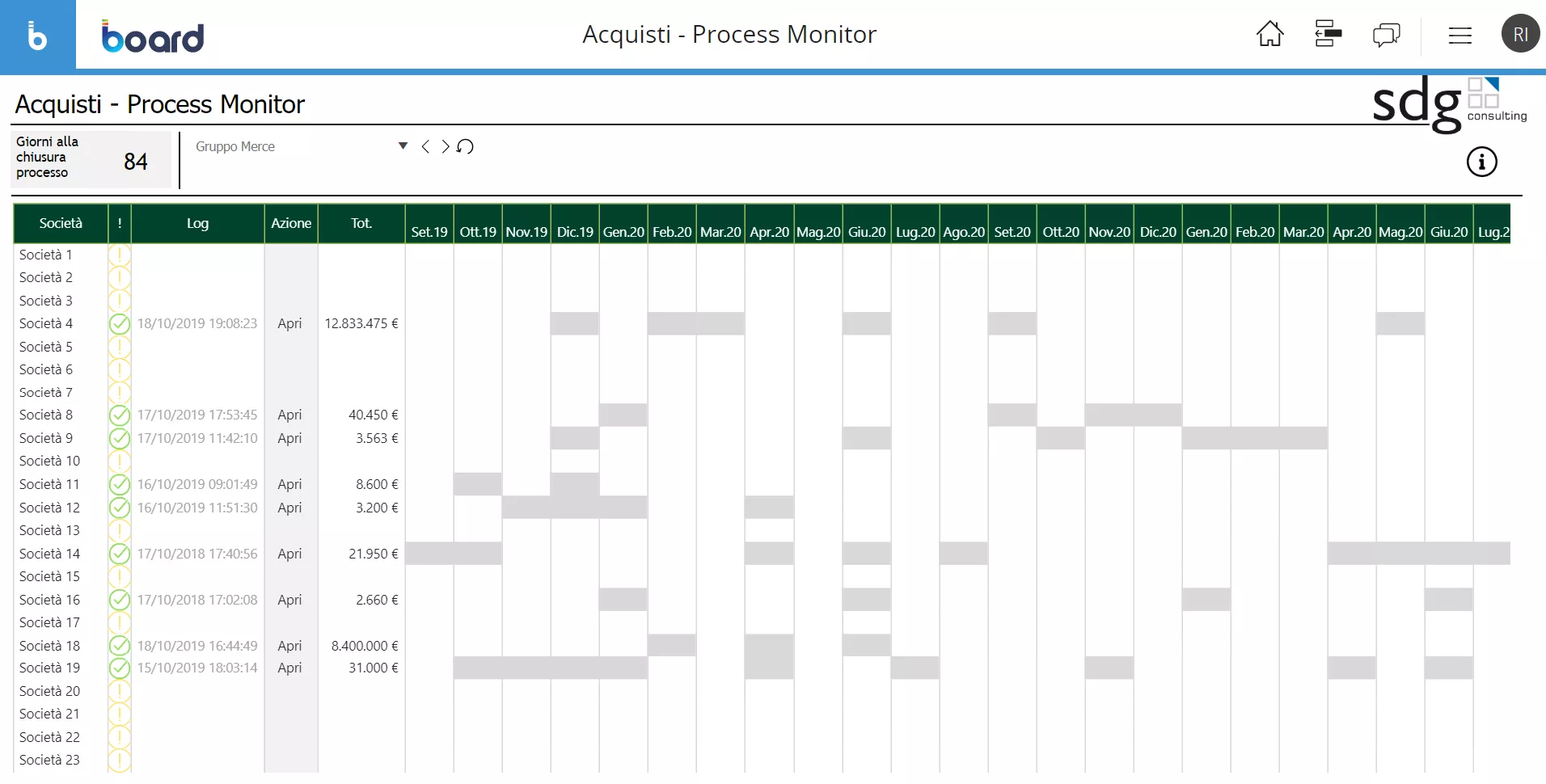 There are four main reasons why a company decides to implement a structured process for planning all purchases:
Enable the key people of each company / business function to understand purchase needs in advance
Create tenders that generate economies of scale and evaluate suppliers during construction
Eliminate direct assignments for emergency management
Every cost saved in the supply chain is a direct contribution to the profitability of the company
The process is structured as follows:
Administration: the module allows the process manager to set all the management parameters: planning time horizon, frozen period (upcoming months in which the needs cannot be changed), configuration of the calls for tenders (time to prepare them, amount thresholds, type) and start-up logic.
Data normalization: check of data loaded from the source systems and the related master data, definition of the real residual for each contract and weighted calculation of material requirements, control and adjustment of available stock.
Purchase planning process: planning of gross requirements both in quantity and value, definition of the type of procedure (starting month, scope, type of assignment, method of awarding, average processing times, notes). The system automatically suggests the most likely average price based on similar tenders and shows the analysis in a Gantt chart.
Needs consolidation and purchase plan: monitor the needs of applicants, consolidate the requirements proposed by the key users into a single contract to reduce purchase costs, define and approve the new purchase plan and communicate it to the companies or business functions.
Spend Analytics & Dashboard: know who is spending and what is purchased; spend analytics broken down by material, companies/business functions, and vendors.