Integrated portfolio steering for private equity investors
This app helps private equity companies and investors to manage and optimize their investment portfolio throughout the whole investment lifecycle. It is structured so as to match the PE lifecycle featuring buy, hold and sell-phase support. By means of integrating the PE investors medium- and long-term planning with the operational planning and reporting of the invested-in companies it not only provides a single-point-of­-truth, but also shapes the collaboration between the parties in a straight-forward way. To help increase transparency and facilitate governance processes the app features pre-built data validation, commenting and workflow features. Customizable reporting forms lead to higher data availabilty and faster access to data especially during the sell phase.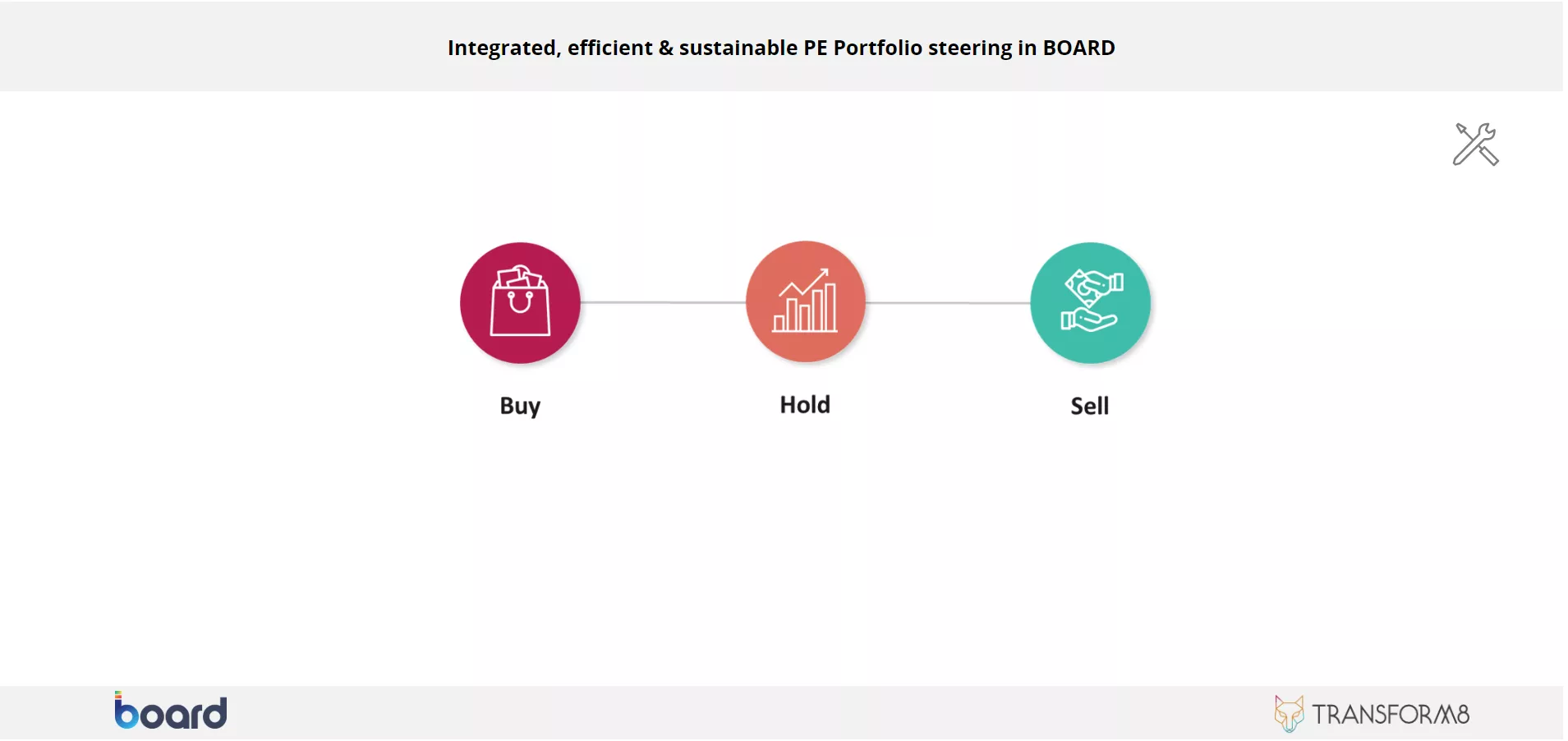 Why the need for the solution?
During the investment cycle private equity investors often face challenges to have all data relevant for making an informed investment decision at hand. The main challenges here are:
Dynamic and short decision frames
Heterogenous and clustered information systems
Manual data consolidation effort
What are the main benefits of using the solution?
The solution helps to not only integrate a top-level investment planning with an operational planning but to shape an investment planning process alongside. Main benefits are:
User friendly portfolio management
Integration of investment and operational planning
Versioning and simulation of investment plans
Integrated process management
Restructuring measure management
Self-service Reporting
Examples of how the solution can help you throughout the investment cycle:
Buy phase:
The buy phase is affected by the need to quickly consolidate data from various sources and make an informed investment decision. Here the solution helps by offering easy-to-use versioning and simulation features for long-term investment planning. What-if scenarios can be calculated quickly, taking into account various internal and external drivers. Once the buy phase is concluded, simulations are initialized as PE plans.
Hold phase:
During the hold phase the solution helps to frame the ongoing interaction between the private equity investor and the invested-in companies, wherein dynamic plan adjustments and tracking of restructuring measure packages figure prominently. Here readily available workflow and commenting features as well as bottom-up integration of measure and operational planning into the top-level investment tracking offers the greatest benefit.
Sell phase:
Using the tool over the complete investment cycle enables a validated and consolidated single source of truth. In the sell phase a multitude of ad-hoc and self-service reporting options can be used to speed up the selling process and have all relevant data quickly available.