Scorecarding
Deliver and execute strategy pervasively across the organization
BOARD offers all the functionalities needed to effectively translate company strategy into meaningful scorecards and strategy maps, to effectively communicate and roll out key objectives across the organization, and monitor operational execution. The unified environment for Performance Management and Business intelligence allows business users to immediately analyze any trend highlighted by a scorecard and explore the events and dynamics affecting the various KPIs to the lowest level of detail.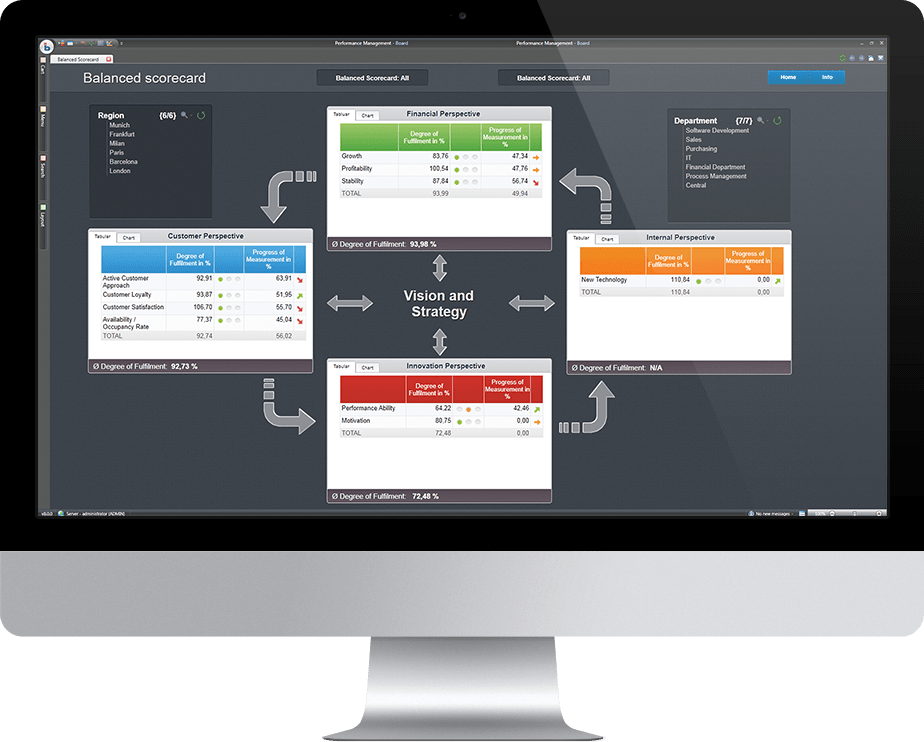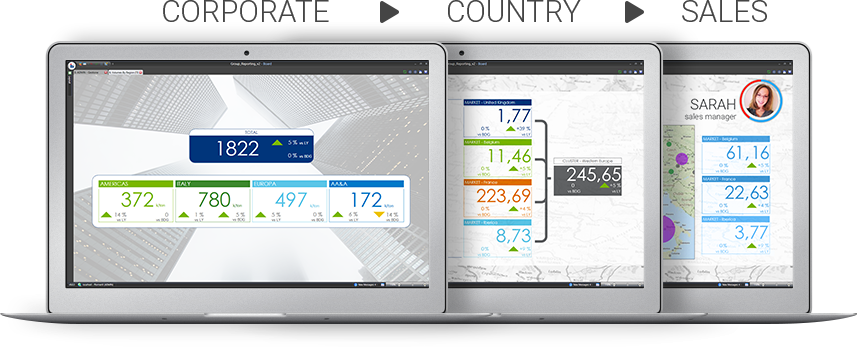 Effectively cascade objectives across the organization
BOARD technology allow for unlimited cascaded scorecards and for implementing advanced aggregation logics for KPIs at different organizational levels, making it easy to roll company strategy out to departments, group and even individual users. With BOARD you will easily translate company goals, into clear and shared individual and departmental objectives, making everyone work together towards the same objectives.

Easily track goal over times
BOARD offers the capability to track the evolution of all Key Performance Indicators and to easily compare objectives versusactual performances at different levels of detail, taking into account the impacts of goals changes over time.
Automate alerting
BOARD allows easily defined color coded alerting based on thresholds, automated scoring and weighting, providing ground-breaking visual clarity to strategic maps and scorecards. Any alert can trigger the automatic broadcast of notifications and reports, giving each single user immediate and personalized feed-back about potential problems, exceptions, and deviations.
Connect your strategy with your planning processes
By integrating Business Intelligence and Performance Management in a unified environment, BOARD offers the capability to easily connect the formulation and implementation of strategy with the enterprise planning process. Initiatives can be easily translated into strategic plans, and strategic plans can likewise be easily integrated into the financial and operational planning process.