Analyst Report
Ventana Research - Analytics and Business Intelligence Value Index 2019
2019 Vendor and Product Assessment
The Ventana Research Value Index is an assessment of Analytics and Business Intelligence vendors and products. It evaluates the maturity of software solutions and the value they provide for enterprise use. The research provides a baseline of knowledge that helps organizations to enhance their software evaluation and selection processes.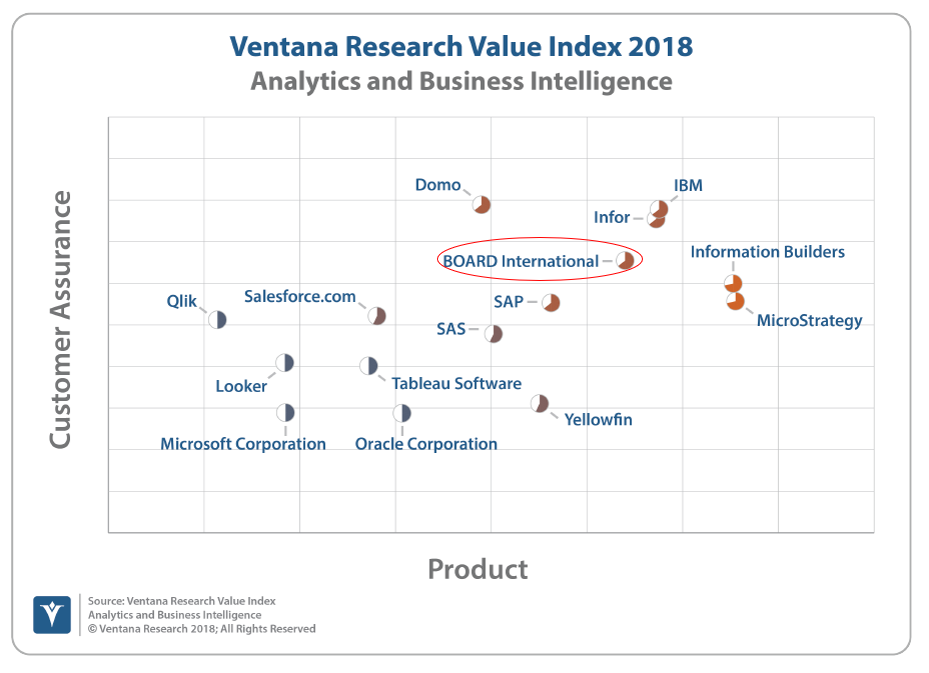 This Ventana Research report is designed to assess products across a broad range of analytics and business intelligence indicators:
CAPABILITY
Data modeling and access
Analytic discovery
Analytic integration
Predictive capabilities
Collaboration and support for communication and acting upon analytics
USABILITY (for)
Executives
Managers
Workers
Analysts
IT Administrators
RELIABILITY
Ability to scale on existing architectures
Technical Performance and efficiency
ADAPTABILITY
Support for configuration
Development
Integration
MANAGEABILITY
Administration
Security
Licensing
TCO/ROI
Product's benefits and costs
VALIDATION
Services and Customer Support
Analytics and BI processes and technology play a fundamental role in enabling an organization's business units and IT departments to utilize data both tactically and strategically to optimize performance. In today's data-driven world, organizations must use BI to understand and plan the details of their operations. BI can be used across every department in an organization and can guide employees at all levels to understand and act on data.
Furthermore, today's BI solutions have expanded well beyond queries, reporting, analysis, and publishing. Modern tools have grown to include the sourcing and integration of data and the use of analytics for planning and forecasting. BI now also enables the presentation of analytics in the form of natural-language narratives, and the collaborative sharing of insights is helping to reduce the time required to take action and make decisions. Artificial Intelligence and Machine Learning have begun to extend BI further, enabling it to classify, predict, and suggest behaviors that will help improve business operations.  
Board International is a pioneer in the new era of Business Intelligence, combining it with Enterprise Performance Management and Predictive Analytics thanks to its natively unified decision-making platform.
Download the full research report to discover why Board is amongst the best performers in the Ventana Value Index for BI and Analytics.