Analyst Report
BARC Score Integrated Planning and Business Intelligence DACH 2019
Board is a Market Leader for Integrated Planning & BI
---
Performance Management tries to anticipate and reflect future developments in an enterprise's process goals and structures. Business Intelligence (BI) supports the planning cycle, from analyzing and reporting on process results to planning and predicting outcomes to help adapt financial and operational processes.
The integration of performance management (in particular planning) and BI has been one of the most stable and relevant business trends for several years. Today the reality in many companies is that integrated planning and BI is often a proclaimed but seldom achieved goal, yet the integration of these capabilities in one common platform is essential to optimally support the management cycle.
This BARC Score focuses on the market for integrated planning and BI products and portfolios in the DACH region: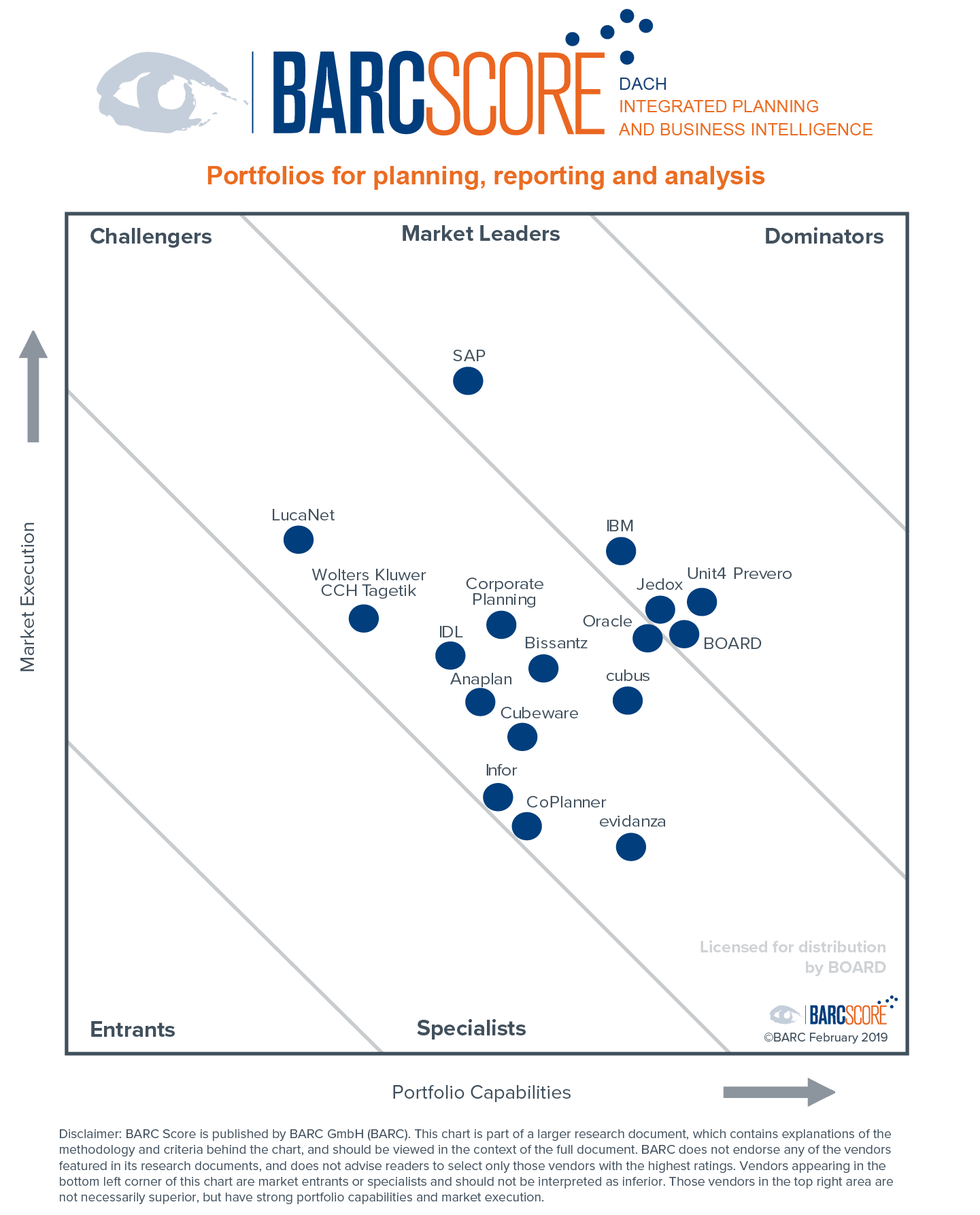 Vendors are rated on a variety of criteria from product capabilities and architecture to sales and marketing strategy, financial performance, and customer feedback.
To be included, a vendor must also supply additional functionality for all four technologies listed below, in a solution which is not just focused on one industry or use case:
Formatted reporting
Ad hoc query and reporting
Analysis
Dashboarding
Paying attention to the integration of planning and BI is especially important for companies when selecting software products to support the whole planning, reporting, and analysis cycle. Best-in-class companies recognize the important relationship between BI and Planning and therefore regularly opt for integrated software platforms, like the Board decision-making platform, which BARC has evaluated and Board therefore ranked among the Market Leaders in its BARC Score.
Complete the form to download the full BARC Score and start your software evaluation!