A unified approach to Fashion Retail Planning and Analytics
Combine financial and operational data to drive efficiency and competitiveness from supplier to store
Supporting today's fast-paced fashion and luxury retail market, Board is a "one-stop shop" decision-making solution that helps retailers to break down functional and organizational silos and run effective planning, forecasting, and analysis processes across the whole organization.
From HQ down to country, department, warehouse, store, and SKU level, Board's centralized approach provides complete transparency of performance and the correlation between financial and operational activities, supporting users to make more informed decisions.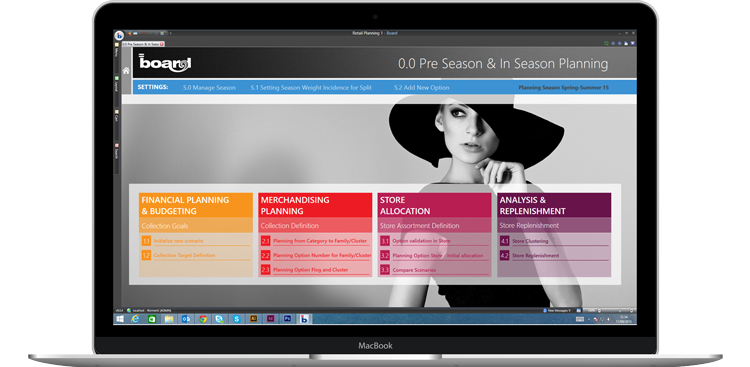 With Board, financial goals can be easily translated into inventory and assortment strategies that perfectly align capacities and constraints across the whole supply chain.
Data coming from the different systems (e.g. PLM, ERP, and legacy solutions) of various organizational units can be collected and logically linked in a single repository, providing full visibility into any step of the planning and forecasting process. Once combined, this data can be used to analyze, monitor, and manage all financial and operational activities, including FP&A, merchandise planning, store allocation, and replenishment.
---
Board enables fashion and luxury retailers to:
Move their planning process from reactive to proactive
Anticipate market trends when planning
Optimize product and collection profitability
Minimize stock-outs and over-stock
Link financial objectives to operations
Easily define and implement workflows across the whole organization
Align the sales, marketing, production, and logistics departments
Reduce complexity and increase flexibility
Increase users' efficiency through self-service analysis
Create greater visibility across the organization
Puma & Board:
Transforming decision-making with an Integrated Business Planning approach
Discover how leading fashion retailer Puma has transformed planning, reporting, and analytics across the supply chain using an Integrated Business Planning application built using the Board Toolkit:
Learn how Board is helping leading fashion and luxury retailers to drive competitiveness and become more responsive to changing market conditions.
Download the brochure