Gruppo Credito Valtellinese
Standardized Management Information and Lease Accounting at Credito Valtellinese
Intelligently using the bank's information to increase the performance of daily operations and ensure IFRS 16 compliance

One of Italy's largest banking groups, Credito Valtellinese is a longstanding Board customer, having implemented the Intelligent Planning platform in 2004 to standardize management reporting. The bank has since expanded the use of Board to areas such as personnel management and lease accounting, enabling it to ensure compliance with IFRS 16 standards and drive performance across its branches through greater visibility.
Read the full case study
Industry: Banking & Financial Services

Department: All

Founded: 1908

Branches: 400

Employees: 3,800
Established in 1908, Credito Valtellinese (Creval) is among Italy's largest banking groups. Operating primarily in central and northern Italy, it also has a network of branches managed by a subsidiary in Sicily. Overall, it has approximately 400 branches and 3,800 employees.
Creval introduced the Board Intelligent Planning platform in 2004, as the group's management reporting system, and in later years extended its use of the solution to credit policy, and shareholder and personnel management.
Board enables Creval to reap great value from the enormous volume of data it possesses in its capacity as a constantly expanding major banking group. As the CIO of Credito Valtellinese points out,
The topic of interest for the banking sector is that the large volume of information available in computer systems, which for a very long time was used only for accounting purposes, so to speak, is now a fundamental mass of information for the world that exists now, more than that of the future. This is the world of big data, the world of prevailing technology, where evidently the intelligent use of the information the bank contains within it can become an element of distinction and better commercial incisiveness.
We worked on everything that is important for the bank: sales network performance; credit management; anti-money laundering; auditing. We also provided the branches with a system that measures their effectiveness in daily operations, thereby highlighting their points of excellence and areas for improvement. Board is now our go-to platform.
Promoting widespread improvement across Group operations
A dashboard known as "operational rating" has also been developed with a view to measuring the effectiveness of each branch. It can be used to analyze the time taken to handle administrative procedures or how effectively branches manage to nudge customers towards self-service habits (e.g. using ATMs and online services), and much more. Creval's CIO explains:
Integrated into Board's interactive environment, the operational rating dashboard enables Group Headquarters to determine whether it is equipping its network of branches with the right tools and – additionally – whether the network is using them properly. This mechanism creates benchmarks and scores, so that the branches can see how they are behaving compared to nearby branches. This application has triggered a race towards an increase; two years since this system was introduced, the average rating has increased considerably.
In view of the above, it is hardly surprising that Creval's ICT Manager is extremely satisfied with the professional relationship the Group has enjoyed with Board for over a decade.
A single benchmark for all lease agreements: Board Lease Accounting
Creval also uses Board to easily manage and control its Lease Accounting operations. With Board, Creval can ensure compliance with the International Accounting Standard IRFS 16 – a financial standard that companies were expected to adhere to from January 2019. The new standard brings significant changes to the leasing transaction accounting model from the lessee's point of view, introducing a new approach to show, under assets, the "Right of Use" on the assets leased out, and at the same time, under liabilities, showing where the liability is payable to the supplier of the assets. These new complexities required a tool that could implement the new regulations.
Lara Vettorato, Manager for the Standards Department at Creval, explains:
My team mainly focuses on administration and accounting, drawing up the consolidated financial statements, and dealing with all accounting standards.

Given the size of our organization, the amount of the leases is quite consistent so we decided to launch a project to estimate the economic and financial impact of the new accounting standard IFRS 16 and to identify technological and organizational tools, both for its initial adoption and for future operations. We found that the Board platform – which we already used successfully in other areas of the Group – was the best choice, as it gave us pre-defined tools for IFRS 16.
As an accounting standard, the definition and application of the basic rules become more stringent, whereas other applications, built on the Board platform by other teams, are geared towards greater freedom. Lara continues:
On the other hand, I'd like to stress that the pre-configured Board tool for IFRS 16 also proved capable of recognizing all of the customizations we wanted, while staying within the regulatory perimeter.
The Board Lease Accounting implementation project – the solution for IFRS 16 application and compliance – enables various management departments within the organization to collaborate more constructively. These departments are able to determine ways in which the financial and economic impact of the new accounting standard can be better managed at Creval with enhanced outcomes, managing it with greater effect. Among those involved in this collaborative effort are the:
Administration and Accounting Department
Risk Management Department
Information & Communication Technology Department
Property Management and Logistics Department
Organization and Innovation Department
Since the project's scope cuts across various company areas, Board Lease Accounting is further supplemented by other applications and IT systems, including:
Zucchetti - for information on the "Liabilities Cycle"
Prometeia - for input information on discount rates
Quadra - a software for accounting records
various Data Warehouses - for data on real estate, automotive agreements, and other leases; registration data; and more.
The Board platform was perfectly integrated into this IT ecosystem, as Lara explains:
Thanks to Board, our flows are automatically generated based on the various lease data repositories which feed contractual information into the Board Lease Accounting application. All this takes place while ensuring Data Quality: Board verifies the completeness of the data provided thanks to the integration with the diagnostics in the repository, thereby minimizing the need to recycle any of the flows sent to Board Lease Accounting. This then produces – again automatically – a calculation of the economic, financial and equity components.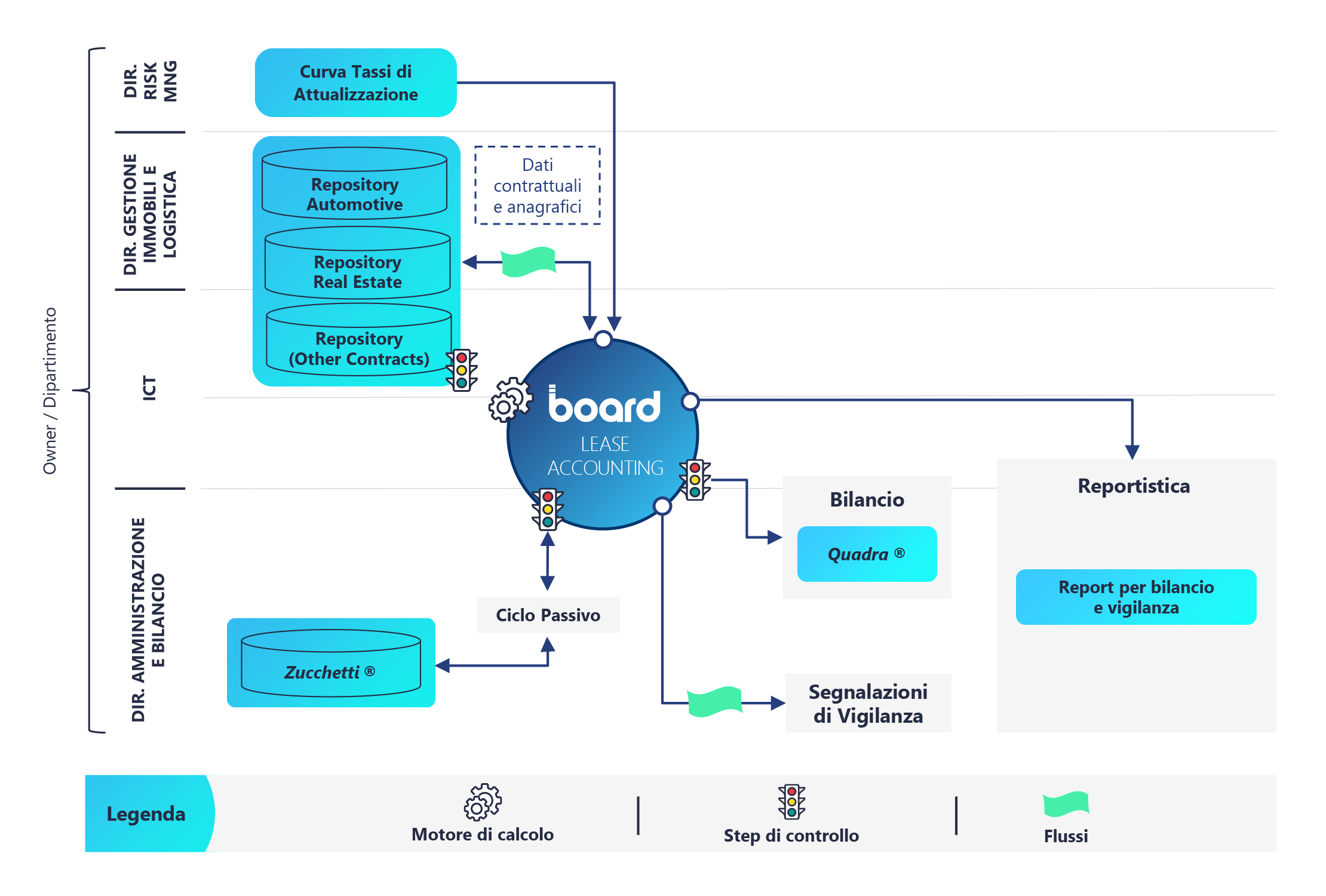 The above diagram reworks the flowchart presented by Credito Valtellinese during a webinar held on May 12, 2020.
The main areas IFRS16 covers at Creval are real estate contracts (especially office rentals), automotive agreements, and other leases, which include services relating to banking activities.
Lara explains:
We have also customized the Board Leasing Account tool with a range of customizations to manage our leasing models and help our employees identify securely, consistently, and efficiently which contracts fall under the accounting standard and which are not affected. For example, we have found Low-Value Assets (leases for assets worth less than 5,000 euro) and Short-Term Agreements (with a term of less than 12 months) to be exempt from standard IFRS 16.
In addition to leases, Creval also uses Board to manage subleases. This operation is where the lessee (an 'intermediate lessor') leases an underlying asset to a third party, while the 'main lease' between the main lessor and the lessee remains in effect.
Lara concludes:
In our group, we also needed to manage subleases which, for our organization, are mainly inter-company rental agreements. With Board Lease Accounting, we have been able to meet this need and manage and account for them in different ways, depending on whether it is an operating sublease or financial sublease. Board Lease Accounting, therefore, has become Creval's benchmark for all lease agreements.