Press Release
Board named a Leader in G2 Crowd Grids for Business Intelligence and Corporate Performance Management
Tuesday, 19 June 2018 - Chiasso, Switzerland and Boston (MA), USA
Board is listed among the best Corporate Performance Management (CPM) Software products and the best Business Intelligence Platforms Software due to its customer satisfaction and market presence ratings.
Board International, the world's leading supplier of enterprise decision-making software, has been identified as one of the best software providers both in the Corporate Performance Management (CPM) and Business Intelligence spaces, based on its high levels of customer satisfaction and likeliness to recommend ratings from real users on G2 Crowd, the world's leading business solutions review website.
"We at Board are very proud to be included by G2 Crowd in its Grids for BI and CPM solutions" said Board CEO and Co-Founder Giovanni Grossi. "We believe our positions in these global reports confirm Board's strength and rapid growth in the Corporate Performance Management market, a business domain that is increasingly important for organizations to stay ahead. Indeed, this international recognition successfully demonstrates how Board is addressing strategic, financial and operational planning and analysis through a single decision-making platform."- added Mr Grossi.
Board achieved the Leader position in both G2 Crowd Grids due to Board's positive reviews, written by verified users, as compared to similar products in the BI and CPM categories.
"Rankings on G2 Crowd reports are based on data provided to us by real users," said Michael Fauscette, Chief Research Officer, G2 Crowd. "We are excited to share the achievements of the products ranked on our site because they represent the voice of the user and offer terrific insights to potential buyers around the world." 
Click here to have a look at the CPM Report and here to see the BI Report; and learn more about what real users have to say about Board.
If you are a Board user, you can also leave your own review on G2 Crowd's Board review page!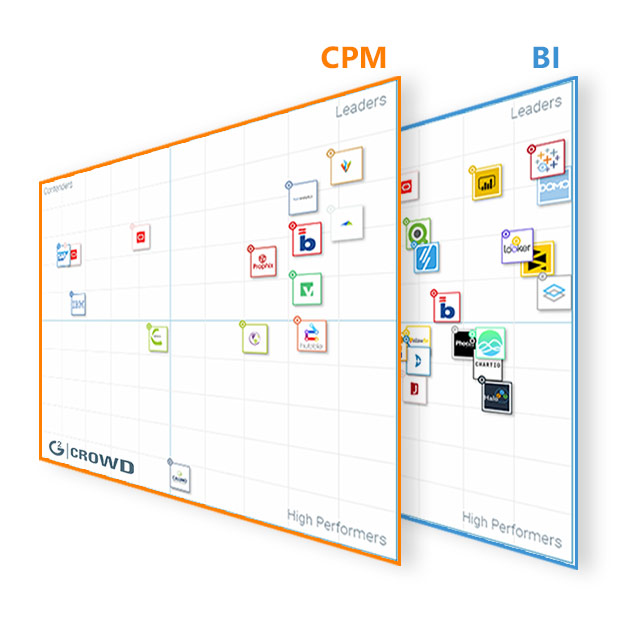 About G2 Crowd:
G2 Crowd, the world's leading business solution review platform, leverages more than 381,000 user reviews to drive better purchasing decisions. Business professionals, buyers, investors, and analysts use the site to compare and select the best software and services based on peer reviews and synthesized social data. Every month, more than one million people visit G2 Crowd's site to gain unique insights. www.g2crowd.com
About Board:
Board is the #1 decision-making platform for organizations of any size. Founded in 1994, Board International has enabled more than 3000 companies worldwide to rapidly deploy Business Intelligence, Corporate Performance Management and Predictive Analytics applications on a single unified and programming-free platform. The Board platform allows companies to achieve a single, accurate and complete view of business information and a full control of performance across the entire organization, from strategic formulation down to operational execution. Thanks to its programming-free toolkit approach, global enterprises such as H&M, KPMG, DHL, Mitsubishi, NEC, Puma, Siemens, Toyota have rapidly deployed end-to end decision-making applications in a fraction of the time and cost associated with traditional solutions. Headquartered in Chiasso, Switzerland, and Boston, MA, Board International has 21 offices around the world and a global reseller network. Board has been implemented in over 100 countries. www.board.com