BOARD 10.1
Brings business into the Cognitive Space.
Cognitive technologies, storytelling, in-context collaboration and a cutting-edge user interface augment business users' capabilities to unleash new intelligence from data and rapidly translate insights into action.
BOARD 10.1 drastically improves the way people interact with data, making it as simple and natural as human to human interaction.
The new Search Analytics capability allows business users with zero technical knowledge to simply type in their questions and receive immediate business answers in the form of a machine-generated report.
With the new Natural Language Recognition (NLR) capability, analyses can be performed without even needing to lay a finger on the keyboard. Users can simply ask BOARD anything through spoken language and get back a report that is automatically integrated with vocal and written narratives, thanks to the Advanced Natural Language Generation (Advanced NLG) function.
BOARD 10.1 is also a great step ahead in closing the gap between corporate data governance and individual analysis needs. A powerful presentation environment enables business users to easily create customized versions of enterprise reports and save them as a presentation, telling a story with the data.
The brand new in-context collaboration functionalities make it possible to immediately share new insights with a single peer or workgroup, allowing multiple users to work together in real time on the same analysis and to contextually communicate through the embedded BOARD chat.
The result is a huge step forward in the way in which business users can leverage enterprise data to make smarter, faster and shared decisions.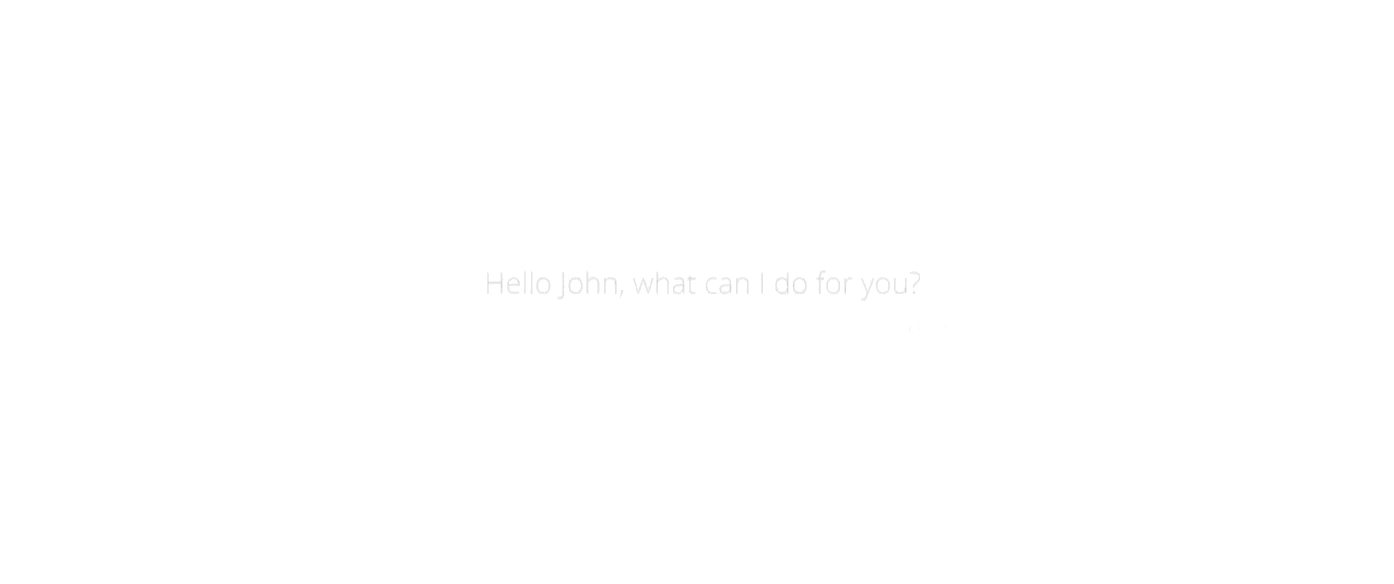 Cognitive Technologies
BOARD 10.1 is the first step of a transformative journey that will extend the reach of the BOARD platform to decision-making tasks traditionally performed by humans, creating disruptive business advantages for organizations that will be the first to enter this new and ground-breaking Cognitive Space.
Natural Language Recognition (NLR) and Generation (NLG)
Thanks to the introduction of Natural Language Recognition (NLR) and Natural Language Generation (NLG) Technologies, BOARD 10.1 offers a totally new way to interact with data across the entire BOARD platform.
To simplify Business Users' access to key insights, traditional report creation through drag-and-drop has been integrated with the possibility to directly talk with the system or to interact through search strings, as we are familiar with on the Internet.
Behind the scenes, a powerful technology automatically translates speech into words, words into queries, queries into meaningful reports and reports into smart descriptions of the key analytical highlights.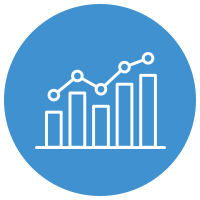 Search Generated Analytics
BOARD 10.1 integrates its self-service capability with new functionality that makes the creation of reports as easy as searching on Google.
Business users can simply write a search string, exactly as they would do when using a web search engine, and BOARD, through a fuzzy search mechanism, translates this request into the creation of a machine-generated report.
Furthermore, BOARD identifies and lists all of the existing reports that better match the search criteria.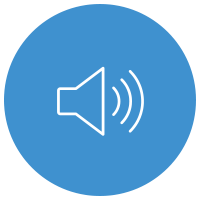 Narration
BOARD 10.1 automatically generates smart descriptions of your analyses and reports that highlight what is most important and interesting, both in the form of text and voice.
Instead of having to physically go through data to spot key highlights and to write commentary that needs to be continuously updated, BOARD 10.1 automates the entire process, generating smart and engaging content that provides understanding of the key facts represented in the report.
In-context Collaboration
BOARD 10.1 strongly enhances collaboration across decision-making processes by introducing the ability to work together on a shared analysis while interacting in real time through an embedded chat.
The possibility to flexibly define workgroups completes the picture: virtual teams can instantly discuss their findings, explore new insights and make super-quick collaborative decisions based on a validated, up-to-date and holistic view of enterprise data.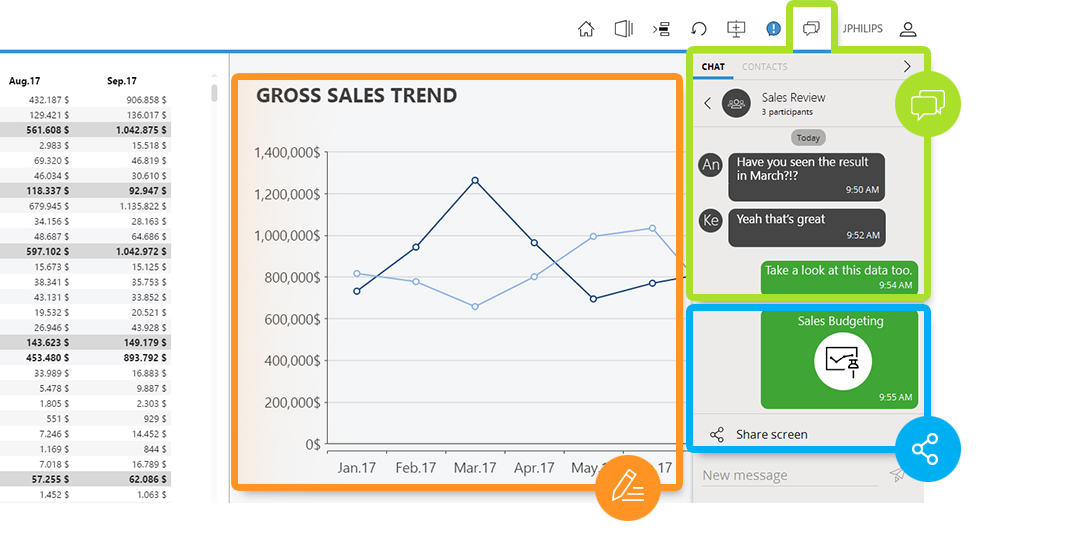 Cutting Edge User Experience
BOARD 10.1 introduces a new way to interact with analytical objects through a browser, allowing business users to be much more effective in creating their own personal and instantaneous views of enterprise reporting, as well as streamlining object interaction and capsule navigation.
Smarter self-service analysis: the new drag and drop layout.
Within the configuration mode a revolutionary layout gives you an immediate understanding of available data and entities as well as active selections and filters, and allows you to instantly change the report by a simple drag-and-drop of data and entities on the axis.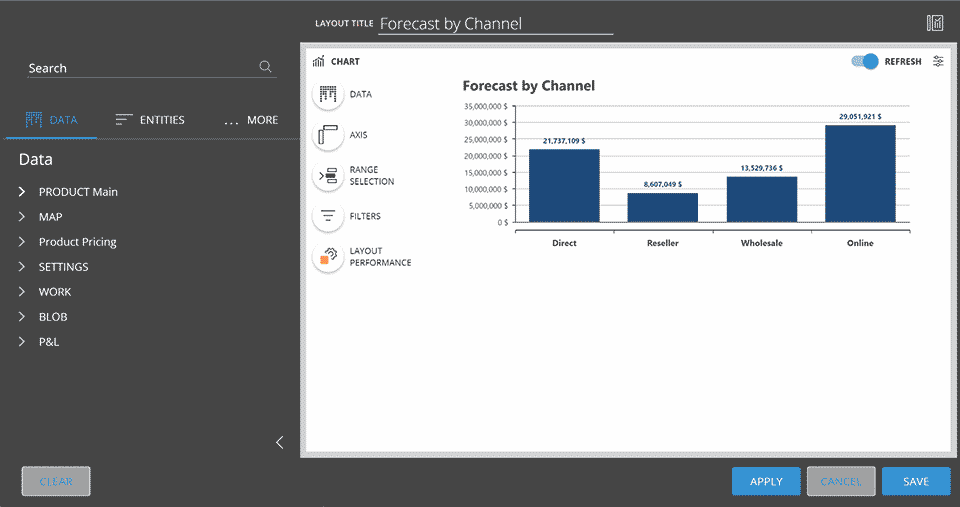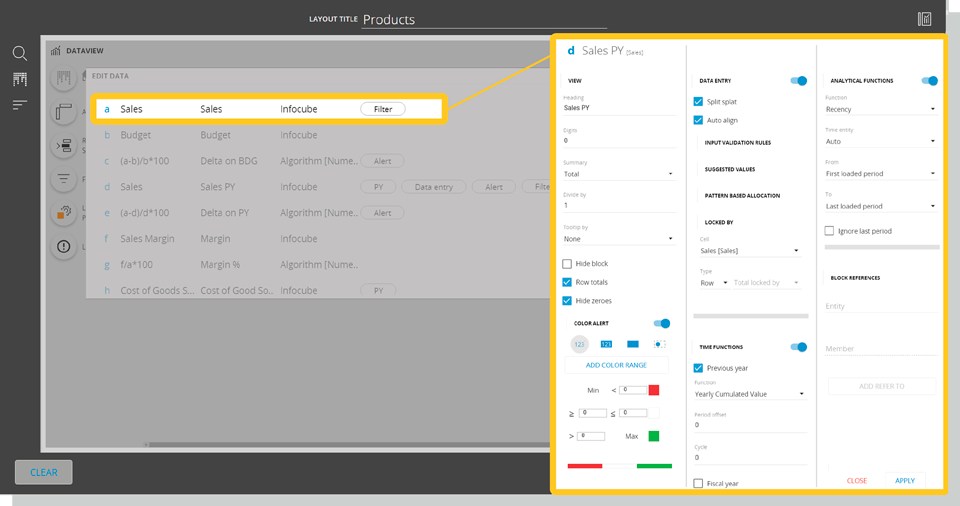 More comprehensive self-service analysis: advanced functions in the new layout.
In addition, the complete set of advanced configuration settings such as time functions, analytical functions, data entry settings and block references are immediately available in a compact sliding panel that puts all the functionality you need at your fingertips, without having to move back and forth from the main screen.
Improved applications browsing: the tile menu
Access to the BOARD applications has been totally redesigned, introducing a modern Tile Menu that optimizes touchscreen usability, offers great flexibility in managing menu hierarchies and provides an informative view of available navigation paths using live data, color coding, icons and tile sizing.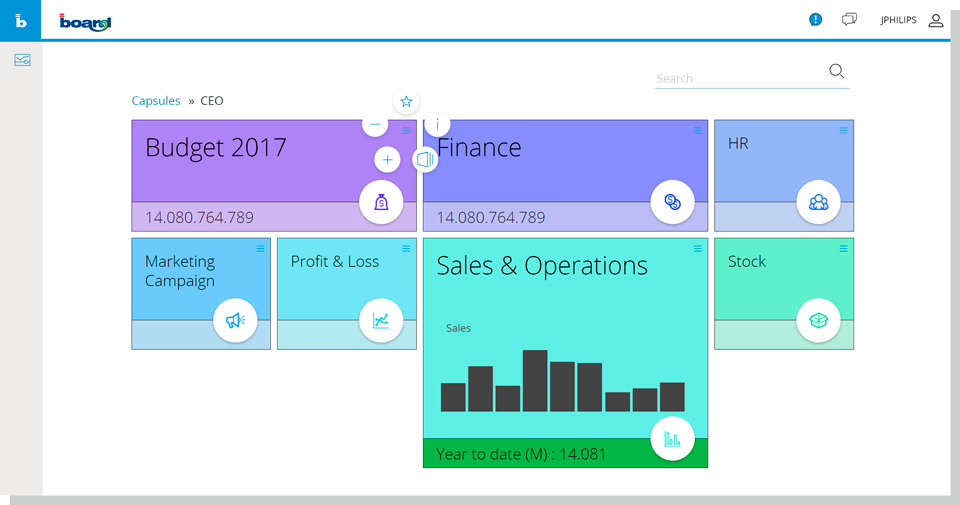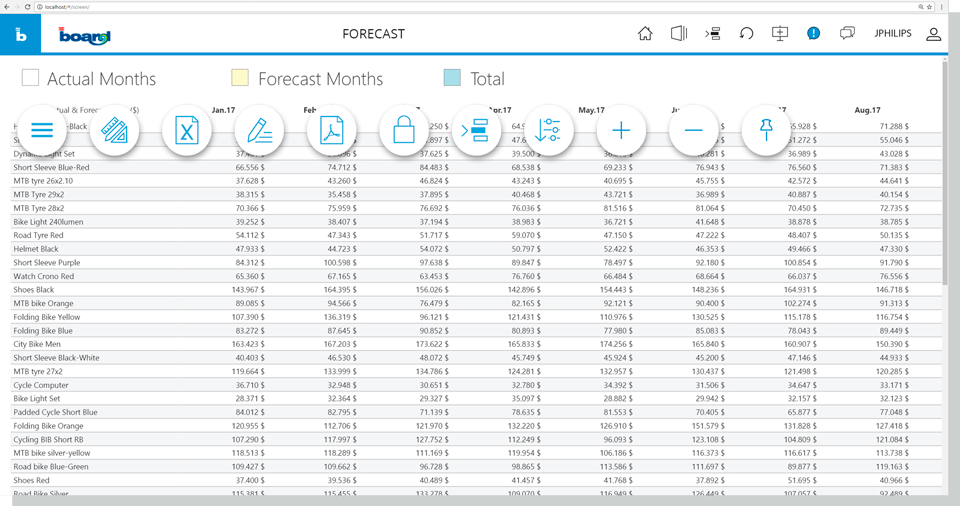 Enhanced interaction with objects: enriched menu options.
Once inside the BOARD application an enriched contextual Objects Menu expands at a click to showcase all possible interactions with the specific analytical object, providing users with an immediate understanding of the options at their disposal.
Storytelling
BOARD 10. 1 introduces a new storytelling function called Presentations, which allows users to create a personalized version of enterprise reports and save them in the form of a live presentation.
Once created, the new presentation can be saved into a personal workspace and shared with individuals and workgroups, who, if authorized, can work together on the contents.
The powerful combination of BOARD Presentations and the new contextual collaboration capabilities blends data, visuals and narratives in a single environment, providing a much better way to communicate data insights than traditional reporting or data visualization alone.
BOARD 10.1 offers a governed but agile and collaborative environment that moves reporting from a pre-canned, rigid and top down discipline into an adaptive and collaborative information management process, helping organizations improve business performance through better use of their data.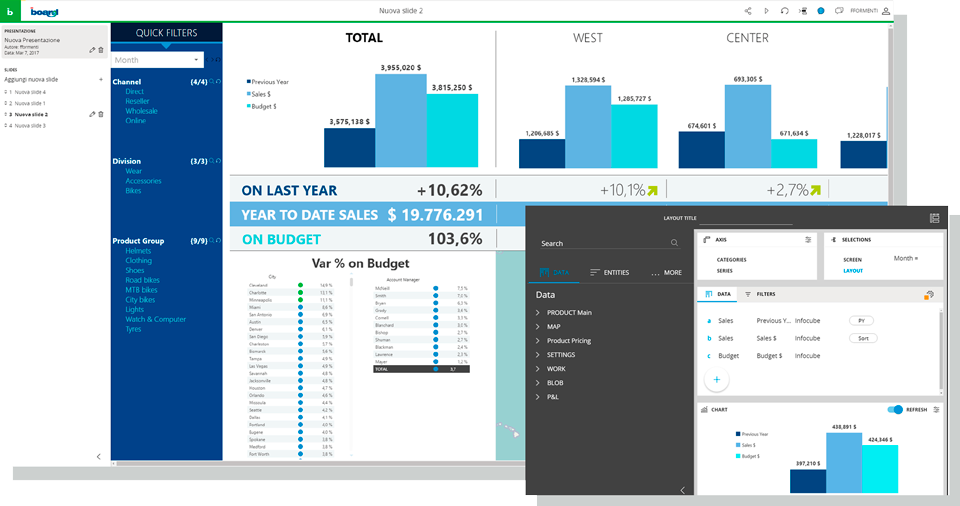 1- Personalize enterprise reports and analyses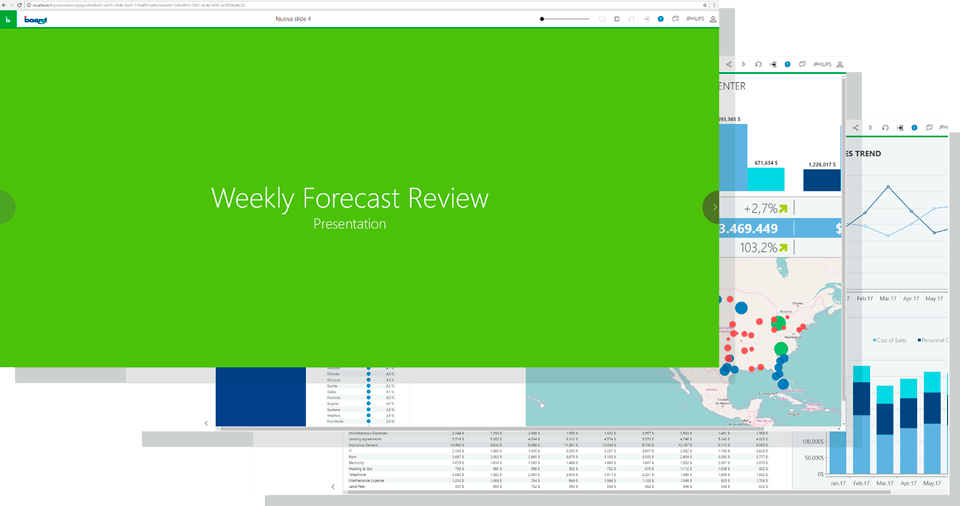 2- Build a live presentation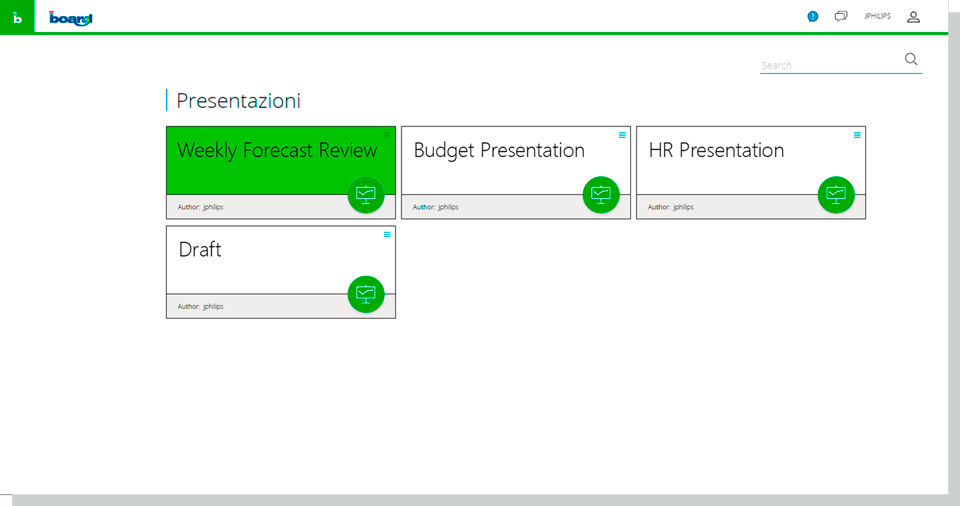 3- Save the presentation in your personal repository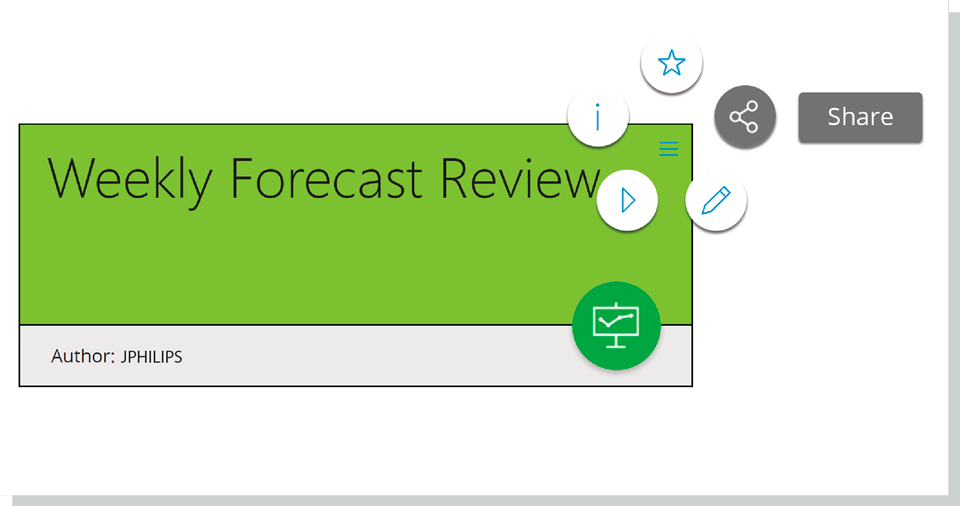 4- Share your presentation and collaborate in real time